School of Electronic Engineering
Common Entry into Engineering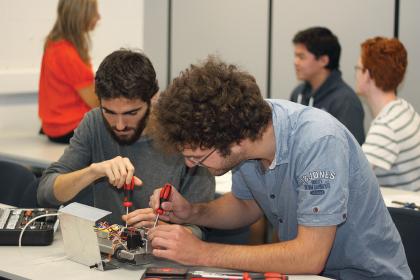 Course Type:
Undergraduate

+353 (0) 1
01 7005237

christine.stears@dcu.ie
View our video on our Common Entry into Engineering programme here:
---
Engineers invent and design things, they make things work and analyse and solve problems, often using mathematical and software tools. Their impact on the world is pervasive and often pioneering.
Engineering solutions help patients with enhanced diagnostic imaging, improved hearing devices, better blood vessel implants and laser surgery. Engineering solutions continue to improve the way we live, driving advances in digital technology, such as the Internet of Things and Smart Cities, that have the possibility of revolutionising how we interact with technology, while at the same time improving sustainability through advances in areas such as energy efficiency and green energy technologies. Some of the most recent and exciting innovations in the energy sector, including wave energy converters, bioreactors and combined heat and power units, are also the work of engineers.
If you're interested in engineering, but haven't yet made a choice between courses, the Common Entry into Engineering (Undenominated Entry) option is designed to help you make a decision while still earning credit towards your ultimate degree.
The Common Entry into Engineering (Undenominated Entry) offers a common first year with all other engineering courses. On completion of the common first year, you may choose to pursue one of the following honours degrees:
Please note that common entry does not mean an extra year added to the course; after completion of the one-year Common Entry into Engineering course, you'll continue in the second year of your chosen degree course.
Explore different engineering field before committing to specific course
State-of-the-art facilities
Lots of hands-on experience in labs
Industrial experience as part of the course
Great and varied employment prospects upon graduation
View the current course structure
We have a unique and vibrant culture on our modern campus close to Dublin city centre. We provide state-of-the-art study facilities for all our courses and everything else you need for a healthy, fun and active student life.
Exceptional Facilities
DCU students enjoy exceptional teaching and learning facilities across our 3 academic campuses. These include modern learning theatres, research centres, television and sound studios, classrooms, computer suites and advanced laboratories in the areas of languages, engineering, physics, chemistry and biotechnology, as well as a sports performance centre and a virtual hospital ward.
A Vibrant, Dynamic Social Environment
Student facilities include a superb sports complex with a 25 metre pool, two libraries and The Helix, our renowned performing arts centre. In 2016 we announced plans to invest over €230m in developing new, world-class facilities across our three academic campuses. Already building has begun on an exciting, new €14m Student Centre that will be home to the more than one hundred and twenty student clubs and societies. This commitment to student facilities means that our world-class learning experiences are complemented by a vibrant, dynamic social environment.
As an engineer, you can find yourself at the heart of just about any field, from high-tech industry and medicine to financial services, energy-aware technologies and biotechnology—the cutting-edge dynamic industries of tomorrow.
After you complete your first year Common Entry you will move into one of the listed degree programmes across both the School of Electronic Engineering or the School of Mechanical and Manufacturing. Please view careers listed under each programme.
Requirements
Leaving Cert
In addition to the general entry requirements for admission to the university the following entry requirements apply
Minimum of H4 Mathematics or H4 Applied Mathematics with H5 Mathematics
GCE A Level
In addition to the general entry requirements for admission to the university the following entry requirements apply
GCE A Level C Mathematics
FET Level 5
For details of QQI requirements and relevant codes please click here. Simply enter the DC code for the programme you are interested in or if you are not sure of the code enter DC in the Select by Institution option, then click on Go. 
EU Transfer Applications
The engineering schools consider transfer requests based on the performance of the candidate. The overall
set of guidelines which is in use for HETAC/NCEA equivalent qualifications is as follows:
Qualification Possible Point of Entry
Relevant HETAC/NCEA Higher Certificate/National CertificateFirst year
(Distinction)
Relevant HETAC/NCEA Higher Certificate/National CertificateFirst year
(Merit plus Experience)
Relevant HETAC/NCEA Bachelor (Ordinary) Degree/National
Diploma (Merit or Better)Second year
Relevant HETAC/NCEA Bachelor (Ordinary) Degree/National
Diploma (Distinction plus a possible interview)Third year
Please apply directly to DCU using the R10 form. Closing date for applications 1st July.
International Applications
International candidates are expected to have educational qualifications of a standard equivalent to those outlined above. In addition, where such candidates are non-native speakers of the English language they must satisfy the university of their competency in the English language. For further information on international applications click here.
Fees
Full time
Student Contribution
€3,043 per annum
EU Status Fee
€6,679 per annum
Non EU Fee
€15,000 per annum