School of Electronic Engineering
About | School of Electronic Engineering
About the School
The School of Electronic Engineering runs and co-runs four great undergraduate degree options, a variety of full and part time Postgraduate options, and is involved with several funded research centres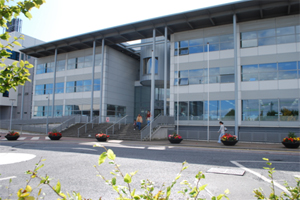 DCU Engineering Building, Collins Avenue
The DCU School of Electronic Engineering was established in the 1980's, and continues to provide top level education to undergraduate and post graduate students. The School has evolved in line with developments in industry, and offers innovative and valuable higher education options.
The School currently comprises in excess of 110 researchers, 20 of which are academic staff, 20 are postdoctoral researchers and 70 are PhD students. The profile of staff in the School consists of 2 professors, 3 associate professors, 4 senior lecturers, 9 lecturers, 6 technical support staff, 2 IT developers and 1 administrator.
The School of Electronic Engineering is housed in the 'S' building on DCU campus, and can be accessed through the Collins Avenue entrance.
Follow the links for further details on the activities the School is involved in: