School of Electronic Engineering
Research & Innovation | Centres and Groups
entres and Groups
The School's research is organised into four streams each with a number of associated groups:
i) Nanoelectronics and Nanomaterials
ii) Signal and Image Processing
iii) Systems and Control
iv) Telecommunications
These streams and groups link into larger, often inter-disciplinary, Research Centres e.g.
Insight Centre for Data Analytics
The
Insight Centre for Data Analytics
was created to realise this vision. Insight is a joint initiative between University College Dublin, the National University of Ireland at Galway, University College Cork, and Dublin City University. Insight was established in 2013 by Science Foundation Ireland with funding of €75m.
At Insight we combine the skills of leading researchers with cutting-edge technologies from diverse research areas. We work closely with industry partners to develop next-generation data acquisition and analytics solutions for important and diverse application areas.
Insight brings together leading Irish academics from 5 of Ireland'€™s leading research centres (DERI, CLARITY, CLIQUE, 4C, TRIL), previously established by Science Foundation Ireland (SFI) and the Irish Industrial Development Authority (IDA), in key areas of priority research including:
The Semantic Web,
Sensors and the Sensor Web,
Social network analysis,
Decision Support and Optimization, and
Connected Health.
National Centre for Sensor Research (NCSR)

The NCSR is a state-of-the-art facility situated on the campus of Dublin City University, comprising custom-designed laboratories, a range of specialist support units and equipment, and dedicated technical and administrative staff. The NCSR hosts over 250 researchers and several large-scale research initiatives including the Centre's for Science Engineering and Technology, Biomedical Diagnostics Institute and the Insight Centre, the strategic research cluster, Irish Separations Science Cluster, the National Biophotonics and Imaging Platform of Ireland and the Marine and Environmental Sensing Technology Hub (MESTECH).
The NCSR was established in 1999 with funding of €12 million from the Higher Education Authority (PRTLI Cycle 1), most of which was for infrastructural development buildings and equipment. This provided the space and equipment necessary for hosting large-scale projects, and was a significant factor in the subsequent successes of NCSR researchers in attracting very substantial external funding. To date this funding has exceeded €100 million. This funding has facilitated large scale long term collaborations with both national and International academic institutions and a significant number of industrial partners. The Centre now has over a decade of experience in industrial-academic collaborations where sensor technology plays an important role in societal change.
National Centre for Plasma Science and Technology (NCPST)

The National Centre for Plasma Science and Technology is a strong multidisciplinary research centre comprising of research staff from the Faculty of Science & Health and the Faculty of Engineering & Computing at DCU. The Centre consists of approximately 80 members carrying out research under well funded programmes in basic science, technological applications and industrial collaborations. The mission for the Centre is to be:
A world class centre for plasma related research
A national centre for education, training, and industrial support
A national centre that translates research outputs into economic and societal benefit
The core competence is the combined depth of knowledge in basic plasma and related scientific knowledge amongst the NCPST team and this is evidenced through our a strong international reputation, proven publication and citation track records, training & education programmes specifically for industry, strong international collaborations and significant scientific discoveries.
I-Form - Advanced Manufacturing Research Centre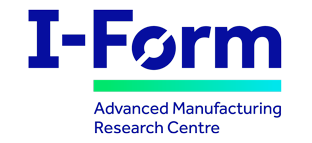 The I-Form Advanced Manufacturing Research Centre was established by Science Foundation Ireland (SFI) to deliver high-impact research in advanced manufacturing. The Centre is particularly focused on additive manufacturing (3D printing), combined with the use of digital technologies in manufacturing. The latter includes data analytics, cognitive computing, augmented / mixed reality and informatics. The Centre brings together a multi-disciplinary team of over 80 PhD and Post-Doc researchers in manufacturing engineering, materials and data science. These are involved in both fundamental and translational research. The Centre is hosted by University College Dublin, in partnership with NUI Galway, Dublin City University, Trinity College Dublin, Institute of Technology Sligo and Waterford Institute of Technology. The I-Form Centre operates in close collaboration with a number of leading international manufacturing research centres in Australia, Belgium, Germany the UK and USA.
APT - Advanced Processing Technology Research Centre

The Advanced Processing Technology Research Centre (APT) focuses on state of the art research activities in the areas of Production Technology, Product Design & Sustainability, Micro and Nano Systems Technology, Advanced Materials Engineering and Bio Systems. The APT is a leading international research centre which as a primary goal strives to provide significant translational benefit to the wider community. Research projects undertaken within APT are conducted to a world class level and support local and internationally based enterprises. The APT research group has established a strong infrastructure of equipment and people in the area of processing technologies at DCU. APTs education and outreach events include seminars and courses which enable the transfer of processing technologies knowledge to the broader community.

Centre for Scientific Computing and Complex Systems Modelling (SCI-SYM)

The Centre for Scientific Computing & Complex Systems Modelling is a centre of excellence for researchers working in high performance computing (HPC) applied to computational and mathematical models for complex systems in engineering, natural and applied sciences. It has been created in 2007.
Sci-Sym as University Designated Reseach Centre (UDRC).
Scientific Computing and Complex Systems explores models of the natural and artificial world, through high performance computer solutions of problems, which, due to their complexity, are intractable by conventional methods such as experimental, mathematical or semi-analytical methods alone. Complex systems arise in a variety of fields, e.g. physics, biology, chemistry, eco- and other hybrid sciences, finance, socio-economic phenomena, and others and are truly interdisciplinary. In some cases, a formal model may be proposed and investigated; in others large amounts of data may be mined and empirically analysed or computational models may be designed and tested against available data.
Entwine
Entwine's mission is to design a scalable infrastructure to support the Internet of Things and its applications. Existing solutions for machine-to-machine communication and for intermediation between sensors, actuators and other devices, and the associated data analysis and control algorithms, do not scale to the size needed by, for example, a smart city.
Centre researchers will design the necessary framework to deliver solutions of this scale. This framework will support autonomous operation, so that the Internet of Things can be managed by the Things themselves. (Entwine Website)
National Biophotonics and Imaging Platform Ireland (NBIPI)
NBIP Ireland was established in 2007 under HEA PRTLI Cycle 4. The platform consists of a consortium of imaging and biophotonics laboratories from across the Universities and Institutes of Technology in Ireland, 3 EU partners; CNRS Montpellier (France), the CNR Institute of Biostructure and Bioimaging, Naples (Italy) and The Nordic Imaging Networkand 1 associated international partner; CECs, (Chile)
Nano-Bioanalytical Research Facility
We are also deeply engaged in DCU's Research and Enterprise Hubs for information technology and the digital society, sustainable economies and societies, and health technologies. The Hubs provide resources for interactions with enterprises and for collaborative interdisciplinary research.