Faculty of Engineering and Computing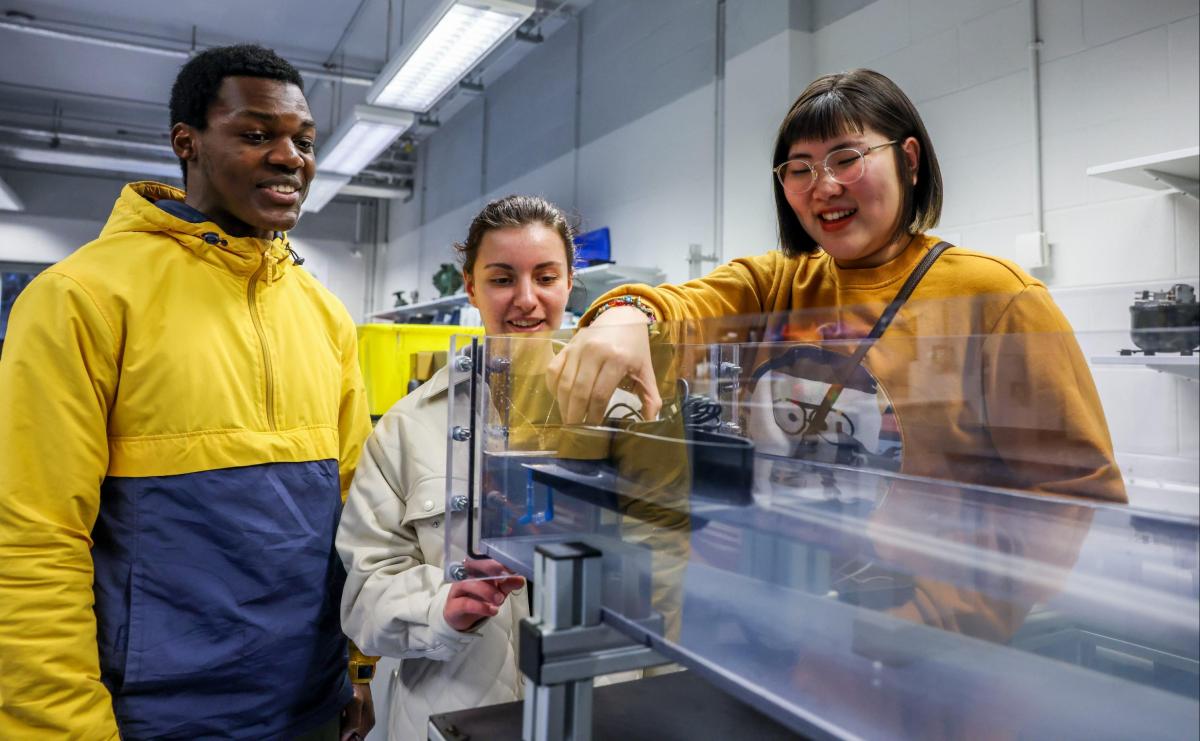 A Guide to an Integrated Masters
What is an integrated masters?
An integrated masters degree combines both undergraduate and postgraduate-level study within one course. It provides students with the option to do one additional year of their studies, lengthen their INTRA work experience placement, and graduate with both a bachelor's degree and a masters degree.
To note, the integrated masters option is only available to students who are enrolled in a BEng programme at DCU.
What engineering courses include the integrated masters option?
The integrated masters option is included on:
Common Entry into Engineering
BEng in Mechatronic Engineering
BEng in Mechanical and Sustainability Engineering
BEng in Mechanical and Manufacturing Engineering
BEng in Biomedical Engineering
BEng in Electronic and Computer Engineering 
BEng in Mechanical and Sustainability Engineering
What are the benefits of an integrated masters?
You will graduate with a BEng and MEng after five years.
The engineering industry is keen to have graduates at masters level. By graduating with a bachelors degree and a masters degree, you will develop your knowledge and skills further, providing you with a competitive advantage.
A standalone masters degree is 12 months long compared to the fifth year of the integrated masters which is 9 months long. Integrated masters students finish their studies in May while standalone masters students finish their studies in August.
To become a Chartered Engineer with Engineers Ireland, you are required to hold a masters degree. Having the integrated masters means you can apply for chartered status after graduation.
Your INTRA work experience placement will be longer, giving you more time to build on your real world experience before graduating. INTRA placement will take place over ten months instead of six months. Please note, the longer INTRA placement is not included on the integrated masters for electronic and computer engineering.
The integrated masters means you will only complete a capstone project in your fifth year.
The standalone masters requires students to complete 90 credits whereas integrated masters students have to complete 60 credits in their fifth year.
There is potential to obtain a higher salary after graduating.
Are modules the same on an integrated masters the same as a standalone masters?
Depending on the programme, most of the modules on the integrated masters programme are offered as optional modules on the standalone masters. The modules on the standalone masters change year to year depending on numbers on the different programmes.
When do I register for an integrated masters?
For the majority of engineering programmes, you will need to opt for the integrated masters by the end of teaching in semester two of year two. The change needs to be processed before year three due to the longer INTRA placement.
Electronic and computer engineering students are not required to register for the integrated masters until the end of third year.
Are there grade requirements for the integrated masters?
Yes, your average grade for year one and year two combined needs to be greater than a H 2.2.
To qualify for the integrated masters programme, your average grade in DCU needs to be 50% or higher in previous years.
Fees
Note that the fees for Year 5 differ from those paid in Years 1 to 4.