Faculty of Engineering and Computing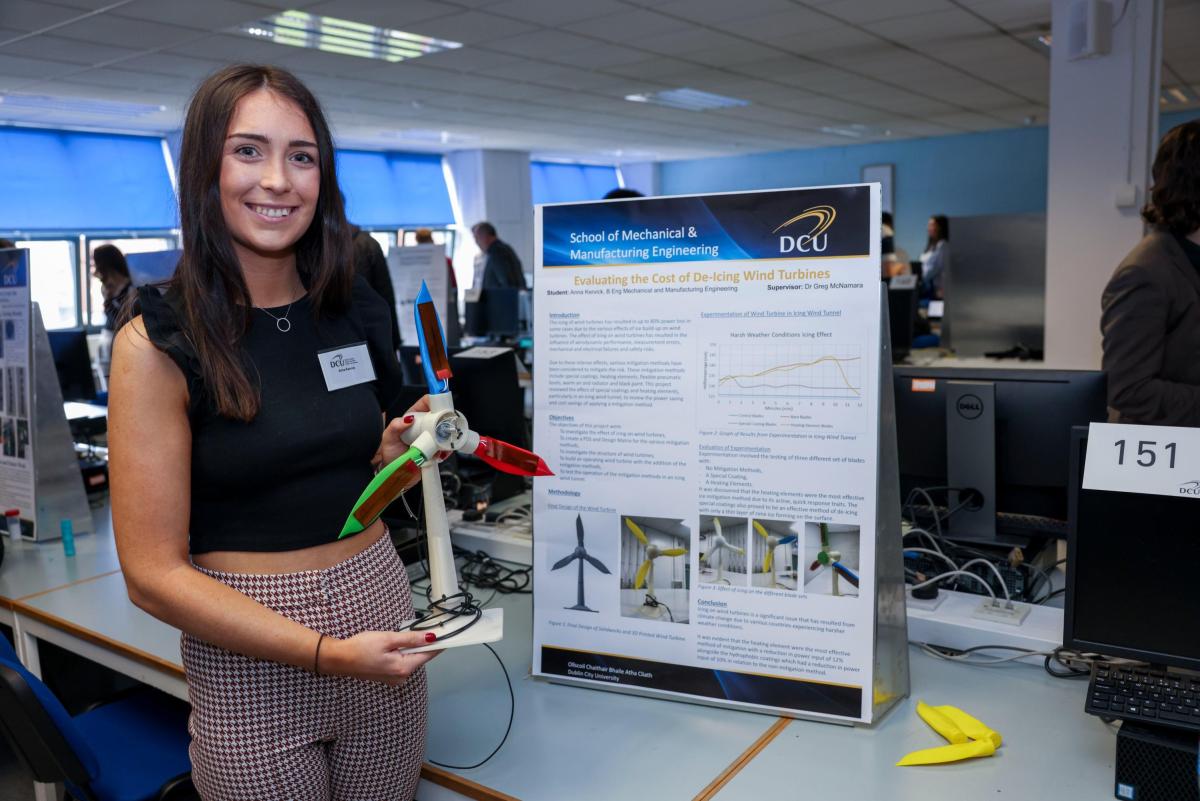 Final Year Projects Expo
The Final Year Projects Expo in the Faculty of Engineering and Computing is a flagship event on the DCU calendar, having been in existence for 41 of the university's 43 year history.
The annual event brings together soon-to-be graduates with engineering and computing professionals. It has grown and developed considerably over the years, with the initial event involving around 80 projects. Today, we are proud to say that the Expo has grown to over 200 projects.
Attended by a host of external partners, the Expo is an opportunity for final-year students to showcase their cutting-edge skills and knowledge acquired at DCU. The diverse range of projects on display each year reflects the innovative mindset of our students as they tackle real-world issues and challenges. The latest Expo included a number of projects focused on renewable energy, sustainability efforts and digital accessibility for all individuals.
Students that participate in the Expo have the chance to win prizes sponsored by a variety of companies. If your organisation would be interested in sponsoring a prize at the next Final Year Project Expo, please contact clairebodie.flynn@dcu.ie.
Final Year Project Expo 2023
The Final Year Project Expo returned for 2023 and was sponsored by the world-class cloud and managed services provider, Ergo. Over 200 projects produced by almost 300 soon-to-be graduates from the Faculty of Engineering and Computing at DCU featured in this year's Expo. A number of projects focused on renewable energy, sustainability efforts and digital accessibility for all individuals.
SAP Ireland sponsored a prize at the Final Year Project Expo 2023 and dedicated it to their late colleague Patrick Stewart, who was also a DCU student. Patrick passed suddenly from natural causes at the start of his final year at Dublin City University in 2021.
The Patrick Stewart Innovation Award celebrates Patrick's ability to drive innovation by starting conversations. It aims to provide winning students with the opportunity to continue the conversation they started with their final year project.
Computer Science students Jason Henderson and Conor Joyce were selected as winners of this award by a panel of Patrick's colleagues and graduates of the SAP Ireland STAR Program. Their final year project, 'PlusVasis', is an intuitive online platform that streamlines container management and orchestration for developers, enabling them to focus on building their applications. It offers seamless networking, security, and scalability, allowing users to spin up containers for their websites or databases effortlessly. The technologies used include Docker, Go, REST, Nomad, Svelte, and TypeScript.
The panel praised Jason and Conor's project for its technical proficiency and commended their exceptional demonstration skills. The way they articulated the project, using both technical jargon and layman's terms, was reminiscent of their late colleague Patrick who had a similar talent for distilling complicated concepts into easy-to-understand language.
In keeping with the rewards of the Patrick Stewart Innovation Award, students were granted IT hardware amounting to €2,000 and given a special invitation for SAP Ireland's D-Com occasion in March 2024.
Alan Fahey, Senior Vocational Trainer at SAP, said:
"It is so heart-warming to see the skills, qualities and character of our friend and colleague Patrick live on at DCU. It is an honour to have his peers judge the projects and to award this prize in his memory. Congratulations to Jason and Conor for winning this prize in its first year. SAP Ireland looks forward to continuing our close relationship with DCU and the final year project expo into the future."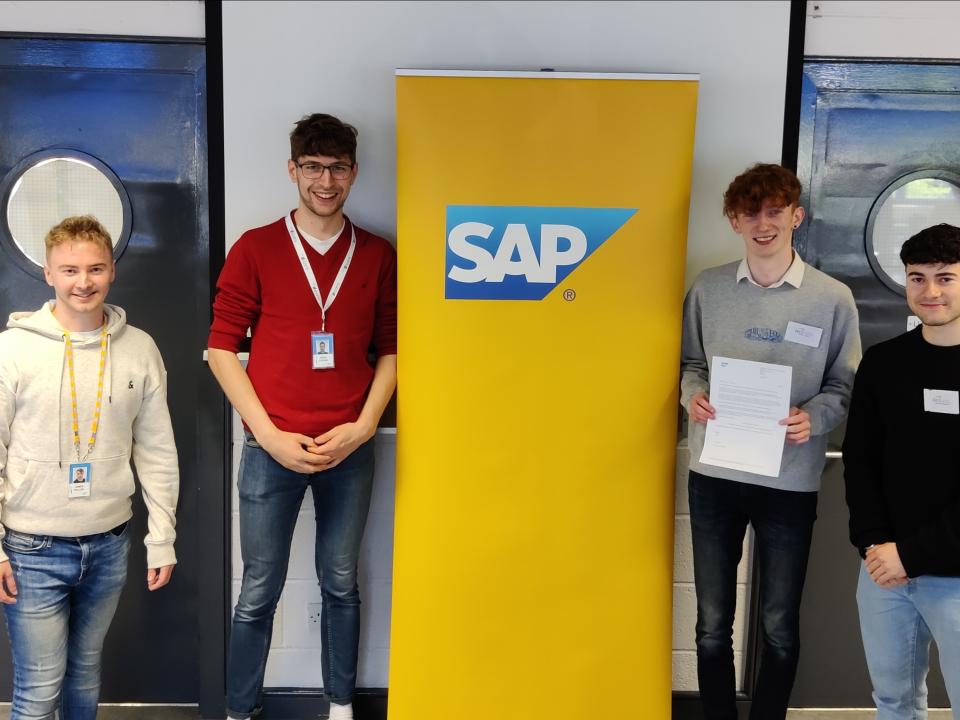 Datalex sponsored one of the six prizes at this year's Dublin City University Final Year Project Expo. 
Aoife McCarron and Julia Dempsey won the 'Best Enterprise Computing' prize sponsored by Datalex for their innovative project called 'GPApp'. They were chosen from a total of fifty projects and were awarded €500.
'GPApp' was created as an appointment booking management system for the use of General Practices, patients and receptionists. The app simplifies the appointment booking process for patients, doctors, and receptionists by providing a centralized platform. It utilizes an integrated calendar to ensure streamlined scheduling and reduces overcrowding at General Practices. This system aims to improve overall patient experience by eliminating lengthy wait times making it more convenient for everyone involved.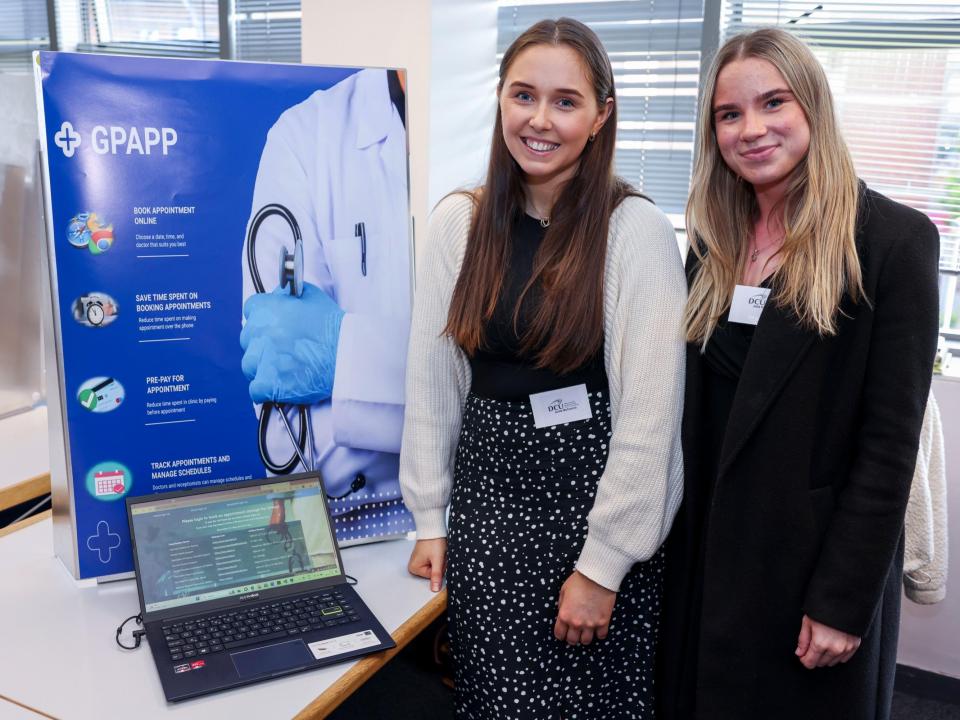 Davy sponsored the 'Best Mobile or Web Application' prize at the Final Year Project Expo 2023. Enterprise Computing students Niamh Osasu Idehen and Aytomiwa Adekunle received €500 in prize funds for their project 'TutorDojo', a tutoring platform for programmers.
'TutorDojo' emerged from a need for a programming-specific tutoring platform that comes with all the essential features that you would expect such as scheduling lessons and messaging on the platform. The concept of TutorDojo is based on the utilisation of an Integrated Development Environment - a software application that helps programmers develop software code efficiently - and a unique approach to conducting lessons. Specifically, each lesson involves a video call coupled with access to an IDE for both students and tutors. The technologies used include CSS, HTML5, JQuery, JavaScript, Nodejs, Python, SQLite, Django, WebRTC, Judge0, REST, Socket.io and Peerjs. 
The team from Davy determined TutorDojo as the winner due to its meticulous research and thoughtful design. The functionality of the application was well executed and operated smoothly during the demonstration. The students, Niamh and Aytomiwa, were recognised for their ability to explain the project and articulate the difficulties encountered.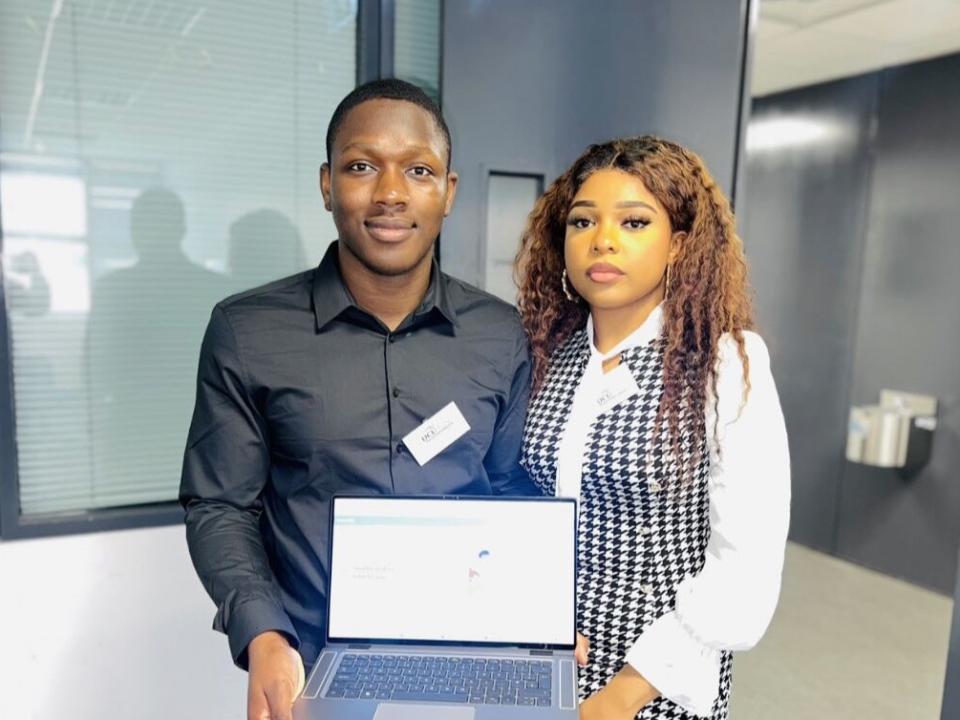 IBM kindly sponsored a prize at the Final Year Project Expo 2023. The IBM prize was awarded to the projects that demonstrated the best use of Open Source Technologies. Open source refers to a license that allows users to view, edit and share software without any restrictions. This includes access to the underlying code of the program
With almost twenty projects submitted for this prize, it was a difficult decision for the team at IBM. Enterprise Computing students Jesse Keogh and Greg Kelly and Computer Science students Ailbhe Byrne and Caoimhe De Buitlear were announced as joint first-place winners, with each team receiving €250.
Jesse Keogh and Greg Kelly created 'Kontribute', a Web3 Creators platform that brings story writing and digital art collectables together. The platform includes features such as dencentralised story storage, likes, tipping, polls, NFT marketplace and NFT minting.
'Classroom Caption', developed by students Ailbhe Byrne and Caoimhe De Buitlear, is a real-time automatic speech recognition web application that provides transcriptions during lectures to be viewed by students. The automatic speech recognition model was fine-tuned using Irish accents to improve its accuracy. The transcripts are saved to a database to allow students to view them and lecturers to edit them.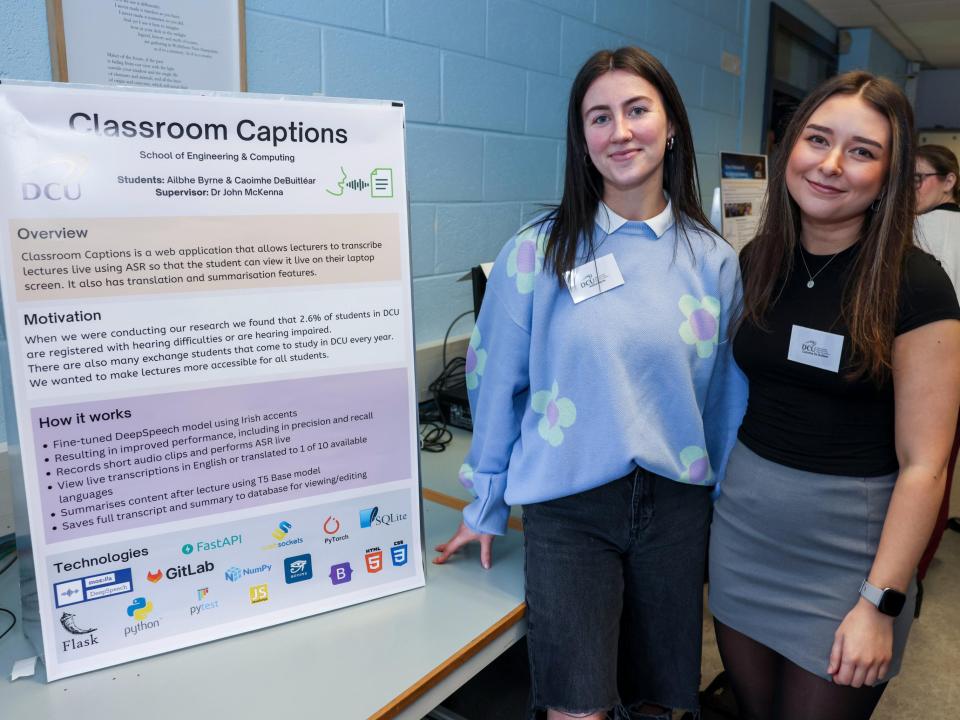 Intel Ireland was one of six prize sponsors at the Final Year Project Expo 2023.
Mechatronic Engineering student Aimee Shanley-Brookes and Biomedical Engineering student Abbey Farrell were joint first place winners of Intel's 'Best Engineering Project' prize, which saw over 100 projects in the running. 
Aimee's project, 'A Smart Floor for Energy Harvesting', looked to create an energy generating smart floor using sustainable materials. The smart floor takes wasted mechanical energy from people's footfall and converts it into electrical energy to power small devices and supply clean energy, relieving pressure off the energy infrastructure. 
Abby's project looked to develop a low-cost microfluidic device that is capable of fully automating the initial phase of sample preparation of a nucleic acid amplification test.
Anthony Gallagher, a final year Mechanical and Manufacturing Engineering student, won second place for his project investigating the use of Motion Analysis Simulation in industry. The aim was to produce simulations that are of a level at which they can be implemented into the design stage of the company's manufacturing process.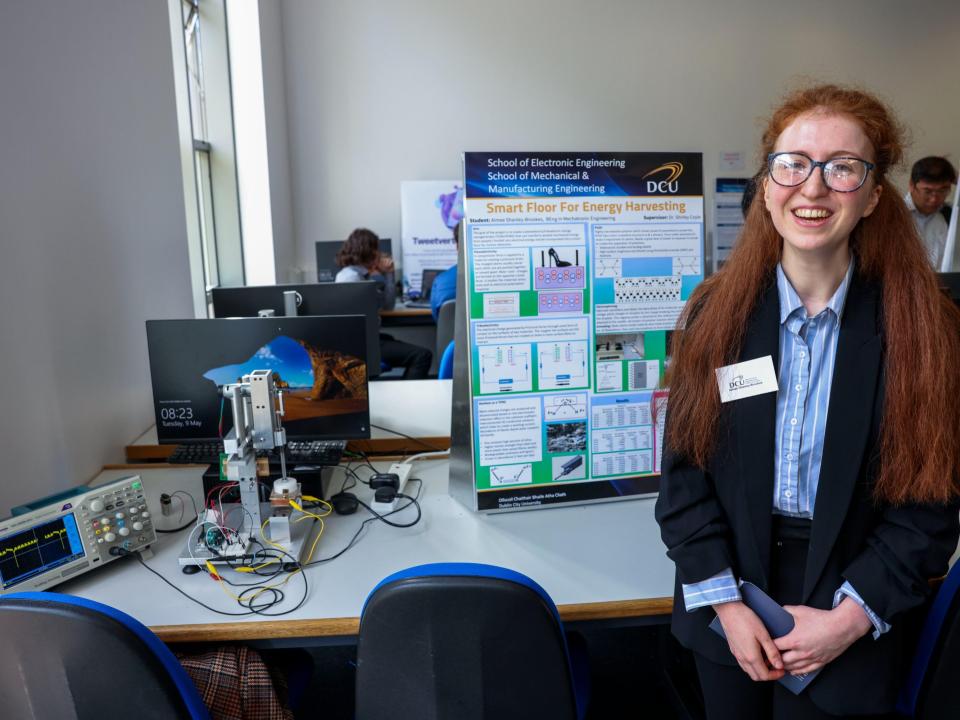 The Final Year Project Expo at Dublin City University had six prize sponsors this year, one of which was Fidelity Investments.
Final year students Imrich Toth and Egor Shilokovskiy shared first place victory with Sylwia Bielinska and Megan Cahill in the 'Best Use of Technology' Prize sponsored by Fidelity Investments.
Computer Science students, Imrich Toth and Egor Shilokovskiy, created a programme that translates hand sign language called 'Hand Read - Translation of Hand Sign Language'. They used a Machine Learning detector to track the movements of hand signs. OpenCV Framework was utilised for this project; it is an open-source software library for computer vision and machine learning. Users upload their video, which detects the hand signals and generates subtitles as output.
Computer Science students Sylwia Bielinska and Megan Cahill shared the prize for 'Best Use of Technology' for their project entitled 'Dyscalculia Math Visualiser App'. This app is designed to assist people with dyscalculia, a disorder that affects numerical comprehension. It uses mobile phone scanning technology to present math problems in an easier-to-understand format. The app also includes a pre-screening test to determine if the user has dyscalculia.
Both winning teams were awarded €250 each and invited to visit Fidelity's office for a celebratory lunch in recognition of their successful final year projects.
Final Year Project Expo 2022
After two challenging years of separation, the Faculty of Engineering and Computing at DCU held its Final Year Project Expo with an on-campus celebration of its soon-to-be graduates and cherished links with industry. 
Attended by a host of external partners, the opening ceremony of this flagship event kicked off in the Student U Centre with a light breakfast, during which eager employers had an opportunity to meet and mingle with final year students, allowing both parties to make valuable, in-person connections.