Faculty of Engineering and Computing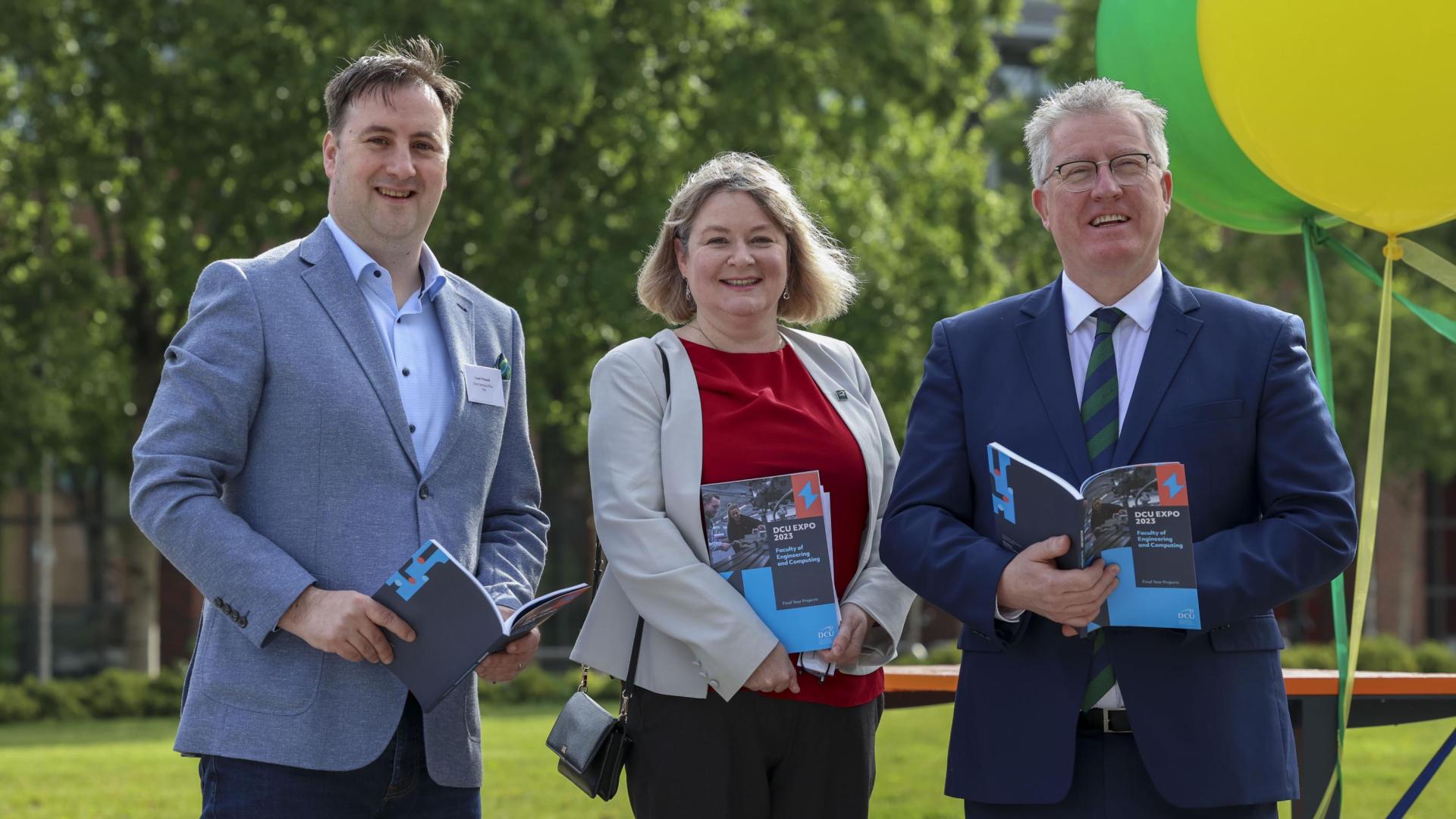 DCU Faculty of Engineering and Computing Final Year Project Expo returns for 2023
The annual event enables soon-to-be engineering and computing graduates to showcase their acquired skills and expertise gained at DCU to industry professionals and employers. The occasion frequently leads to students receiving job interviews and employment opportunities. The Expo has been running for over 30 years and is an important event on the final year student calendar.
Attended by a host of external partners, Expo 2023 saw over 200 innovative projects on display encompassing diverse areas of interest. A number of projects focused on renewable energy, sustainability efforts and digital accessibility for all individuals. 'Fog Climatatology and Nowcasting at Dublin Airport' provides improved fog nowcasting capabilities at Dublin Airport using machine learning and analysis-derived insights. 'Integrated Renewable Energy Systems Assessment in Irish Residential Buildings' looks at energy performance improvement in residential buildings in Ireland by integrating renewable energy systems. The systems were integrated into a reference building using DesignBuilder, an energy modelling and simulation software.
The event began with a light breakfast in the U Building, where students and employers had the chance to engage in meaningful conversations and establish valuable professional connections.
Speaking at the opening of the event, Executive Dean of the Faculty of Engineering and Computing at DCU, Jennifer Bruton, drew attention to the diverse projects on display at Expo 2023:
"The sheer diversity of projects on display is a testament to the characteristic creativity, adaptability and breadth of knowledge evident across our Faculty and supported by our valued external partners. It reflects the commitment, effort and persistence of all of the constellation of people involved - our students, their lecturers, the technical and professional teams who support the academic journey, and our industry partners who help, through real-world exposure via INTRA, to translate their learning into action. We value the relationship our faculty has built with industry over the years and aim to strengthen these links going forward."
The light breakfast was followed by the project showcase where students demonstrated their skills to industry experts and enjoyed insightful discussions about their projects.
The Final Year Project Expo 2023 was sponsored by the world-class cloud and managed services provider, Ergo. Ergo has been a supporter of the DCU Access Programme for several years and is also a participant of the 'Access to the Workplace Programme' which provides high-quality internships to DCU Access students during their summer breaks.
Speaking at the event, Chief Operating Officer at Ergo, Conal O'Donnell, said:
"As the COO of Ergo, I understand the concerns our clients face in today's tech industry climate. Despite market shifts and tightening conditions, Ergo continues to excel, providing outsourced IT services such as managed cloud and security to industry giants like Musgrave and Uniphar. Our clients rely on us for efficient and certain technological solutions in an uncertain world. With annual revenues exceeding €190 million, our track record speaks volumes about our expertise in driving digital transformation for companies.

 

At Ergo, we take pride in our unique community culture that prioritises our people's progression and success. Our positive and supportive work environment fosters diversity, inclusivity, and collaboration. For students who are embarking on their careers, we invite you to consider joining a company where our dedicated team empowers one another and organisations alike, fostering long-term growth."
The prize sponsors of Expo 2023 included SAP, Datalex, Intel, Davy, IBM and Fidelity Investments. TechCentral.ie were the media supporters this year.