Faculty of Engineering and Computing
Undergraduate Degree Courses - School of Electronic Engineering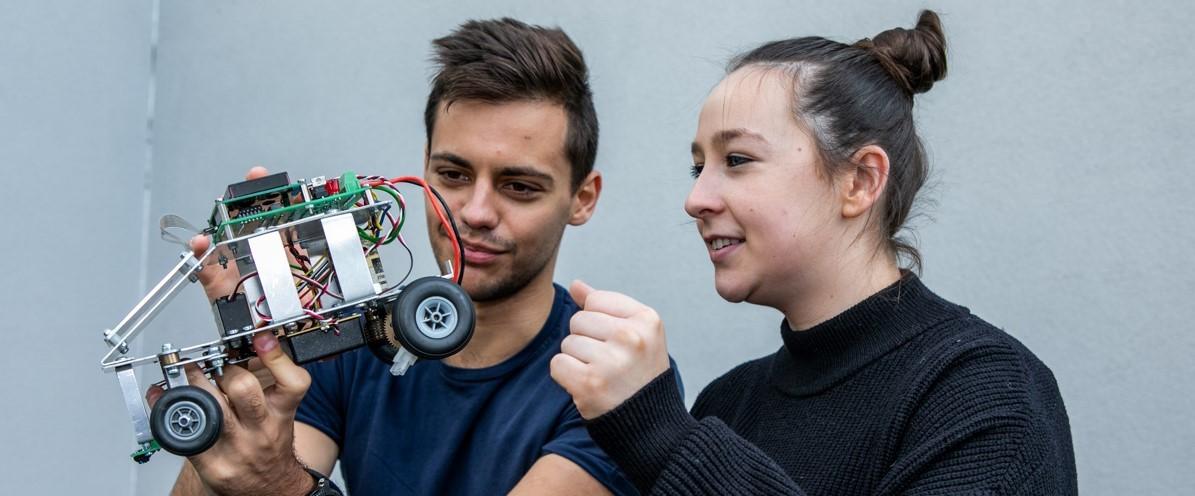 The School of Electronic Engineering delivers the following undergraduate degrees:  Common Entry into Engineering (DC200),  Electronic and Computer Engineering (DC190), Mechatronic Engineering (DC193), Global Challenges (DC197)
If you're interested in engineering, but haven't yet made a choice between the options available, the Common Entry into Engineering option allows you extra time before you decide, with no delay towards your ultimate degree. This option leads to a number of different degree programmes that are all accredited by Engineers Ireland.  On completion of the first year you can then choose one of the following degrees (with an option of year 5 to achieve a masters)
This programme is for you if you want to learn a creative approach to problem-solving, and gain a critical awareness of the impact of electronics and computers on society. Solid theoretical study and significant practical laboratory work combine on this programme to give you the knowledge and skills to become a qualified electronic and computer engineer with the ability to innovate and adapt within an exciting and rapidly changing industry. This programme is accredited by Engineers Ireland.
Mechatronic engineering is about combining mechanical technology with electronic and computer technology and software design to create 'smart', often connected machines. This programme sits across the three different disciplines of electronic engineering, mechanical engineering and software design, building on the expertise of each to do things that no one of them could do separately. It is jointly delivered by the School of Electronic Engineering and the School of Mechanical and Manufacturing Engineering. 
Global Challenges is for people who want to challenge themselves to take on the world's problems.  Students will explore the societal and economic impacts of new and emerging technologies, and their effect on the future of work, environmental impacts and community interaction.  Students will engage with concrete problems and explore solutions in areas such as climate change, gender stereotypes, fake news, global health and global inequality. This programme is shared with the School of Law and Government.