School of Electronic Engineering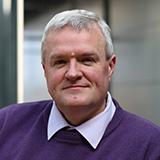 Dr Noel Murphy - A National Teaching Hero
It is with great pride and delight that the School of Electronic Engineering congratulates Dr Noel Murphy, who has been announced as the recepient of a national award recognising him as a Teaching Hero.
Of the Teaching Hero Awards, the National Forum for the Enhancement of Teaching & Learning in Higher Education says:
"The Teaching Hero Awards are Ireland's only national, student-led awards for all those who teach in higher education [and]… are organised by the National Forum in collaboration with the Union of Students in Ireland and other students' unions nationwide. They provide an opportunity for students across the country to recognise and celebrate outstanding teaching in our higher education institutions. Teaching Heroes are nominated by individual students, who submit a short personal piece (a maximum of 150 words) that explains why the person is their 'Teaching Hero'. Based on student nominations, all Teaching Heroes identified, with their agreement, receive national recognition."
Successful amidst a large number of nominees across 37 Higher Education Institutions, Dr Noel Murphy's receipt of this prestigious award recognises his continuous commitment to innovative and impactful approaches to teaching and learning for the benefit of students. 
Reacting to news of his award, Noel was characterisically modest and acknowledged his success as a composite part of the broader endeavours of the School's leadership and academic, administrative and technical staff during a turbulent period.  
The School extends its thanks, also,  to the nominating students for their time and generosity in celebrating Dr Murphy as a Teaching Hero. You can catch what students, nationwide, have to say about their appreciation for the heroes via YouTube.