MEng in Electronic Systems
Major in Image Processing & Analysis
Image & video analysis is a core skill currently driving much of the recent AI advances by both leading mutli nationals (such as Google, Facebook, IBM, Apple, Baidu ..) and a wide range of highly innovative startups. This major will address this ever popular skill set by modules that cover traditional signal processing, data analytics, feature extraction, machine learning and the highly sought after core expertise of deep learning for computer vision.
Deep learning has allowed the development of highly advanced computer vision solutions across a wide range of industries, driving both its advances and adoption and is set to be a dominant engineering technology. In addition to these advanced technical modules, students will also be exposed to the entrepreneurial skills necessary to go beyond the core engineering aspects of product development and commercialisation.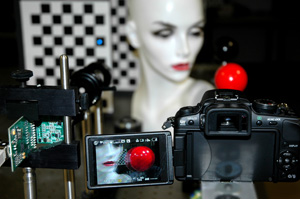 This Major is primarily aimed at those who aim to undertake research in Image Processing & Analysis or require a deeper understanding of the subject to address commercial computer vision development. Image Processing & Analysis applications span a wide range of disciplines including industrial/machine vision, video data processing, biomedical engineering, healthcare, astronomy, imaging science, sensor technology, multimedia and enhanced reality systems.
To achieve the MEng award, students must complete eight modules plus a major specific project. Each module typically involves 3 hours of lectures (in a block) each week for 12 weeks.
Full-time students should choose four subjects in each of Semester 1 & 2 and a project in order to complete the programme in one calendar year (Sep-Sep).
Part-time students typically take two subjects in each of Semester 1 & 2 plus the project in order to complete the programme within two calendar years (Sep-Sep) (the project cannot be taken in the first year).
The information herein is indicative (e.g., modules are subject to change). Please refer to the individual module pages for additional details.
Core Courses
Computer Vision
Data Analysis & Machine Learning
DSP (Signal Modelling & Compression)
Entrepreneurship for Engineers
IPA Project
Please use the Module Listing Facility (select this programme) for more details.

Key Staff

List of Majors | Taught Postgraduate Information | Registration Details