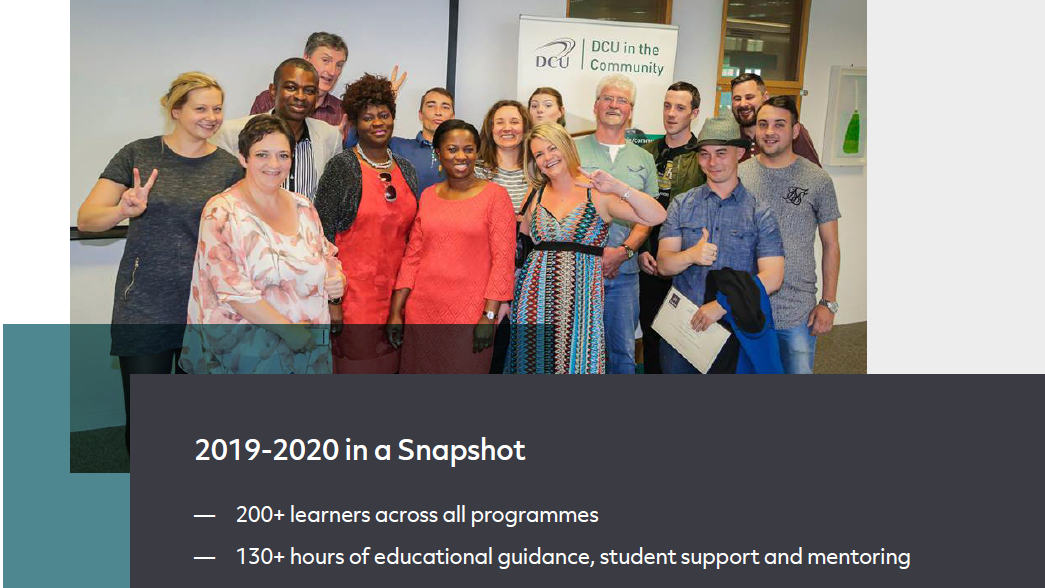 DCU IN THE COMMUNITY: TEN YEARS ON
In 2020 we celebrated 10 years since the re-opening of DCU in the Community in Ballymun. We welcomed our first students in September 2010 and the decade since the centre's re-launch displays a strong positive balance sheet in all of our activities. DCU in the Community is firmly established on the local community map, well-networked among local community and voluntary sector organisations, and enjoys an ever increasing buy-in among DCU staff and students.
Between 2010 and 2020 we have:
— Delivered nearly 100 accredited and non-accredited learning programmes for local residents (college preparation, digital media, social studies, psychology, health and wellbeing, personal finance, mathematics, and sports and fitness) with a majority of the programmes delivered in partnership with local community and voluntary organisations
— Catered for over 1,500 community learners and adults returning to education
— Provided 130-180 hours annually of educational guidance and mentoring for adults returning to education – both in-house students and external clients
— Assisted with more than 200 applications to full time further and higher education for mature students and adult learners from socio-economically disadvantaged areas
— Assisted with over 200 student funding applications
— Co-led the development of StudentVolunteer.ie – a national higher education student volunteering management system
— Linked more than 1,000 DCU students from across DCU Schools and Faculties with volunteering and service learning opportunities
We would like to thank all of our university and community partners - without their support, advice, and friendship we would not be able to celebrate this important milestone. Our special thanks goes to all our former staff members.