Faculty of Engineering and Computing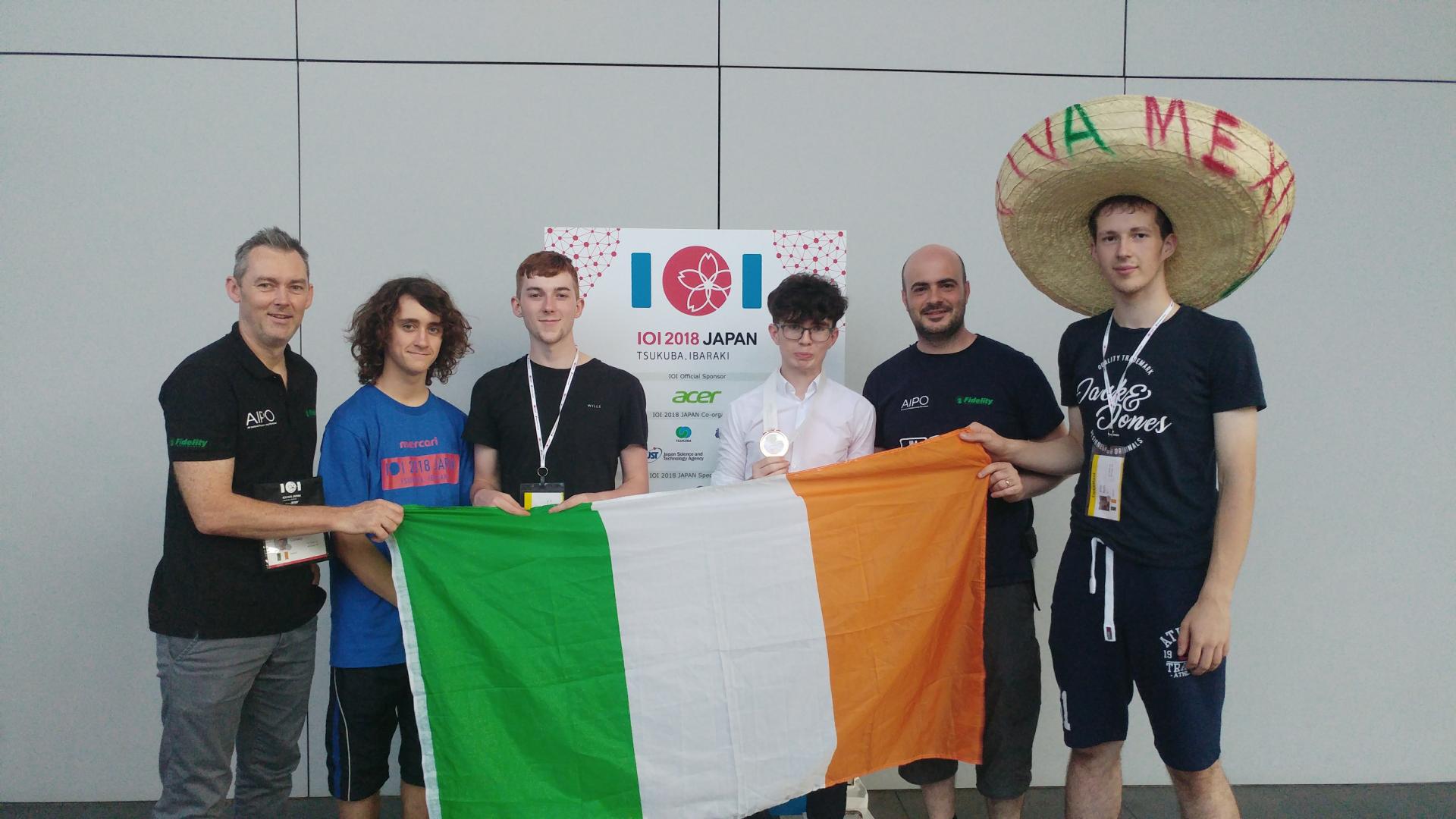 Below Image
Team Ireland win Bronze IOI 2018
Kieran Horgan from the AIPO (All-Ireland Programming Olympiad) Team Ireland has secured a Bronze medal at this year's International Olympiad in Informatics (IOI) in Tsubuka, Japan.
The IOI is the Olympics of high-school algorithmic programming and this year saw 334 students from 87 countries compete.
Kieran has been attending the AIPO (an annual computer programming Olympiad held at DCU) for the past four years, improving year on year, and recently winning the National title in February.
Winning Bronze is a tremendous achievement in a highly-competitive and prestigious contest that is typically dominated by teams of the US, China and Russia.
All of Team Ireland collected points from the two days of competition, which is a superb result in itself – congratulations to you all.
Special thanks to Tadhg O'Shea and Fidelity Investments, sponsors of the AIPO and whose fantastic support over the past few years has enabled these talented young individuals to experience unforgettable opportunities on the world stage.
A big thank you also to Gary Conway from DCU's School of Computing for his mentoring of Team Ireland through the year.
You can follow the AIPO Team Ireland's trip on the AIPO Facebook page (https://www.facebook.com/DCU.AIPO/) and on Twitter (https://twitter.com/DCU_AIPO)
The full scoreboard can be seen here: https://ranking.ioi18.net/ and if you are curious about the programming problems that the Irish team members had to do, you can find them here: https://ioi2018.jp/competition/tasks/
ABOUT THE AIPO
AIPO (the Annual All-Ireland Programming Olympiad) is an annual computer programming Olympiad held at DCU. The goals of the competition are:
To encourage and reward young programmers, (male and female).
To promote contacts among programmers in Ireland.
To select a team for the International Olympiad in Informatics (IOI).
The competition is open to all second-level students in Ireland who are under 20 on the 1st of July. It consists of two rounds; round one can be done at home or at school, and is used to determine entry to the final round which will be held in the School of Computing at DCU. For details on entry, please go to the How To Enter section.
Photo caption (left-right):Gary Conway (AIPO Director, School of Computing) Oisin O'Duibhir (Scoil Mhuire Agus Íde, Newcastle West, Limerick), Caolan Fleming (Leinster Senior College, Newbridge, Kildare), Kieran Horgan (Davis College, Mallow, Co. Cork), Ximo Planells (AIPO Ass. Director), John Ryan (St.Joseph's College, Borrisoleigh, Thurles) pictured today at this year's medal ceremony, International Olympiad in Informatics in Japan.