Faculty of Engineering and Computing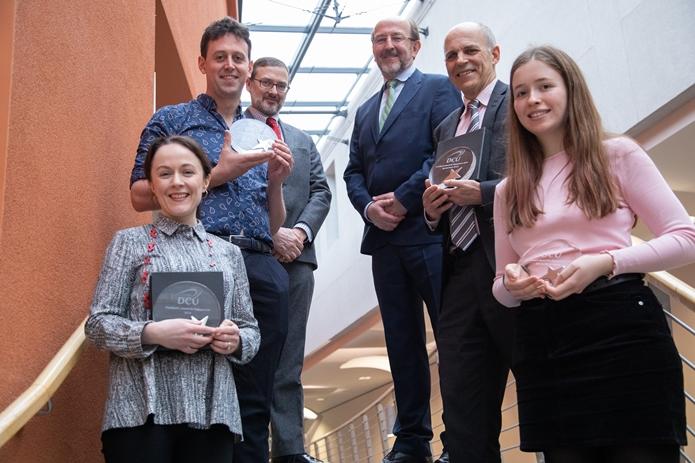 Below Image
Climate change,education for the deaf and social enterprise initiatives honoured at Engagement Awards
2019 President's Awards for Engagement
A range of impactful and transformative initiatives in education for the deaf, STEM education, climate change, social enterprise and increasing female participation in engineering were honoured at the President's Awards for Engagement presented on Monday, April 8th at Dublin City University by the President of DCU, Professor Brian MacCraith. The awardees are from the academic and student community at Dublin City University and were honoured for their efforts in combining enterprise and creativity to make a positive contribution to society.
The President of Dublin City University Professor Brian MacCraith said:
"Since its foundation DCU has been an 'engaged' university and a pioneer in civic and community engagement.We have always recognised the mutual benefits that arise, for our university and the wider community, when we reach out to one another.

The recipients of this year's President's Award for Engagement provide ample testimony to the depth of talent and commitment across all sections of DCU in terms of engagement and in particular civic and community engagement.

This year's award winning contributions embody the mission and values of DCU to transform lives and societies."
The recipients of the 2019 President's Awards for Engagement are:
Staff Category: Dr Elizabeth Mathews, School of Inclusive & Special Education
Dr Elizabeth Mathews has been working with the deaf community since 2003. Prior to her appointment to DCU, she established the Deaf Education Centre in 2011 and opened the only pre-school for deaf children in Dublin in 2014.
During her time at DCU, Dr Mathews made a leading contribution to the opening of BEd Irish Sign Language (first of its kind in Ireland), and the development of ISL STEM glossary project.
The BEd ISL programme will transform education delivered by and for deaf teachers, and will play a major role in access and participation in third level education among the deaf community.
This new degree has been designed in collaboration with the deaf community and organisations working with the deaf community.The ISL STEM glossary project, launched in February 2019, has already been accessed nearly 3,000 times and will assist pupils and students from the deaf community in engaging with STEM subjects.
Special Merit - Prof Barry McMullin, School of Electronic Engineering
Prof McMullin has been nominated for his public and policy engagement and leadership in the area of climate change and sustainability. He is the founding member and first chair of An Taisce Climate Committee (ATCC).
He has engaged in lobbying, advocacy and activism in the area of climate change through publications, submissions and media interventions, presentations to Oireachtas committees, attendance at the annual UNFCCC (United Nations Framework Convention on Climate Change) CoPs (Conference of the Parties) and support for climate-related legislation in the Dail.
Student Category: My Streets, Austin Campbell, MSc PR and Strategic Communications
My Streets is a social enterprise founded by Austin Campbell which engages homeless trainees (through self- referral or referral from relevant agency) on a three month programme based around storytelling/confidence, creative writing and tour guiding skills delivered by professional trainers.
My Streets offers all graduates employment opportunities as a tour guide based on their own experience of place thereby also offering tourists a unique tourism experience. In addition the programme connects all graduates with further education and employment opportunities through a variety of partners and professional collaborators. My Streets has been in operation since 2014 and was incorporated as a company in 2017.
To date, it has trained 37 homeless individuals and provided a unique tourism experience to over 9,000 customers.
Over 50% of My Streets trainees have gone on to secure employment and/or positive accommodation outcomes to date. My Streets is currently operational in Co. Louth and Co. Dublin and aims to expand to a number of additional locations over the next twelve months. My Streets was a 2018 Social Entrepreneurs Ireland (SEI) Awardee.
Special Merit - Jennifer Harrington - School of Mechanical and Manufacturing Engineering
Jennifer has played a leading role in promoting and increasing the representation of females in engineering through public engagement and advocacy. Activities to date include establishing the DCU Women in Engineering Community; organising the Women in Engineering Open Day at DCU attended by local schools; founder of the DCU Women in Engineering Community which has made a strong contribution to promoting engineering at DCU through presentations and talks at DCU Open Days.
Further to all of these activities Jennifer has also delivered numerous talks and presentations to hundreds of female secondary school students on the topic of engineering as a career choice at events on DCU's Innovation Campus, DCU Alpha.
Pictured (l-r) Dr Elizabeth Mathews, Austin Campbell, Dr Deiric O' 'Broin, Head of Civc Engagement and Social Enterprise, Professor Brian MacCraith, President of DCU, Prof Barry McMullin, Jennifer Harrington