Faculty of Engineering and Computing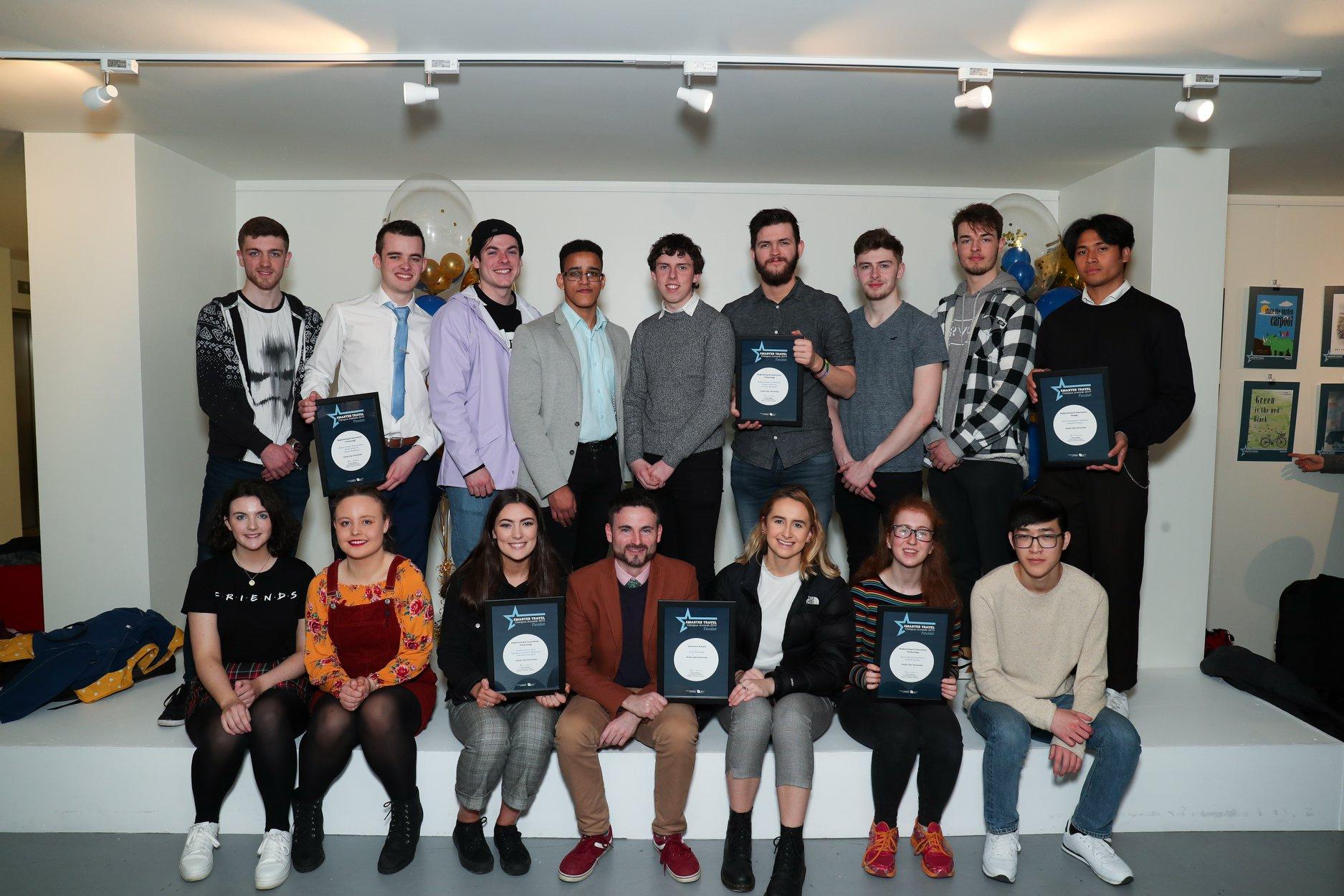 Below Image
First year engineering success at the Smarter Travel Campus Awards
The Smarter Travel Campus Awards invited third level students to create entries relevant to their course discipline to promote more sustainable modes of transport; walking; cycling; public transport and carpooling.
This year through the DCU IGNITE Programme for first years, Dr Anne Morrissey & Dr James Carton of the School of Mechanical & Manufacturing Engineering created a project based off the Smarter Travel Campus Awards within EM105 Professional Development for Engineers.
Student teams produced posters of innovative ideas and technologies to support, promote and encourage more sustainable transport. The more developed projects were shortlisted for entry to the awards.
Of the teams who entered the awards, five teams were shortlisted for the Smarter Travel Campus awards in the Engineering categories held at the Lighthouse cinema competing against a number of colleges & universities from all across Ireland.
Congratulations to Taidhg Treacy, Sean Callaghan, Caoimhe McDonnell & Katelyn Gallagher on winning the overall award in the Engineering & Innovation – Technology category for their original idea on getting reduced toll bridge charges for carpooling.

DCU Finalists
Category: Engineering & Innovation – Technology
Aimee Shanley Brookes, Andrew Brohan – Defeet Emissions an app to encourage sustainable travel

Eamon Kilheaney, Erick Zhu, Ahmed Sabertaha & Jacob Baneham – Wayward: Encouraging Smarter Travel with Gamification

Roisin Feehan, Oscar Scanlon, Niamh Briody & Jordan McConnon – Green aware project, an experiment in using social media to increase awareness of smarter travel.

Taidhg Treacy, Sean Callaghan, Caoimhe McDonnell & Katelyn Gallagher – e-Toll with car pool, reduced toll charges for people who car pool – and overall Winners of this Category
Category: Engineering & Innovation – Design
Dylan Cannyghin & Christian Benedict Velasco – A bike docking station that eliminates the need to carry a bike lock


For more information contact: james.carton@dcu.ie