Faculty of Engineering and Computing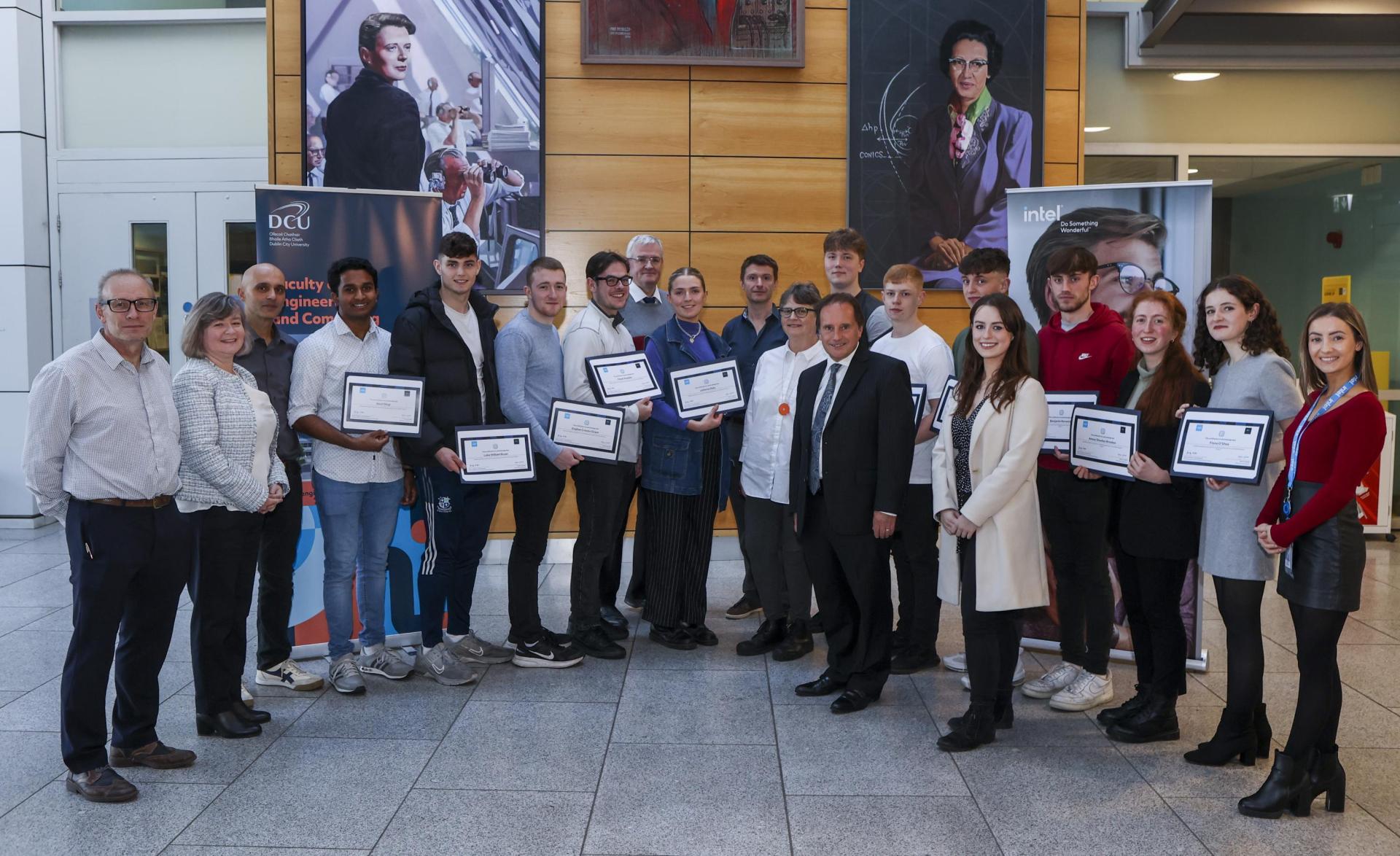 14 DCU students selected to receive Intel undergraduate awards
Intel Ireland recently awarded the latest recipients of a scholarship and awards programme for Dublin City University (DCU) students. This is the latest round of the programme, which first began in 2018, and sees 14 students from Undergraduate programmes receiving awards. The programme forms part of an ongoing strategic partnership between Intel and DCU which was further strengthened following the signing of a memorandum of understanding by the head of Intel's Irish operations, Eamonn Sinnott, and DCU President, Prof. Brian MacCraith, in 2017.
The students receiving the Undergraduate awards each receive a monetary prize of €500. The award recipients are selected based on academic achievement, achievements were assessed at both a group and individual level. 
The scholarship programme provides each participant with €500 to support their academic studies and also ensures that students have the opportunity to experience practical learning which is aligned to the needs of industry. 
On Thursday October 6th at a special event held at the DCU campus, the latest recipients were unveiled and formally presented with their scholarships and awards. The presentations on the evening were made by the Executive Dean, Jennifer Bruton, Stefano Sellitto, Intel Research and Chloe Ward, Intel Human Resources. 
The recipient students were as follows:
Undergraduate Awards
Aimee Shanley-Brookes
Benjamin Renwick
Emils Zep
Eoghan Craven-Grace
Fiona O'Shea
Julianne Daly
Karina Martinez
Matthieu Crampon
Nevil Shaji
Oscar Scanlon
Padhraic Byrne
Eoghan Healy
Jaume Ros Alonso
Luke William Bryan
Congratulations to all of the recipients of this award.