Faculty of Engineering and Computing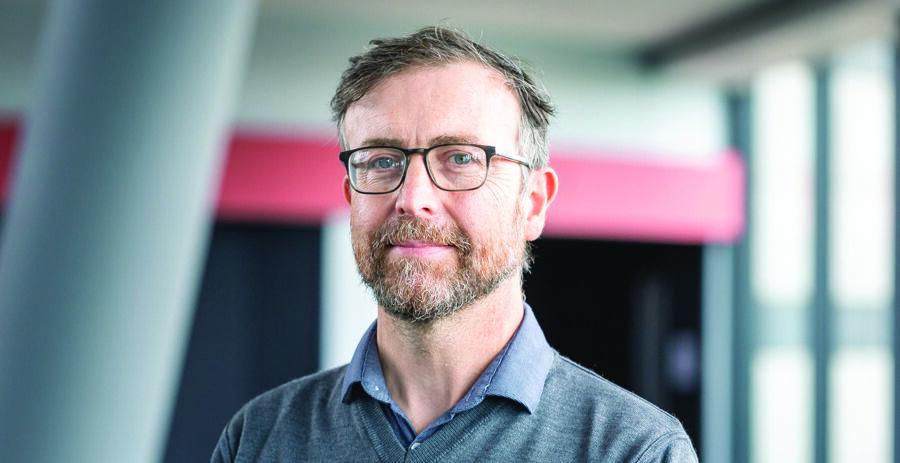 Professor Tomás Ward appointed Director of Insight SFI Research Centre for Data Analytics at Dublin City University
Speaking about his new role Professor Ward said: 
"Insight has been an enormous success to date and DCU has played a significant role contributing to that success. The opportunity to take a leadership position within one of our world class research centres is one I am delighted to have been offered. Together with all our partners across Ireland I am eagerly anticipating exciting challenges and rewarding times ahead."
Professor Ward's research concerns the development of machine learning for improvement of human health, performance and decision-making in real world settings and is sustained through national and international collaborative research networks. An example of such work is the "Brain Integrated Tagging for Socially Curated Online Personalised Experiences" (BITSCOPE) project. Led by Professor Ward, BITSCOPE presents a vision for brain computer interfaces (BCI) which can enhance social relationships in the context of sharing virtual experiences. The project proposes future technology in which attention, memorability and curiosity elicited in virtual worlds will be measured without the requirement of "likes" and other explicit forms of feedback through monitoring of brain activity using wearable sensors.
Professor Ward is also the AIB Chair of Data Analytics at the School of Computing, DCU. He takes up the position of DCU site director at the  Insight SFI Research Centre for Data Analytics which is networked to the regional, national and international business ecosystem through 80+ Industry partners providing innovative data-driven solutions to both SME and MNC partners based in the region and beyond.
The CEO of the Insight SFI Research Centre for Data Analytics, Professor Noel O'Connor, welcomed the appointment saying: 
"A centre with the scale, diversity and global ambition of Insight needs strong leadership that is backed by world class scientific excellence. I am delighted to say that in Tomás we have both in abundance and I look forward to working closely with him on the next stage of Insight's evolution."
Professor Tomás Ward's Biography
Research Group: Sensing and Actuation
Prior to his position at DCU Professor Ward was a professor in the Department of Electronic Engineering at Maynooth University and led a research group focussing on neural engineering. He holds B.E. (1994), M.Eng.Sc. (1996) and Ph.D (2000) degrees in engineering from University College Dublin. He is a Senior Member of the IEEE since 2011 and has authored more than 280 peer-reviewed scientific publications. Professor Ward is actively engaged in entrepreneurship and dissemination through commercialisation.  He has licensed a range of technologies to industry including sensor streaming technologies for e-health, over the air programming systems, edge AI technologies and software for rapid deployment and management of distributed clinical trials. Professor Ward is a keen advocate of hacker spaces and is a co-founder of Dublin Maker – the showcase of the maker movement in Ireland.
Insight SFI Research Centre for Data Analytics
The Insight SFI Research Centre for Data Analytics is one of Europe's largest data analytics research organisations, with over 450 researchers, more than 80 industry partners and €100+ million in funding. Its research spans Fundamentals of Data Science, Sensing and Actuation, Scaling Algorithms, Model Building, Multi Modal Analysis, Data Engineering and Governance, Decision Making and Trustworthy AI.
Insight is made up of four host institutions at DCU, University of Galway, UCC and UCD. Insight's partner sites are Maynooth University, TCD, Tyndall and UL.