School of Electronic Engineering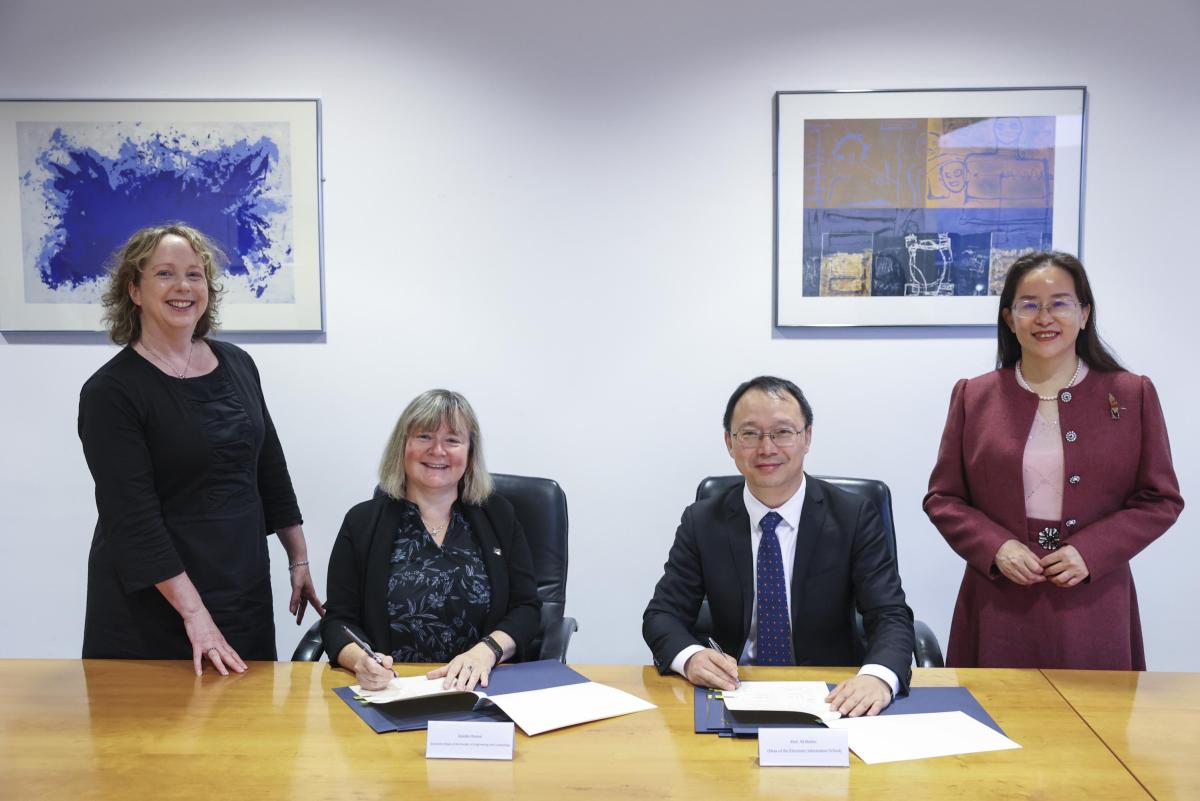 DCU and Wuhan University announce new joint masters programme in Electronic and Computer Engineering
The Faculty of Engineering and Computing at DCU and Wuhan University (WHU) have once again joined hands to enhance their long standing partnership. On the morning of October 18, 2023, a delegation from WHU visited DCU to sign the Execution Agreement for a Joint Masters in Electronic and Computer Engineering.
A distinguished delegation from WHU attended the signing of the agreement, which included Dr. Zhao Xuemei, Vice Chair of the University Council, Prof. Tan Yumin, Director of the Department of Administration Offices Affairs, Mr. Liu Yisheng, Deputy Director of the Organisation Department, Prof. Ni Binbin, Dean of the Electronic Information School, Prof. Wang Xiaoguang, Associate Dean of the School of Information Management and Mr. Gui Ling, Deputy Director of the Office of International Affairs
DCU's Vice President for Academic Affairs, Prof. Lisa Looney, who had previously signed the underlying Implementation Agreement in 2022, was again proud to sign this addendum .  Prof Looney commenced the signing of the Execution Agreement with an opening address, highlighting the strength of the decades-long partnership and the potential for expansion in research collaboration.
This agreement stands as a testament to the enduring relationship between the two institutions which dates back to 2005, when they initiated joint programmes that allowed over 10 Chinese WHU students to study at DCU's School of Electronic Engineering. More recently, in April 2023, DCU's Xiaoxia Wang visited WHU to present DCU's Master's programmes to WHU students. In June 2023, two delegations from WHU visited DCU. The first delegation discussed the details of the joint programme agreement, with the second exploring further  possible collaborative areas with DCU.
About Wuhan University:
Wuhan University, a prestigious institution in China, has a rich history dating back to its founding in 1893. Over the years, it has produced more than 300,000 skilled professionals and boasts over 100 members of the Chinese Academy of Science and the Chinese Academy of Engineering among its alumni. WHU's prominence in higher education is also acknowledged internationally, with recognition from renowned journals such as Science.