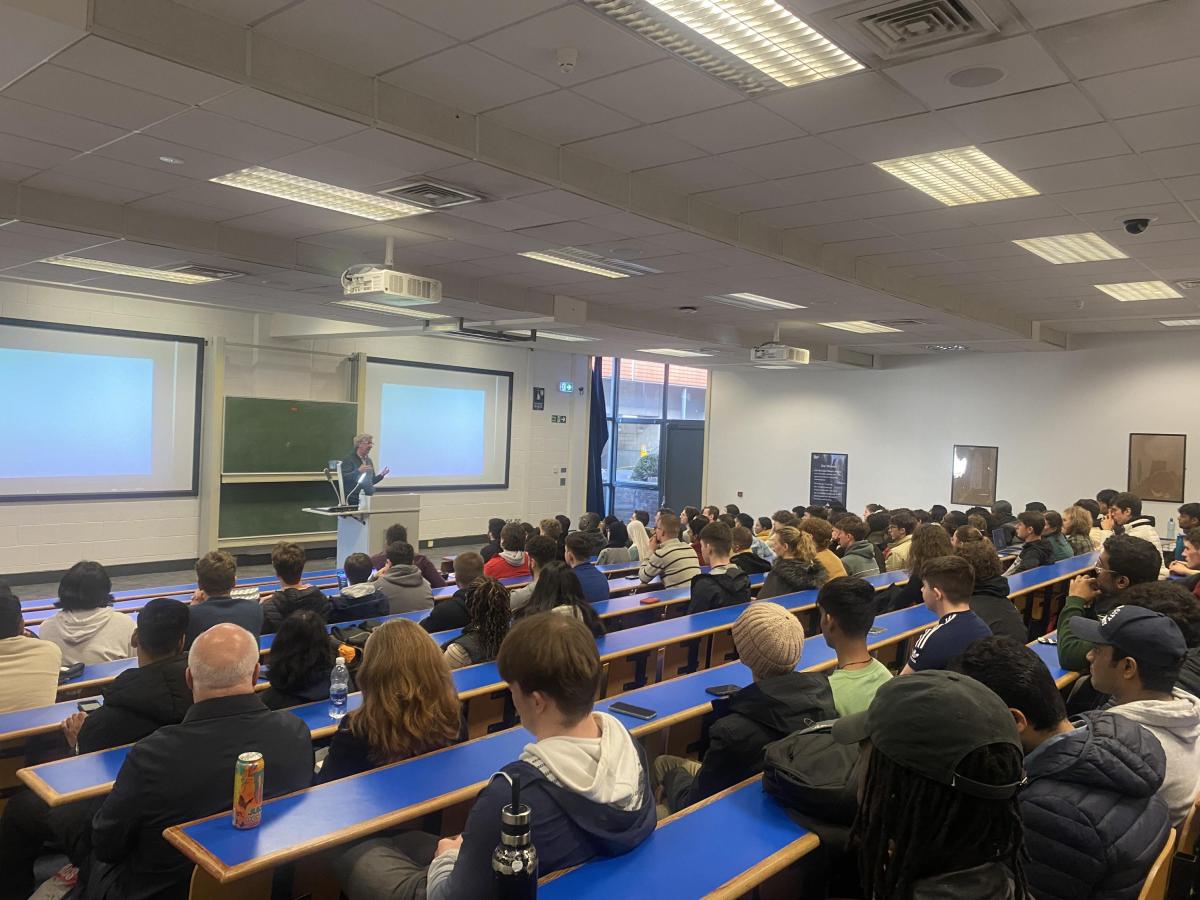 PJ Hough Guest Lecture
On the 14th of November, the School of Computing was thrilled to welcome the return of its alumnus, PJ Hough, to deliver a very special guest lecture to the student body of the Faculty of Engineering and Computing.
PJ, who holds both Bachelors and Masters degrees in Computer Applications from DCU, went on to have an illustrious career in the tech industry in the United States, where he spent over 17 years driving the vision for, and execution of, the full Microsoft Office suite.  More recently, PJ stepped down from his position as Vice President of Microsoft's Developer Division before transitioning to Citrix, where he held the role of EVP, Chief Product Officer for the 5 years preceding his recent retirement.
This guest lecture provided attendees with a helicopter overview of PJ's journey, from his early days as a Computer Applications student at NIHE (as DCU was then known) through to his first career break working for Digital Equipment Corporation (DEC) in Galway in the 1980s.  It was at DEC that PJ described experiencing a light bulb moment, when, having spent a full weekend writing the front end for Visual Basic, he realised that computers, programming and software development 'would change the world'. Two years later, PJ, upon the recommendation of a former Computer Applications classmate, made the 'luckiest decision' of his life and left the shores of Galway to become employee 'number 12 in office' at Microsoft in Seattle, a then nascent company that turned out to be, in his words, 'kind of a big deal'.
This journey through PJ's career was peppered with advice, anecdotes and insights into the complexity of the tech industry from an insider perspective.  Speaking about the challenges posed by building Microsoft Office (the need to constantly define/refine what Office should do and what the customer wanted), PJ likened its development to 'ordering pizza for 400 million people'.  In this groundbreaking period, there was no frame of reference and while the developer division got a lot of things right, PJ shared that they also quickly learned what was surplus to requirements (remember Clippy/Clippit!). The endurance of the Office suite, nevertheless, is inarguable and PJ recounted really feeling the impact of its success when walking down an aeroplane aisle and seeing laptop after laptop running Excel, Word and PowerPoint.  Furthermore, PJ noted that he had, just last week, attended the 40th birthday of Microsoft Word!
Turning to mentoring, PJ encouraged students to learn to love learning programming languages, noting that, throughout his career, he often had to start over in learning new technologies and markets in an industry that 'can turn on a dime'. He urged attendees to think critically about the lifecycle and durability of existing and new technologies in an increasingly dynamic environment . In the midst of a new era of large language models and AI, opportunity abounds and students, he advised, should think about how to spot the shifts in the tech landscape and consider how they might 'catch the wave'.  PJ also emphasised the importance of resilience in an industry where almost instantaneous expertise is expected and workloads are heavy.  Here it is important, he said, to learn how to winnow projects down, to prioritise, to augment what is already built and to tap into the power of collaborative working. Finally, PJ emphasised the importance of classmates and peers, who can offer an alternative view, a work around or perhaps, if one is lucky, a lead on a career opportunity (as was the case for him)!  Either way, networks are invaluable!  Following the talk, we saw PJ's networking skills in action as he stayed back to chat with students and answer questions on a one-to-one basis.
Both the School of Computing and the Faculty extend their sincerest thanks to PJ Hough for a really enjoyable afternoon and for the very great benefit of his mentorship to our students.