EQI: Centre for Evaluation,Quality & Inspection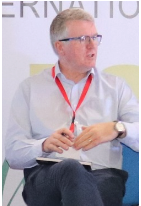 Dr Mike O'Sullivan joins EQI
EQI is delighted to welcome Dr. Mike O'Sullivan to the team.
Mike has spent over 25 years in school leadership positions both in Ireland and internationally in locations as diverse as Greece and the Middle East. He is currently the principal of a mid-sized primary school in Ireland. Prior to that he founded and led large international schools with enrolments of over 2,000 students in different parts of the world. Mike is a qualified international school inspector, whose research interests include the evaluation of leadership and governance of international schools, particularly those with a British perspective. He has an M.Ed from Trinity College, Dublin, and completed his Ph.D. thesis, in Dublin City University, on the evaluation perceptions of British Schools Overseas (BSO) principals. This research focused on the evaluation of principals whose schools are accredited under the unique BSO inspection system conducted by the British government on qualifying international schools. The investigation also examined the governance structures of BSOs and the handling of BSO evaluation results. Mike has presented at conferences in Kuwait, Qatar, and London on a range of topics including international school effectiveness and cultural diversity. He also led a number of conferences on the topic of inclusion in international schools, which involved working with a cross-collaboration of professionals from the fields of medicine, dentistry, and education during the Special Olympics World Games held in the UAE in 2019.
We are looking forward to working with Mike and in particular to the practitioner and research-informed insights he will bring to our work.