Expose your Research Competition
Expose Your Research 2018
Visual communications competition for research students
In 2018 Graduate Studies ran a research competition for students to capture their research in a single image. The competition provided research students with an opportunity to present their work in a different format and gave them the chance to showcase their artistic skills.
The 'Research Image' category invited researchers to encapsulate an aspect of their research topic in a single image.
The 'Researcher Life' category within the competition invited researchers to capture an image of the life of a researcher, in the broadest sense.
Research Image
The winning entry in the Research Image category was S. Harikrishnan from the School of Law & Government. Harikrishnan won €300 in prize money for the below image.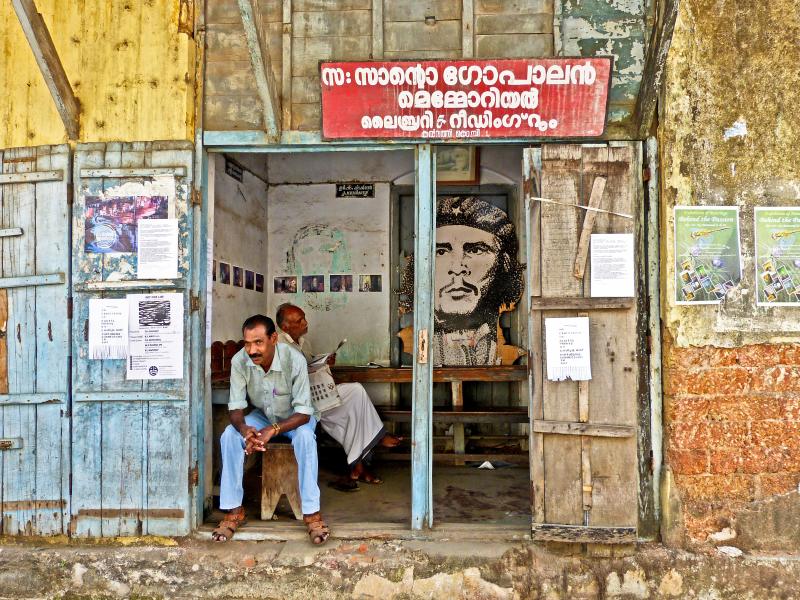 Title: Comrade Santo Gopalan Memorial Library and Reading Room
Descriptor: In Kerala (India), reading rooms were used successfully by the Communist Party since the 1930s to spread social and political awareness among the masses. Throughout the 20th century, reading rooms sprang-up in large numbers across the state, many of which became spaces for daily political discussions and debates among men in the village (they were almost always inaccessible to women). The reading rooms set up by the Party were often christened after martyrs and Party legends, like the Comrade Santo Gopalan Reading Room in Fort Kochi seen here, named after a party worker who succumbed to injuries after a confrontation with the police in 1968. A library was set up in the same year. Today, reading rooms have ceased to be the vibrant political spaces that they once were. The coming of television, the internet, and smartphones meant that news is 'consumed' in the 21st century, not 'engaged with'.
Below is S. Harikrishnan receiving his certificate from Ciaran Clancy from Neogen / Campus Print.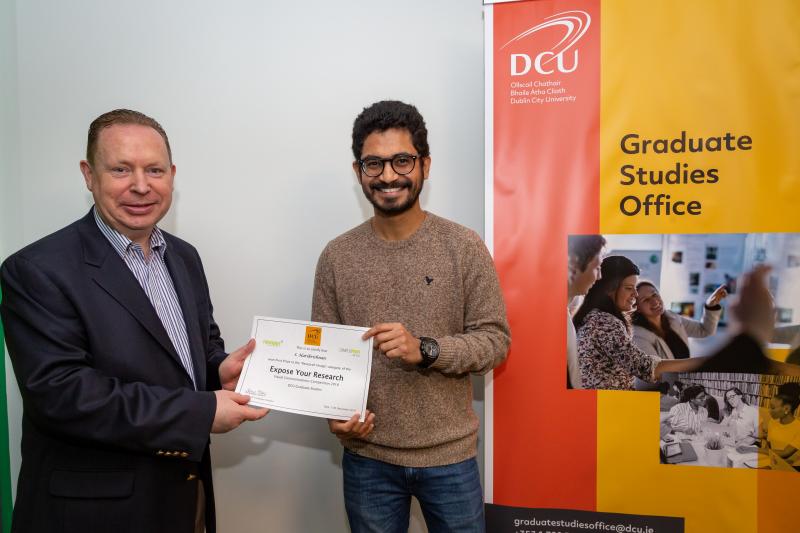 The runner-up in the Research Image category was R. Sambhavi Priyadarshini from the School of Health & Human Performance and based in the National Institute of Cellular Biotechnology. Sam received €150 in prize money for the below image.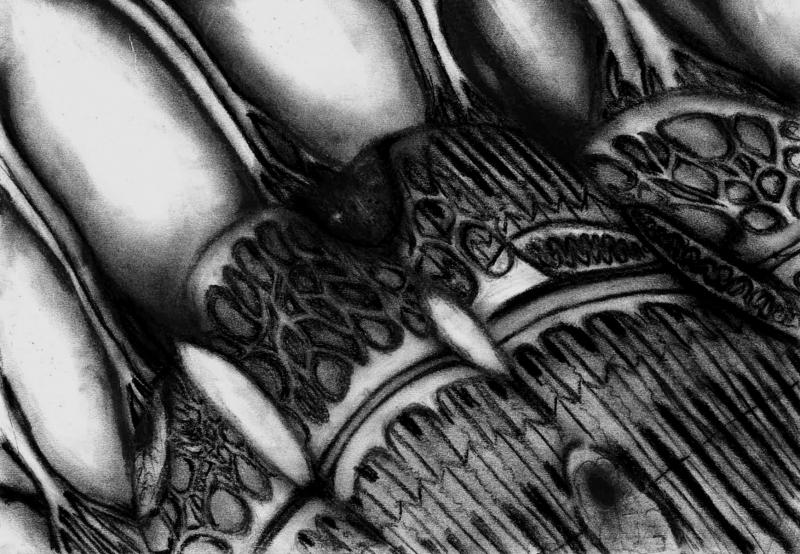 Title: Skeletal Muscle Fibres
Descriptor: My research focuses on understanding muscle plasticity and its remarkable ability to adapt to stress. Muscle fibres are unique in their structure – multiple primary cells fuse with each other to create long fibres with multiple nuclei. Invaginations in the cell surface called T-Tubules, the sarcoplasmic reticulum and the mitochondria co-localise to create a triad next to the contractile apparatus. This structural pattern is responsible for simultaneously translating neural signals into movement as well as energy. Numerous molecular signals within these fibres work in exquisitely orchestrated synergy to result in every single move we make. In this image, I hope to convey how complex and beautiful our muscles are, inside and out.
Below is R. Sambhavi Priyadarshini.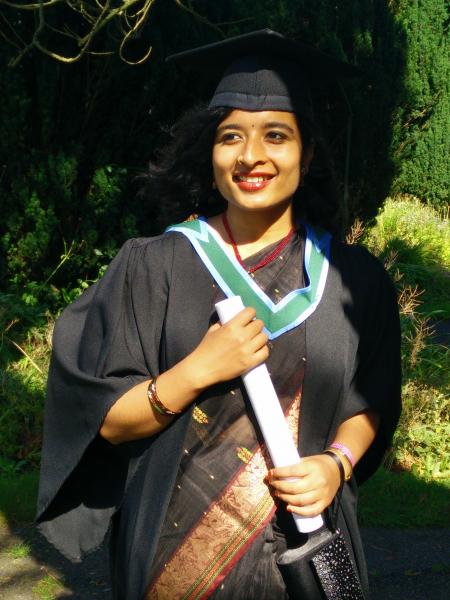 Conor McGeough from the School of Physical Sciences was 'highly commended' in the Research Image category.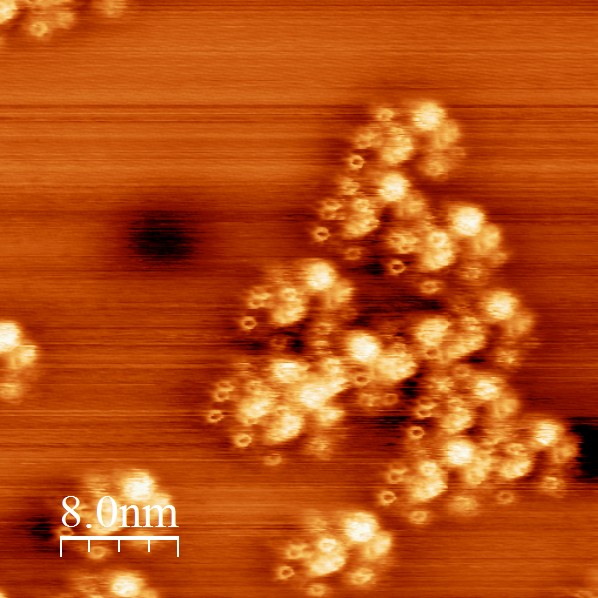 Title: Molecules on the edge of Europe
Descriptor: Displayed are porphyrin molecules deposited on a Tungsten diselenide substrate. Porphyrins are a carbon-based molecule that are used to form graphene structures. Graphene is a 2D material that is revolutionizing the microelectronic, medical, and material science disciplines. The porphyrin molecules were evaporated onto the substrate and serendipitously formed a nano-sized shape of Ireland and the United Kingdom, Ireland measuring 8x10nm. I like to think that it shows the interconnectedness of both nations and how dependent we are on each other. The problems facing mankind will not be solved in isolation and will need the cooperation of scientific and creative minds to overcome them.
Below is Conor McGeogh.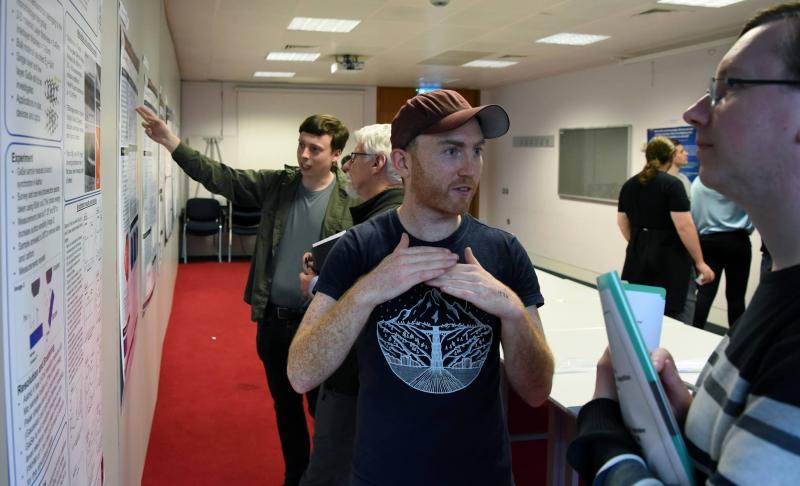 Researcher Life
The winning entry in the Researcher Life category was Charles O'Doherty from the School of Biotechnology and the National Institute for Cellular Biotechnology. Charles won €150 in prize money for the below image.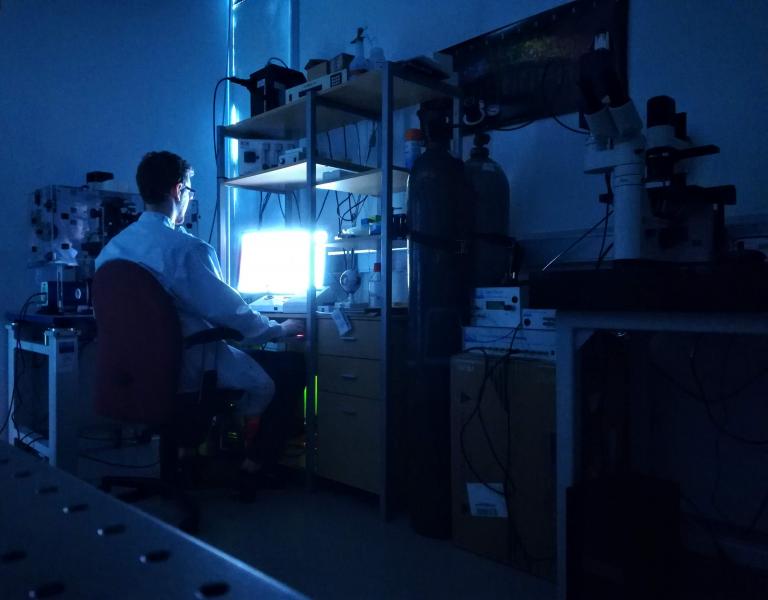 Title: Down the anti-Rabbit hole
Descriptor: Taken in the cell characterisation suite of the NICB, DCU, this image encapsulates a common approach used by biologists to analyse conditions within cells and tissues. A fluorescent microscope (Nikon Eclipse Ti) on the left is operated via the computer to image fluorescently-labelled antibodies which stain specific target proteins in the cells. In this case a marker of cell death (active caspase 3), cell cytoskeleton stain (Actin) and cell nuclei (DAPI) were being examined. The room is in complete darkness to protect the light-sensitive antibodies from fluorescence quenching. To capture this photo an eight second exposure was employed, with the only light sources coming from the computer and the microscope.
Below is Charles O'Doherty receiving his certificate from Ciaran Clancy from Neogen / Campus Print.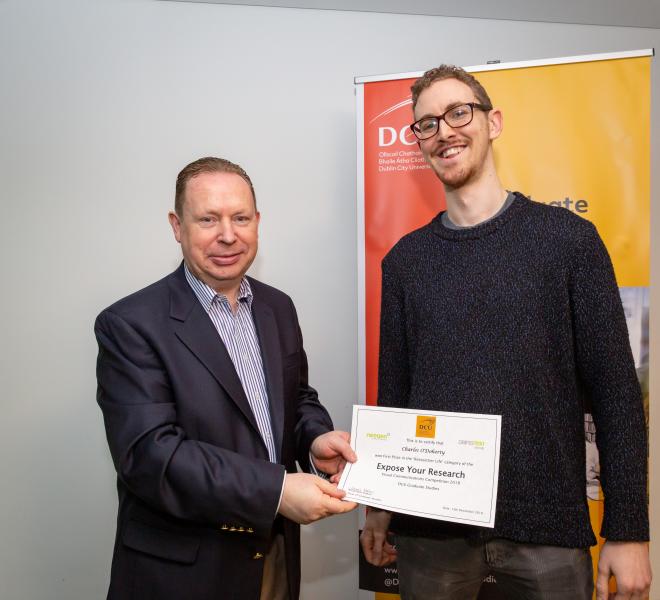 The runner-up in the Researcher Life category was Philip O'Donnell from the DCU Business School. Philip received €75 in prize money for the below image.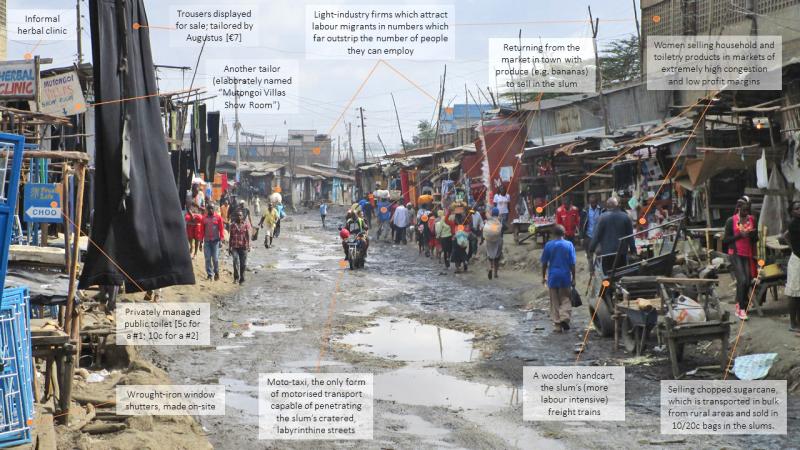 Title: Enterprise Road (Mukuru Informal Settlement, Nairobi)
Descriptor: The average capital city in Sub-Saharan Africa has grown by 2,200% since the 1960s. Unsurprisingly, more than half of the world's slum population is now concentrated in the region. For this study, I carried out 4.5 months of immersive fieldwork in Mukuru, a slum community in Nairobi, to explore how its residents achieved the seemingly remarkable feat of getting by economically.
Unable or unwilling to bribe their way into an oppressive labour market, most residents eked out a livelihood by maintaining informal micro-enterprises. Such was the widespread economic reliance on micro-enterprises, the challenge during fieldwork lay not in finding cases worthy of study, but on concentrating on a manageable number of cases. This photo communicates this and more: note the co-existence of pressing necessity (women carrying fruit produce to sell, moto-taxi and handcart operators) with creativity (an informal herbal clinic), expertise (tailors and iron-workers) and aspiration ("Mutongoi Villas Show Room").
Below is Philip O'Doherty receiving his certificate from Ciaran Clancy from Neogen / Campus Print.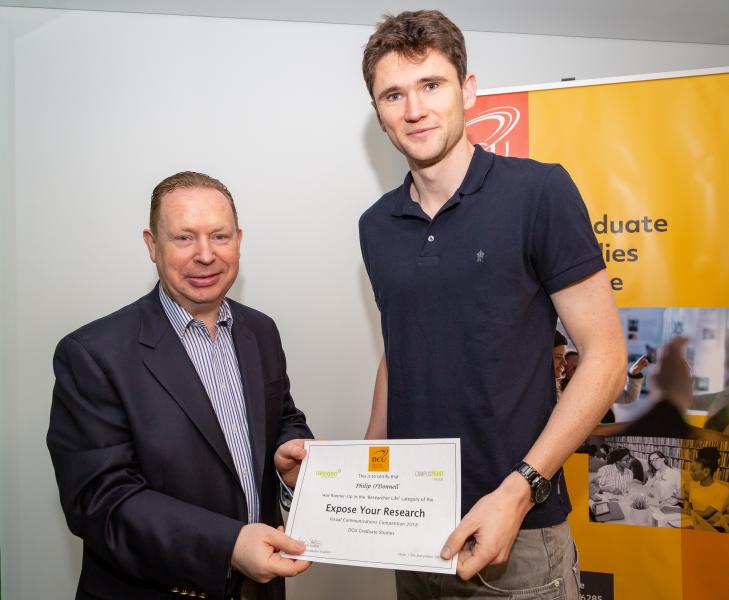 Sinéad Nic Aindriú from the DCU Institute of Education was 'highly commended' in the Researcher Life category.

Title: DCU: Supporting Mammies in Research
Descriptor: This photo describes my typical day as both a mammy and a full time PhD student. I do all the things that mammies normally do like washing uniforms, making breakfast, packing lunches, the 'dreaded' school run, cooking dinners, and washing dirty dishes. I also play camogie and Gaelic football; these sports help me control the 'PhD Panic'. I would never be able to do all of this without the fantastic support of my supervisors, Prof. Pádraig Ó Duibhir and Dr. Joe Travers. They have given me the supports and confidence I need to study full time. I am so grateful to them, DCU, and An Chomhairle um Oideachas Gaeltachta agus Gaelscolaíochta for this opportunity.
#dcu
#supportingmammiesinresearch
Below is Sinéad Nic Aindriú receiving her certificate from Ciaran Clancy from Neogen / Campus Print.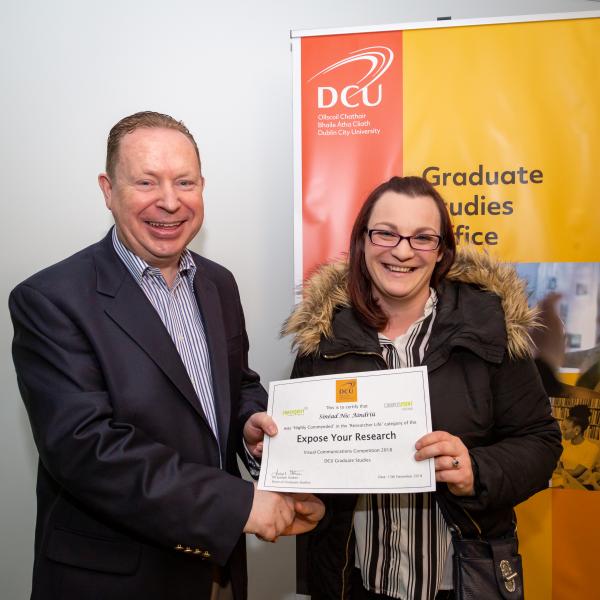 The competition received very generous support from Neogen / Campus Print. A big thank you to Neogen and Campus Print for supporting this competition.
You can view all 24 shortlisted images on flickr. They are organised in two albums, the Research Image category (18 images) and the Researcher Life category (6 images).