On-demand Learning - Linkedin Learning (Staff only)
Access learning on your mobile, laptop or PC, at any time, from anywhere (staff only page)
All DCU colleagues have free access to LinkedIn Learning, our online learning platform. You do not need to have a LinkedIn account to access the courses. 
Here you'll find information on what LinkedIn Learning is and how it works and how to access and navigate the content. You'll also find our list of recommended courses across subject areas. 
Staff can direct questions to learning.development@dcu.ie
---
LinkedIn Learning is an on-demand library of instructional videos covering the latest business, technology and creative skills. It provides personalised course recommendations and is provided as a benefit to all DCU staff. 
World-class content: LinkedIn Learning's library of 9,000+ digital courses are taught by industry experts and cover a wide range of business, creative and technical topics, from leadership 'soft skills' to design principles to programming. Dozens of video-based courses are added each week, teaching the leading-edge skills you need to stay current. Multiple languages are also offered, with courses in German, Spanish, Japanese and French. 
Data-driven personalisation: LinkedIn Learning creates personalised recommendations, so you as a learner can efficiently discover which courses are most relevant to your goals or job functions. Learning and Development are using LinkedIn insights to customise multi-course Learning Paths to meet your specific needs. 
Anytime, anywhere convenience: Linkedin Learning courses are broken into bite-sized segments that can be viewed anytime, on any device, online and off. Learning content is recommended throughout your LinkedIn experience, helping you easily discover relevant courses.
Who can access LinkedIn Learning?
All DCU colleagues - both academic and professional - have access to LinkedIn Learning. If you haven't received an activation e-mail or you need your activation mail resent, please email learning.development@dcu.ie
Once you receive your email, use our easy login guide to get set up. 
What equipment do I need to access LinkedIn Learning?
You can access the platform on your PC, laptop, ipad, or mobile at anytime, from anywhere.
How do I log in?
ISS have set up a Single Sign-on, so you don't need to remember another password. Once you have activated your account, when you sign into your email and go to the single sign-on, you are automatically brought through directly to LinkedIn Learning.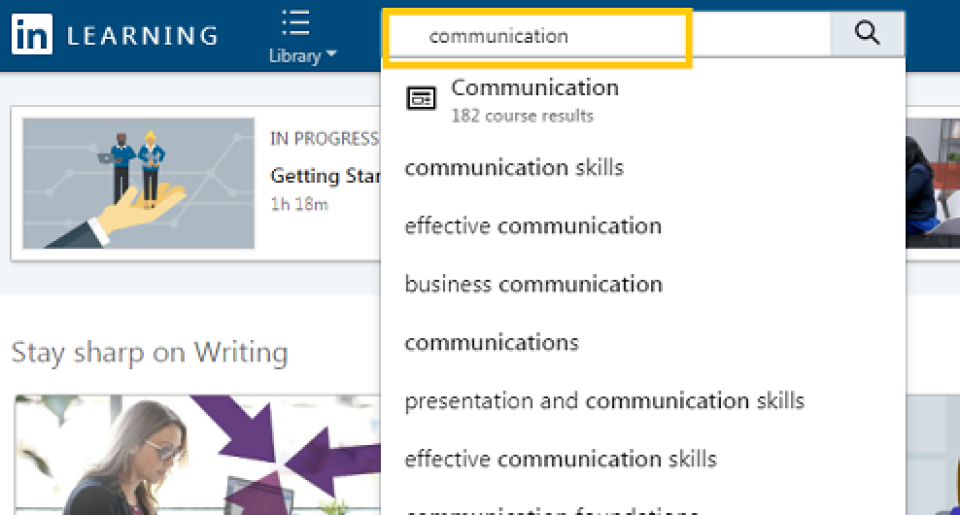 Getting started with Linkedin couldn't be easier!
Use the Keyword search to get started straightway, by typing in the subject you're interested in.
---
 TIPS: This short guide provides some quick tips on How to Use LinkedIn Learning 
---
COURSE: You can take a 25-minute Linkedin Learning course on how to get the best from the platform.
The course will help you to:
Find the right skills 
Create a learning game plan
Make your learning stick
Add certificates to your profile
---
BLOG:  The Learning Blog from LinkedIn
LinkedIn Learning publishes weekly posts highlighting courses and topics available on LinkedIn Learning on its Learning Blog. There are some excellent recommendations and tips for accelerating your learning.
You can also start with one of our recommended courses. 
Learning paths & collections
A learning path is a set of courses, videos, quizzes and practice sections intended to be viewed in a specific order - eg. Senior Management Basics.
A collection is a curated set of courses/videos/paths that can be viewed in any order - Management Tools and Tips. Individuals can create and share playlists and organisations can assign playlists to team members to facilitate training. 
RECOMMENDED COURSES: 
Courses:  List of L&D curated courses addressing key professional skills.
LEARNING PATHS: 
| Soft Skills for Higher Education
This learning path covers 'people skills' identified as essential for success in today's workplace.
Courses have been selected to suit a university audience (academic, administrations, and support) across the following areas:
Communications
Teamwork
Problem Solving
Self Management
Planning and Organising
Technology
Learning and Innovating

---
COLLECTIONS:
| Creativity 
Do you want to generate ideas in greater quantity or quality? Would you like to view workplace challenges through a new lens and use structured approaches to problem solving? Would you like to drive your team towards more creativity with fun brainstroming techniques? Then explore our L&D collection of short courses. 
| Microsoft Office
Learn how to use or deepen your knowledge of the MS OFFICE suite of applications. 
| Leading through Coaching
Learn how to coach and develop your team with this collection of courses and videos.
| Managing people - performance appraisal
Effective performance appraisal is a key part of managing others. This collection of courses and videos will help you to communicate effectively with diverse team members to ensure an effective performance appraisal.
| Dealing with conflict
Everyone encounters conflict at some stage in their working lives. Watch this collection of Courses and Videos to gain some useful tips on how to manage conflict in our own lives.
| Conflict management and resolution
This collection of courses and videos will pave your way to improving your own workplace relations and maximising performance in your team or section.
---
LinkedIn EXPERT Learning Paths
Ever thought of becoming a video editor or a digital marketeer? Or a data scientist? What about a Six Sigma Blank belt? Or even seriously improving your presentation skills?
LinkedIn Learning provides it's own Learning Paths designed for you to focus on specific skills, on the job. These paths have been carefully curated by experts.
Simply click Library on the top navigation bar to reveal the Library drop-down list. The Learning Paths associated with each area - Business, Creative, Technology - are listed on the right hand side: 

---
RECOMMENDED PATH: Master In-Demand Soft Skills 
Set yourself apart from the pack by getting the essential soft skills - abilities that help people interact effectively with others - that employers value most, from communication fundamentals and being a team player to advancing your critical thinking skills.
Build a solid process for achieving your goals and bouncing back from challenging situations.
Learn to communicate, listen, and work well with team members and peers.
Manage your time effectively, and think critically as a problem solver.

Our curated, 2-page 'Learning Spotlights' will help you to upskill quickly on a range of subjects, from social media through to difficult conversations. The spotlights contain a ranges of learning resources, including LinkedIn Learning courses, videos and audio courses.