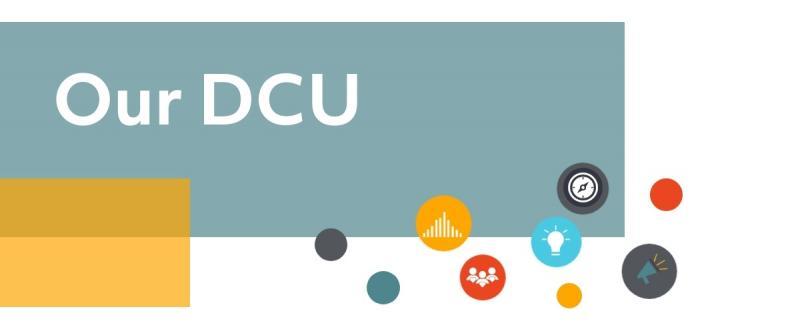 Our DCU
Background to Our DCU
The last eight years has seen a period of dramatic growth for the University with an increase of over 50% in both staff and student numbers and an expansion to a multi-campus environment (following the incorporation of St Patricks College Drumcondra, Mater Dei Institute of Education and Church of Ireland College of Education in to the University in 2016).   
In this context, Goal 5 – Value and Develop our Staff Community

 of the

University's Strategic Plan

 

outlines how the University will foster the development of a new staff community, by undertaking a comprehensive consultation programme focussing on culture, identity and the lived experience of staff. 
Following a three stage consultation programme which included a Staff Engagement Survey, One DCU Workshops and One DCU Fuse event, the HR Department launched Our DCU Framework and Our DCU Implementation Plan in January 2020  
The designation of One DCU to Our DCU was put forward by participants during the consultation process as they considered it to be a more appropriate and inclusive concept evoking a stronger sense of belonging and ownership. 
Our DCU Framework outlines the University's ambition to be a welcoming, diverse community where people and ideas thrive.  The Framework identifies five key pillars that will help us to focus our efforts in creating a vibrant, cohesive staff community and culture, that is Our DCU. The five pillars identified include:   Culture, Connection, Dialogue, Recognition and Wellbeing.
The Our DCU Implementation Plan outlines a series of objectives and actions against each of the five pillars. These are a reflection of the ideas and suggestions put forward by staff via the staff engagement survey,  Our DCU Workshops and the on-line Our DCU Fuse event.  
In September 2019, DCU embarked on a three-year partnership with Barretstown to support their remarkable work for children and their families living with serious illness.
The agreement gives DCU staff and students the opportunity to 'make a difference for Barretstown' through volunteering, engagement, fundraising and academic initiatives. 
Our DCU Update 2021/2022
Value and Develop our Staff Community

remains a key strategic pillar in the u

pdated University Strategy 2021

with the ongoing implementation of

Our DCU Plan

being highlighted as a key strategic priority.
In that context and to maintain the vibrancy of

Our DCU Framework and Our DCU Implementation Plan

, the HR department is facilitating a follow up consultation programme with staff which will once again include a series of workshops, a staff survey and an on-line Fuse event.  The overall aim is to publish and communicate an updated Framework and Implementation Plan by the end of 2022.  
In Q4 2021, a series of 90 minute workshops regarding the Our DCU Programme were hosted via Zoom.   
During the workshops, colleagues participated in breakout sessions to explore the 5 pillars that underpin Our DCU Framework, namely Culture, Connection, Dialogue, Recognition and Wellbeing. 
A summary report of the outputs from these workshops can be found below. 
The Survey was circulated to staff in Q4 2021 and an analysis of the results is currently underway. It is our intention to publish the Survey Results in April 2022. 
Information on the Fuse event will be communicated in due course.  Keep an eye on your email for further information.