Researcher Development Hub - New to DCU
Welcome to the university! You join a community of highly-skilled and talented researchers at Dublin City University. 
| Getting started
Get acquainted with university supports. Please access our online staff orientation, and attend L&D's live Orientation, running in September and February of every academic year (During COVID we are running regular Orientations online).
As a researcher, you'll be focussing on planning projects, seeking funding, getting your work published, and attending conferences of relevance to your work. 
We recommend new researchers register for Learning and Development's ILM-accredited Professional Skills for Research Leaders, a blended-learning programme that runs from October each year. 
Providing invaluable insight into the world of research, the programme will equip you with the skills to develop your career, manage a research team and communicate your research. 
| Start building your skills
Getting research projects done - no matter what the domain - requires project management skills. 
As a new researcher, a good place to start is using our A to Z to view courses available to you. We also recommend this Project Management for Researchers and Academics course, which is highly recommended by participants:
"the design of the course was very well thought out and the pacing was done perfectly to keep everyone engaged ... I would recommend this course to anyone beginning a research project."
| Get skills quick on LinkedIn Learning
All staff have free access to LinkedIn Learning, which houses an incredible range of online courses across Business, Creative and Technology. You can access the courses on any device, making learning on-the-go possible.
If you haven't received an activation email, please contact learning.development@dcu.ie.
Here's Learning and Development's curated collection of LinkedIn Learning Courses and Videos on how to COMMUNICATE YOUR RESEARCH. Gain invaluable skills! 
| Take a Free FUTURELEARN or COURSERA Course
Futurelearn
We recommend these Future Learn courses for researchers: 
Coursera
This course is for early career researchers and mentors who believe that modern scientific careers require management skills and want to be research leaders. This curriculum gives you skills to effectively implement funded projects, thereby enhancing your career success. Research leaders take on a number of new roles, rights, and responsibilities--as scientific leaders, financial administrators, managers, and mentors. In this course, we explain how to optimize the people, teams, projects, and finances for which you are responsible. 
| Explore Vitae
All staff have access to Vitae, a leader in supporting the professional development of researchers working with institutions. Vitae contains a wealth of highly-valuable curated and developed content specifically aimed at researchers. You'll find advice, training, tips, research and information on conferences that will enhance your work as a researcher and help you develop as you progress.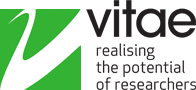 For example, check out these resources on project management:
| Find out more
Please contact helena.mccanney@dcu.ie if you wish to find out more about opportunities available to researchers at the university or you'd like help with a career plan.