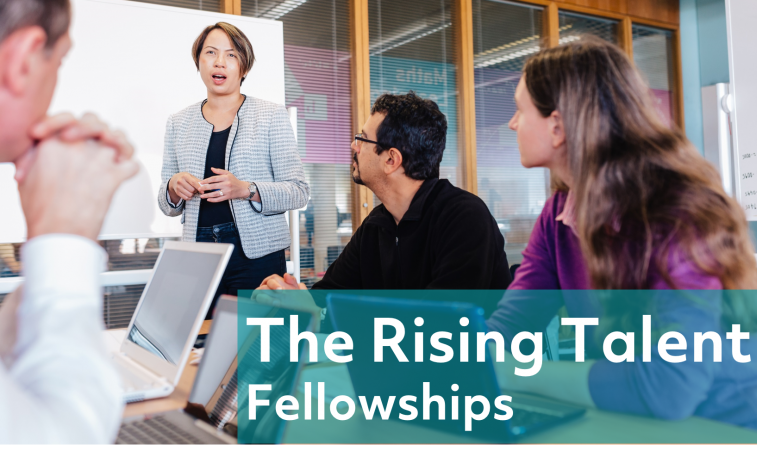 Rising Talent Fellowships
The Rising Talent Fellowship Programme
Rising Talent is an ambitious fellowship programme that aims to recruit high-performing, globally competitive post-doctoral researchers seeking to develop their academic careers.
The first call for applications is now open - closing date of December 14th 2018 (NOW CLOSED) 
These prestigious appointments, at Assistant Professor grade, are an important component in DCU's investment in research excellence and are designed to recruit and support our future research leaders. While successful candidates will have the opportunity to build their academic career by developing their teaching skills, the primary focus of the Rising Talent Programme is on excellence in research and on advancing the university's research profile.
This programme is designed to:
Build excellence in key areas of research strength
Attract and develop talented staff who will further the University's research ambitions
Enhance collaboration with leading national and international research partners
Increase the university's research competitiveness and reputation at both a national and international level
---
We seek researchers across a breadth of domains. Six priority research themes reflect the core research strengths and concentrations of expertise in the University:
Health technologies and the healthy society
Digital innovation and the digital society
Advanced manufacturing and materials
Sustainable economies and societies
Democratic and secure societies
Educational research and innovation
---
Explore research by Faculty
Faculty of Science and Health (FSH)
The Faculty of Science and Health (FSH) is both research intensive and research driven. The Faculty continuously seeks to conduct research in the natural, human and health sciences that is of global significance and direct social, environmental and economic benefit. As a centre of excellence in health, industrial and environmental technologies, professional healthcare, therapeutic innovation and human performance, FSH achieves transformative outcomes through key strategic industry, clinical and academic partnerships. This in turn informs and enhances the ongoing currency and quality of our taught programmes.
DCU Business School (DCUBS)
DCU Business School's research tackles the strategic and operational challenges ahead for modern organisations. We focus intensively on real business world problems. Our strong suite of specialisms, led by dynamic research groups of academics, business specialists, researchers and educators, means we can work across the disciplines to bring practical, multi-dimensional solutions to modern business problems. We harness the deep academic expertise within our faculty, our very active industry relationships, and the strength of our international partners' research experience. As a result, we are national leaders in translating research knowledge into tangible benefits for Ireland's island economy and the Eastern Corridor.
Faculty of Engineering and Computing (FEC)
The Faculty of Engineering and Computing )dedicated to the promotion of research and scholarship to the highest international levels in strategic areas within the Schools of Computing, Electronic Engineering, and Mechanical & Manufacturing Engineering. The Faculty has a strong research focus and aims to produce internationally leading and socially important state of the art research at the highest levels of quality. Research in the Faculty is funded from many sources, including Enterprise Ireland, HEA, IRC, Science Foundation Ireland and the EU Horizon 2020 Programme. Inter-disciplinarity is a realised aim in much of the research undertaken and is reflected in our core strengths.
Faculty of Humanities and Social Sciences (FHSS)
The Faculty of Humanities and Social Sciences is research-focused with staff publishing in leading national and international academic journals as well as producing other scholarly outputs. We also utilise our expertise to address important societal challenges, through policy-focused research, by engaging with government and civil society and by bringing our research to a wider audience through a variety of impactful channels. Academic staff in FHSS have led externally-funded research projects for the EU, the Irish Government, the Irish Research Council, NGOs and charities.
DCU Institute of Education (DCU-IoE)
Research within DCU Institute of Education has a particular focus on creating knowledge and insights that improve pedagogic practices and enhance learners' experiences in formal, informal and or non-formal learning contexts, and that informs policy-making and civil society within and beyond Ireland. Staff in DCU-IoE engage in multidisciplinary research that includes a focus on education systems and approaches drawn from collaborations across a range of academic disciplines including, but not limited to, arts, humanities, social sciences, physical sciences and applied sciences.
This opportunity is now closed.