Irish Sign Language STEM Glossary
about
About
Welcome to the Irish Sign Language STEM (Science, Technology, Engineering and Maths) Glossary Project. The funding for our project is from Science Foundation Ireland.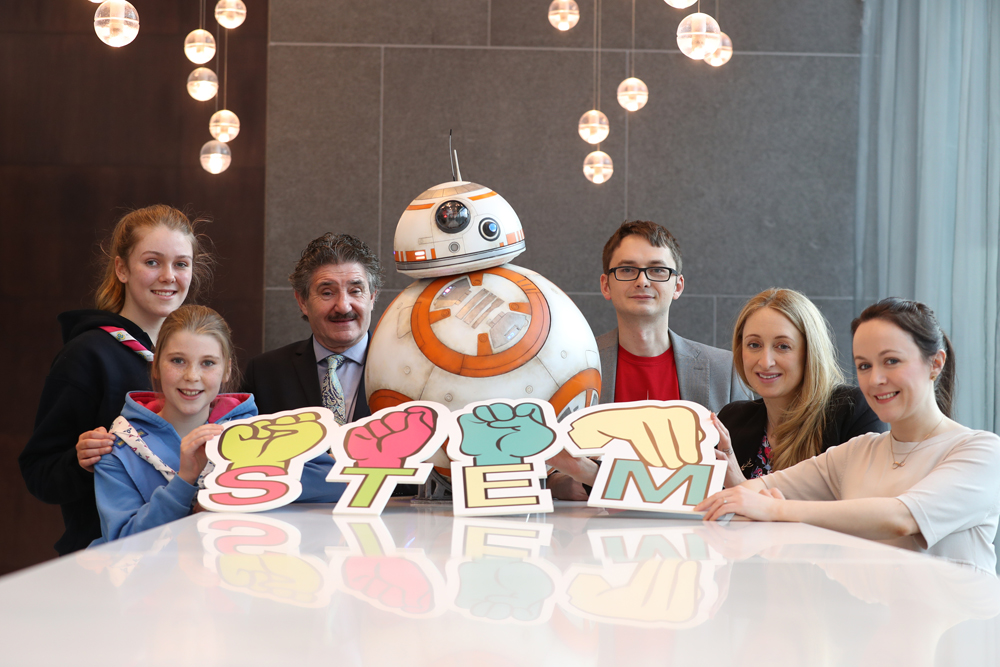 (Photo credit Jason Clarke)
There are approximately 5,000 people in Ireland who use Irish Sign Language (ISL) as their first language (Central Statistics Office, 2017). For those Deaf and Hard of Hearing (DHH) people to be scientifically informed, there must first be an agreed lexicon or vocabulary in Irish Sign Language for science, technology, engineering and maths (STEM) terms. At present, this does not exist in Ireland. The absence of agreed signs for technical STEM vocabulary causes problems for the teaching of STEM subjects at all levels of education and presents difficulties for those working in Sign Language interpreting. It also limits the potential to provide access to mainstream public engagement science resources such as those associated with Science Week. 250,000 people engaged with Science Week in 2016 (SFI Annual Report 2016) - Deaf people must be included in those conversations.
What is our goal?
This project aims to promote and support STEM education for DHH learners. We want all DHH people to be able to engage with science content at a general level (like chat about it at home and with friends) as well as at a specialist level (like studying it in university or carrying out their own research). The project commenced in 2018 to produce a glossary of maths terms. In 2019, we expanded to environmental science (geography) terms. This project builds on work done internationally such as the British Sign Language Glossary available in the Scottish Sensory Centre (UK) and the DeafTEC American Sign Language STEM dictionary in Rochester Institute of Technology (USA). However, since each sign language is different, the terms used in these international glossaries are not applicable to Ireland.
Who supports our project?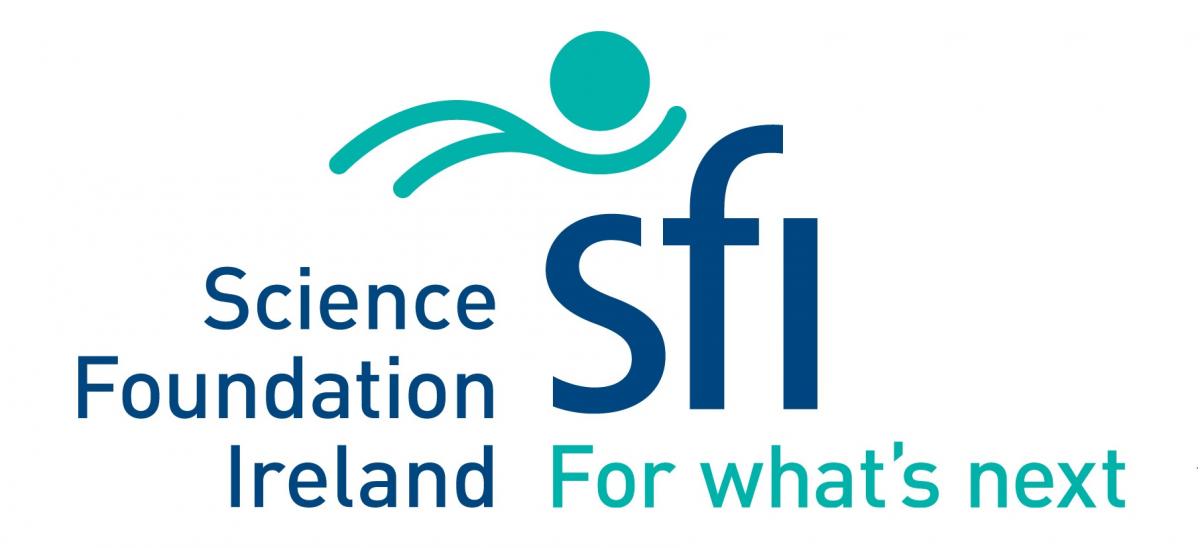 Our project has been funded by Science Foundation Ireland Discover grants in 2018 and 2019. We are also supported by Dublin City University (where our glossary is hosted and many of our team works), the Catholic Institute for Deaf People (who have provided us with some funding), and parents, students, teachers and interpreters all over Ireland who use our glossary. In the first year of our glossary, we have had almost 5,000 hits to our videos.
Why we need an ISL STEM Glossary
The practical need for this project has been identified through consultation with stakeholders working in deaf education settings and with professionals working in STEM interpretation. For example, Sandra Creagh, a geography teacher at the Holy Family School for the Deaf recounted that she has no ISL sign for 'subduction' or 'erosion'. To teach her class, she resorts to fingerspelling, a cumbersome process spelling out English words in the air. Deaf weather-presenter, Caroline McGrotty told us in a support letter for our project "I have worked in the area of translation from English into Irish Sign Language for over 10 years and currently work as an ISL presenter for RTÉ One Weather With Signing which airs weekly on RTÉ One. I have worked there for approx. 2.5 years and one of the issues that occur again and again is the lack of vocabulary surrounding different environmental science and geography terms. For example, high pressure, low pressure, isobars, radar, anticyclone, showers, mist/fog, thunder/lightning, degrees etc. has noted that she has no ISL signs for isobar, anti-cyclone, mist/fog". She adds that when advised by meteorologists that a distinction between certain terms is needed, they too resort to fingerspelling because distinct terms in ISL are not available.
More generally, Deaf and Hard of Hearing (DHH) learners perform significantly below their hearing peers in science, according to international literature. Marschark et al. (2015) examined the attainment levels for 500 DHH learners in the US and found that out of the four subtests used, the sample scored lowest in science with a standard score of 76.9. It is perhaps unsurprising therefore that DHH people are underrepresented in STEM (Adamo-Villani, Doublestein, and Martin 2005). Currently in Ireland, there are no DHH sign language users who hold a PhD in science. Some DHH students have reported being discouraged from science subjects because there is too much terminology involved. For those DHH people who pursue careers in STEM, the lack of basic terminology and a common lexicon to discuss science presents problems (Bigham et al. 2008). Sign Language communities internationally have identified the need for glossaries of this nature to address this problem. The Scottish Sensory Centre in Edinburgh, for example, has been working on their British Sign Language Glossary since 2005 and now has 1000 terms covering Astronomy, Biology, Chemistry, Physics, and most recently, Geography. These resources provided a helpful framework for instigating an Irish Sign Language STEM Glossary and international links have been made during the pilot project with British and American glossary projects to learn from their work. However, since the sign language used by each nation is unique, the international glossaries in and of themselves are not transferable to the Irish context. Instead, a glossary of signs used in Irish Sign Language is required. Nonetheless, this project builds on this previous work by maintaining links with the Scottish Sensory Centre glossary manager (Dr. Audrey Cameron) who assisted with the pilot project in 2017. In summary, this problem has been identified and remedied internationally. The first step in addressing the problem in Ireland began in 2018 with the pilot project (maths) but many more topics need to be addressed.
How do we develop terms for our glossary?
The process of coming up with a new sign is often a long one. We meet as a team to discuss the concepts we need signs for. We try to work with 'families' of signs together so that the signs we develop are conceptually related. For example, when dealing with statistics, we work on terms for mean, median, mode, standard deviation, range, interquartile range, etc at the same time. We consult texts and websites about the concept and check with the scientists on our team to make sure everyone on the team has the same understanding of the term. We look at what other Sign Language glossaries have produced to see if these can help us with developing a sign in Irish Sign Language. We consider things like the linguistics of ISL (i.e. does this sign follow rules of ISL), if the sign works for this concept from a simple level to a complex one (i.e. we try to avoid a sign that is a simplified version that would not allow it to be used in third level), and if the sign has symantic independence (i.e. can it be understood on its own or does it need a lot of context in ISL to be understood). When we have agreed on a sign, we record it on a phone or a tablet so we have a reference point for when we are recording during formal filming. We also seek feedback from Deaf Community representatives about our rough draft videos and sometimes return to team meetings so we can discuss and change these again.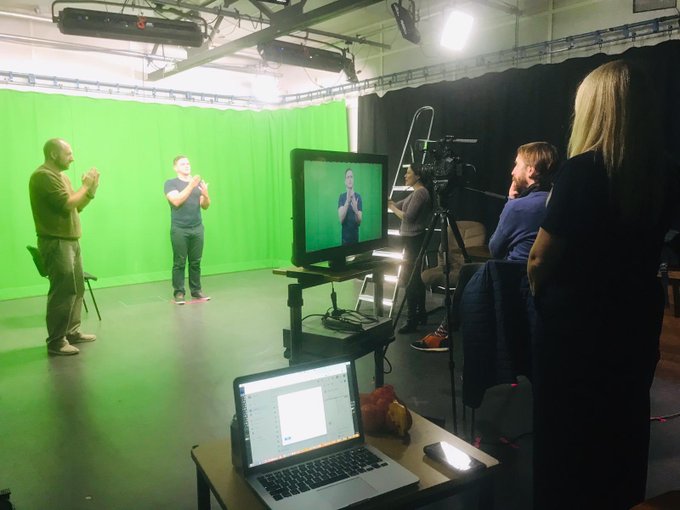 When we are ready for filming, we record in front of a green screen in DCU. We use a professional videographer, Paddy Cahill, so that we have high quality video footage to work with.