Centre for Jazz Performance Studies
Welcome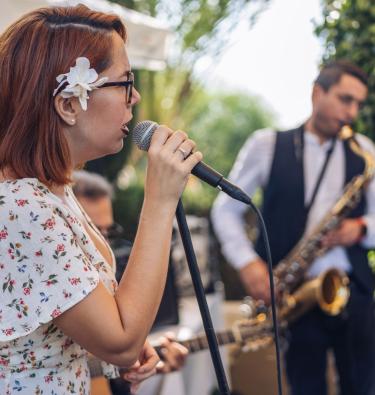 The Centre for Jazz Performance Studies is an academic centre committed to the research, performance practice, study and teaching of jazz performance.
The Centre seeks to promote engagement by researchers, performers, and the public with all aspects of jazz performance, its history, the latest developments in research and teaching, and innovation in the performance of the music. The centre is dedicated to enriching Irish musical life by promoting the study and learning of jazz improvisation.
Who we are
The Centre for Jazz Performance Studies was founded in DCU in 2017, and is a centre of excellence in the research, study, and performance of jazz. The Centre's teaching staff is comprised of some of the most renowned jazz performers in Ireland, dedicated to the study and dissemination of information around jazz performance practice.
Jazz is a music without borders, that celebrates inclusion and community through its central activity of improvisation, and has always valued innovation both in performance and in learning. The Centre's activities reflect this ethos through its activities in the fields of jazz research, performance and pedagogy. The Centre trains high level performers through the BA in Jazz and Contemporary Music Performance, and both celebrates the traditions of jazz and, through research, is actively involved in innovation in both the performance and pedagogy fields.
'The word 'jazz' means to me 'I dare you. Let's jump into the unknown'  
Wayne Shorter
'Jazz is the only music in which the same note can be played night after night but differently each time.'  
Ornette Coleman