School of Law and Government
Catherine Connolly | Law and Government
Catherine Connolly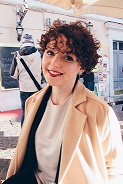 Catherine was a PhD student at the School of Law and Government, DCU. She has worked as a Project Assistant at the Security Europe section (formerly Security & Defence Agenda) of the think-tank Friends of Europe (2012-2013) in Brussels and as a Policy Analyst in the Embassy of Ireland in London (2013-2014). During her time at King's College London she worked with the KCL Careers Service and with KCL Library Services, and wrote articles for former current affairs site theriskyshift.com. Catherine is a co-founder of the Women Are Boring blog, which features articles by women in all fields of academic research, from all over the world, for a general audience.
Education:
MA War Studies (Distinction), King's College London 2012
BA International Relations (with year abroad in Sciences Po, Paris), Dublin City University 2011
Supervisor: Dr James Gallen
Abstract title: Investigating the Relationship Between Targeted Killing, States of Exception and Kriegsraison: Effects on Public International Law
Abstract: Since 2009, targeted killing has been lauded by the U.S. as the optimum method of disrupting terrorist activity by al' Qaeda and affiliated forces not only in Afghanistan, but increasingly outside the immediate zone of hostilities in Pakistan, Somalia and Yemen. This research investigates the relationship between the doctrine of Kriegsraison, targeted killing and states of exception, in order to examine the effects of targeted killing policies on the effectiveness and enforcement of public international law.
The research posits that the U.S. has successfully created a dangerous state of exception within which targeted killings have been both legitimised and normalised, despite the targeted killing programme being shrouded in secrecy. Discourse has played a central role in the creation of this state of exception, allowing for the reintroduction of the doctrine of Kriegsraison. As a result of the self-judging nature of the doctrine, it is particularly damaging to the international legal order and international relations. The research also engages directly with the challenging questions raised by the U.S. use of Unmanned Aerial Vehicles, or 'drones', as the main method of carrying out these strikes.
Research interests: Public international law; law of armed conflict; drones; foreign policy; military studies.
Publications:
Necessity Knows No Law: The Resurrection of Kriegsraison through the US Targeted Killing Programme', Journal of Conflict and Security Law (2017) volume 22 issue 3 https://academic.oup.com/jcsl/article/22/3/463/4727625
Teaching:
2014/15: Tutor for 'Core Skills and Methods for International Relations' module and 'Public International Law' module, 1st year BA International Relations.
2014/2018: Tutor for 'LG120 Public International Law module, 1st year BA International Relations and LLM in Law'.
2015/16: Lecturer for 'International Law and the Use of Force', MA in International Security and Conflict Studies and LLM in Law
Email: catherine.connolly32@mail.dcu.ie
Twitter: @kitconnolly