School of Law and Government
DCU Team Wins National Moot Court Competition
On Saturday 14th November, the National Moot Court Competition for law students, sponsored by Matheson, took place in the Criminal Courts of Justice and was adjudicated upon by various distinguished judges, senior counsel and legal professionals.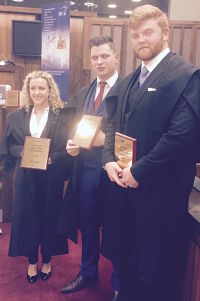 With teams in the competition from across the Law Schools of the state two teams from Law and Government reached the final with the team of Davy Lalor, Fergal McMorrow and Rebecca Moyles ultimately triumphing over the team of Ciaran Campbell, Patrick Dunne and Davin McGloin.
Davy Lalor was also named best individual speaker.
In addition, the DCU team of Anna Antonova, Leanne Digney and Tanja Tahvanainen won best memorial.
This clean sweep of all the competitions is a significant achievement for our School and our students.