School of Law and Government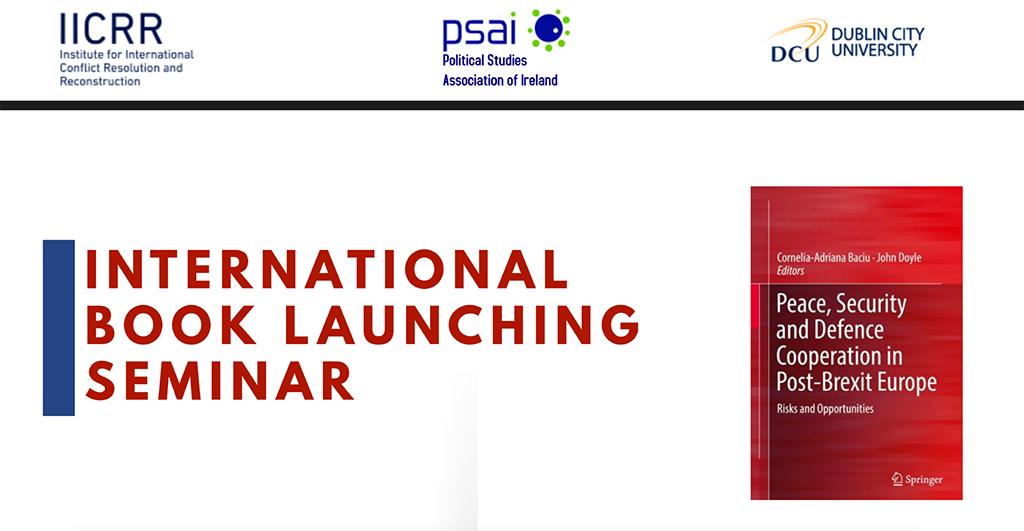 International Book Launching Seminar to be held on 13 June
Book launching event of "Peace, Security and Defence Cooperation in Post-Brexit Europe - Risks and Opportunities" will be held on Thursday, 13 June 2019, in Moot Room (C206) Henry Grattan building, Dublin City University. The event is sponsored by the Political Studies Association of Ireland (PSAI) and the Institute for International Conflict Resolution and Reconstruction (IICRR).
Mr. Daniel Keohane, head of Policy and Analysis EM Ireland, will deliver the keynote speech. Dr. Raluca Csernatoni, guest professor Institute for European Studies Vrije Universiteit Brussels; Dr. Benjamin Martill, Dahrendorf Postdoctoral Fellow London School of Economics; and Clodagh Quain, researcher Institute of International and European Affairs, will lead the panel discussion.
Following is the event schedule:
15:30 – 16:00 Introduction by Prof. Iain McMenamin (Head of School of Law and Government), Prof. John Doyle (Director IICRR) and Cornelia-Adriana Baciu;
16:00 – 17:00 Panel Discussion – Dr Benjamin Martill (LSE), Dr Raluca Csernatoni (IES Brussels) and Clodagh Quain (IIEA);
17:00 – 17:30 Keynote speech – Daniel Keohane, EM Ireland;
17:30 – 17:45 Wrap-up and Conclusion – Assoc. Prof. Kenneth McDonagh, Dublin City University;
17.45 – 19.00 Cocktail.
The book entails contributions from internationally known researchers from London School of Economics, Hertie School of Governance in Berlin, European University Institute in Florence, Institute for European Studies in Brussels and University of Grenoble, inter alia, and contributes to a better understanding and management of anticipated challenges and sources of instability in European and international security, associated with the Brexit process. It also fills a crucial scientific gap by examining key challenges as well as the impact of the Brexit a process on primary strategic aspects of peace, security and defence cooperation.
Please register for the event here: https://www.eventbrite.ie/e/dcu-international-book-launching-seminar-tickets-62811935189