School of Law and Government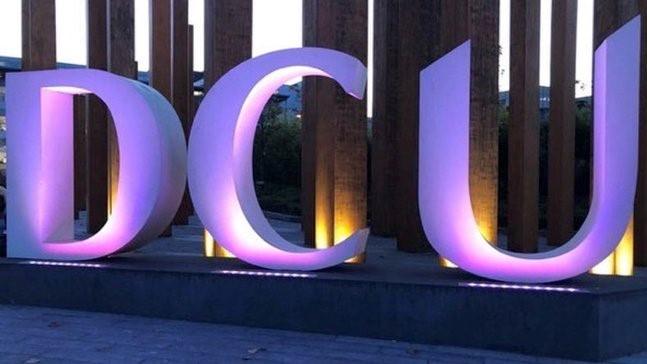 Spotlight on Trans and Intersex Law for Trans Awareness Week from the DCU School of Law and Government
Trans Awareness Week is observed from 13 to 19 November every year, leading up to the Transgender Day of Remembrance on 20 November. It follows International Intersex Awareness Day on October 26 and International Intersex Solidarity Day on November 8. In support of Ireland's intersex population, DCU flew the Intersex flag and lit up the DCU letters across its three campuses in purple for the fortnight between.
Researchers at the DCU School of Law and Government are involved with research, teaching, and advocacy around Trans and Intersex issues.
Dr Tanya Ní Mhuirthile is an Assistant Professor in the School of Law and Government. She was the Principal Investigator on the @IrishResearch funded Intersex Mapping Study and the DCU lead on the @MSCActions funded Innovative Training Network INIA Intersex: New Interdisciplinary Approaches. Tanya has advised governments, international organisations and NGOs, both at home and abroad, on her areas of expertise, particularly on laws about female genital mutilation and gender recognition.
Last March the Intersex Mapping Study concluded its work and published a report, which is freely available to download from the project website here. The team spoke with people with intersex variations of their sex characteristics, with their families, and healthcare professionals who care for them about what life is like with an intersex variation of sex characteristics in Ireland. The lived experience of intersex in Ireland was compared to best international practice in medicine, sociology and law, identified by an extensive multidisciplinary literature review. In this way the report highlights where we in Ireland are supporting our friends and families with variations in their sex characteristics. More importantly, the report also spotlights issues that need to be addressed and reformed to ensure that Irish people with intersex variations have the same access to opportunities, and respect for human rights and wellbeing as everyone else in Irish society.
The study found that having a body with an intersex variation can impact upon every aspect of one's life from education and employment to health and family and personal relationships. The overarching recommendation from the report is the need for widespread and general awareness raising and education about intersex variations. This is sorely needed in all aspects of life – not just for healthcare providers, teachers and employers. It is only by educating the public in general and ensuring that people understand about intersex variations that these matters can be discussed openly. This is the only way to end the silence, secrecy, stigma and shame that shrouds the day-to-day life of people living with intersex variations in Ireland.
For more about International Intersex Solidarity Day click here.