National Observatory for Digital Education
Home | National Institute for Digital Learning
The National Institute for Digital Learning (NIDL) aims to be a world leader at the forefront and leading edge of new blended, on-line and digital (BOLD) models of education. We have a mission of transforming lives and societies by exploring new BOLD and innovative approaches to teaching, learning and assessment for better and more sustainable futures--for all.
The NIDL is committed to providing strategic leadership, building strong communities of innovation, and enabling and contributing to world-class transformative research. We support a comprehensive suite of professional development opportunities in BOLD education from workshops to advanced postgraduate study and doctoral research.
Additionally the NIDL is committed to promoting access to university-level online degrees and qualifications through DCU Connected and a suite of University of Sanctuary Scholarships and online short courses and micro-credentials through FutureLearn. Our staff are highly regarded for their research expertise, postgraduate supervision and considerable practical experience, and play major leadership roles in leading publications and national and international professional bodies.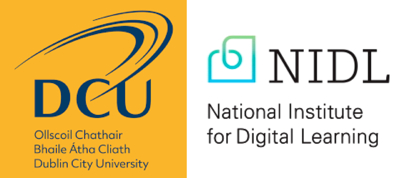 Leading at the Edge of Innovation