National Observatory for Digital Education
Apply for Doctoral Study
We have considerable postgraduate research supervision expertise amongst the team of staff working in the general area of Blended Online and Digital (BOLD) learning across Dublin City University (DCU) and invite prospective doctoral candidates (PhD & EdD) to discuss their research topics with us. Indeed, we strongly encourage all prospective doctoral students to contact us before they do too much work on their draft research proposals.
How to Apply for Doctoral Study
If you wish to apply for doctoral study, then please read the guide, follow the steps and prepare your application based on the information below on the relevant Institute of Education website. Most of our PhD candidates and all EdD students will be formally registered through the Institute.
• Steps to applying for Doctoral Study
Step 1 - Finding a Potential Supervisor
In the first instance you should try to locate a potential supervisor with research experience in your area of interest from the people listed below or from those listed on the Institute of Education website. Our team of experienced researchers may be able to direct you to relevant literature in order to help shape the proposal so that it aligns more directly with our areas of expertise (see below) and the types of problems and questions we think are worthy of further investigation. It may be useful to take a look at the list of publications that some of our staff has produced in the recent years to get an idea of potential research topcis. We particularly welcome approaches from international students. In trying to identify potential supervisor(s) for the topic you have in mind, then we suggest you take a look at the biographies of the following academic staff.
Although we welcome prospective postgraduate students to develop their own research proposals in topics of particular interest we are endeavouring, wherever possible, to anchor our core areas of interest, irrespective of level or discipline, around DCU's Research and Innovation Framework. More specifically, those staff directly working in the NIDL aim to focus on the following broad research strands:
Life-long Learning
Opening Up Education
Student Transitions and Success
Curriculum Innovation and Teaching Enhancement
Education Futures
More information about embarking on postgraduate study is available from the Graduate Studies Office.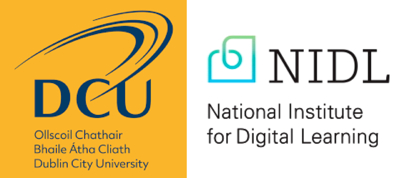 Leading at the Edge of Innovation