National Institute for Digital Learning
Structure
The National Institute for Digital Learning (NIDL) consists of over 40 core academic, professional and administrative staff along with over 20 affiliated faculty staff, with an organisational structure based around four interwoven groups:
Digital Learning Research Network
The Open Education Unit under the leadership of Dr Eamon Costello supports academic and operational excellence in the design, development and implementation of DCU Connected programmes available to students studying primarily off-campus. It also plays a key role in the evaluation and quality enhancement of related academic programmes and student support services. The Unit is committed to supporting new models of open learning and promoting access and development wherever people live throughout the world.

The Teaching Enhancement Unit offers strategically targeted development services that promotes innovation and academic excellence in the effective use of blended on-line and digital (BOLD) learning for students primarily studying on-campus. It also supports a range of core teaching enhancement services and provides leadership in the management of Loop and DCU's 21st Century Digital Campus. The Unit is known as a hub of expertise in supporting teaching enhancement both nationally and internationally, as evidenced by the leading role it plays in the annual UK/Ireland Moodle Moot.

The Design Studio provides a team of learning designers who suppport DCU staff to design and development their modules and programmes for online and blended delivery.
The Digital Learning Research Network under the leadership of Professor Mark Brown fosters a network of leaders and strong communities of practice at the forefront of research in BOLD education. In addition, it aims to strategically engage with professional bodies and key external stakeholders in order to influence policy, foster the new digital education ecosystem and benchmark the effective use of new learning technologies against international best practices. The Research Network brings together a unquie mix of over 50 NIDL and faculty staff who offer a wealth of expertise and experience across a wide range of disciplines. The activities of the research network are also guided by the support of our International Advisory Board.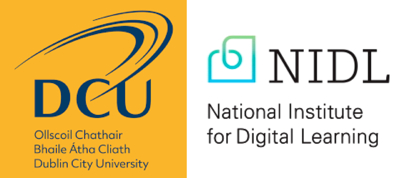 Leading at the Edge of Innovation