School of Physical Sciences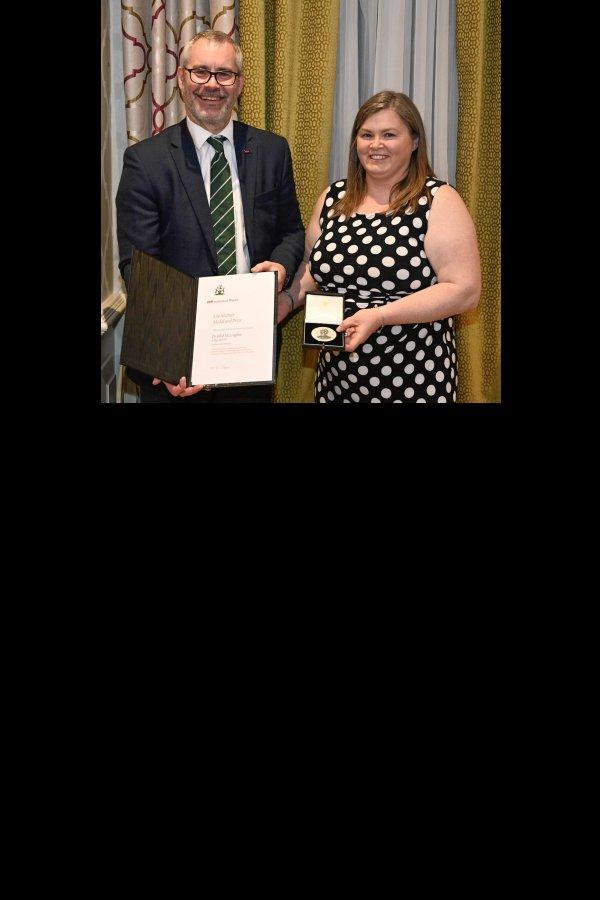 Dr. Eilish McLoughlin presented with 2018 Lise Meitner Medal by the Institute of Physics
Dr. Eilish McLoughlin Associate Professor in School of Physical Sciences and Director of CASTeL in DCU has been honoured by the Institute of Physics for her "leadership of large-scale national initiatives that widen participation in physics in Ireland." Professor Paul Hardaker, the Chief Executive of IOP travelled to Dublin and presented Dr. McLoughlin with the 2018 Lise Meitner Medal and Prize at the Banquet Dinner of the Irish Teacher's Association Annual Conference, held in the Skylon hotel on April 13th, 2019.
Dr. McLoughlin was honoured by the Institute of Physics (IOP) with the 2018 Lise Meitner Medal and Prize for distinguished contributions to public engagement in physics. Dr McLoughlin is among a group of academics celebrated for their outstanding contributions to research, teaching and public engagement in the field of physics by the IOP, the professional society for physics in the UK and Ireland. Dr McLoughlin was recognised for her role in innovative public engagement projects such as Physics Busking, Science on Stage and for her work to improve gender balance in STEM.
President of Dublin City University, Professor Brian MacCraith said: "On behalf of Dublin City University, I would like to extend my sincere congratulations to Dr McLoughlin on this wonderful achievement. DCU is renowned internationally for its commitment to STEM education and the quality of its STEM degrees. This standing reflects the sterling work carried out by people such as Dr McLoughlin whose energy, vision and ambition to reach out to students and fellow educators through exciting public engagement initiatives is exemplary. The recognition by the Institute of Physics (IOP) of Dr McLoughlin's work is a fitting tribute."
Among a number of key initiatives pioneered by Dr McLoughlin is the STEM Teacher Internship programme at DCU in partnership with Accenture and the 30% Club, which provides pre-service STEM teachers with opportunities in STEM internships; organising the co-hosting of the prestigious European Science Education Research Association (ESERA) conference at DCU and the Improving Gender Balance Ireland Project, a partnership between CASTeL, Institute of Physics and Science Foundation Ireland on a pilot project designed to address issues around gender and physics in schools.

Professor Enda McGlynn, Head of the School of Physical Sciences, added: "This is a tremendous recognition by the IOP of the work that Dr McLoughlin has carried out. Dr McLoughlin is among a very distinguished and small group of Irish recipients and the award is extremely well-deserved. There is such a variety to the numerous initiatives that Dr McLoughlin leads, each of them bringing together many groups in society with a view to widening participation in physics."
The following photos show Dr McLoughlin receiving her award from Professor Paul Hardaker, the Chief Executive of IOP and a close up of the IOP Medal as well as Eilish displaying her awards.