School of Physical Sciences
Undergraduate Opportunities | School of Physical Sciences
Undergraduate Programmes
Undergraduate Opportunities
Our undergraduate students can avail of a number of exciting opportunities from the following list to enhance their study during their time studying Physics at DCU. You can read a description of those opportunities below.
Undergraduate opportunities in Physics at DCU
The School of Physical Sciences offers unique opportunities to undergraduate students to attain experience in a broad range of application domains as an integral part of their degree programme. These unique opportunities are:
INTRA: Integrated Training/Work Experience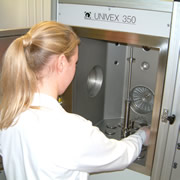 (Available to students in B.Sc. in Applied Physics, B.Sc. in Physics with Astronomy, B.Sc. in Physics with Biomedical Sciences)
INTRA is an 8 month paid industrial placement and in the past, students have been placed in a wide range of positions both in Ireland and internationally. The work experience employers mostly coincide with future employers of physics graduates.
"I would say that the staff in the School of Physical Sciences is very supportive and without their guidance throughout the B.Sc. in Applied Physics programme I would not have been able to secure a position on the Discover Science and Engineering Scholarship to Florida, which is run in association with the Florida Space Authority." - Elaine Bannon, Office Manager, Profile Properties, graduated B.Sc. in Applied Physics, 2007
"My INTRA placement in third year allowed me to partake in real astronomical research with a research group at Dunsink Observatory. During this time I travelled to Italy to help make observations of a massive star with astronomers, which I then reduced and analysed to obtain scientific information about the star itself. The placement also allowed me to become familiar with various scientific computer packages that I will find very useful in the future." - Conor Farrell, Lab Technician, School of Physical Sciences, graduated B.Sc. Physics with Astronomy
Undergraduate Placement in a Research Facility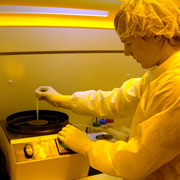 (Available to students B.Sc. in Applied Physics, B.Sc. in Physics with Astronomy, B.Sc. in Physics with Biomedical Sciences)
Placements can take place in the internationally recognized research groups in the School of Physical Sciences and national research centers based in DCU and directed by Physics Professors, such as, the Fraunhofer Project Centre for Embedded Bioanalytical Systems "FPC@DCU", NCPST, and NCSR.
"For my INTRA placement I chose a three-month research placement in the Surface Sciences Group
in the School of Physical Sciences here in DCU. I worked with different instruments, such as the Scanning Tunneling Microscope (STM) and the Atomic Force Microscope (AFM), becoming experienced enough take images of samples using the AFM. It was fascinating to use instruments which we had learned about in lectures in actual research. As such, it was very relevant to my Applied Physics degree, and I enjoyed it immensely." - Catherine Doyle, B.Sc. in Applied Physics, Year 3.
"I was working on an internship with the Biomedical Diagnostics Institute (BDI), which is based in DCU. I was involved in a project using plasmas to alter surface properties of chips, which are then are then used in devices by the BDI. It was excellent in terms of first hand experience of research science and the work it in entails, especially if I do research science when I finish in DCU or decide to do a PhD. I learned a few analytical techniques relevant to ongoing work on my course and also the work I did with plasmas is very similar to an optional fourth year module in Physics." - Thomas Cummins, B.Sc. in Physics with Astronomy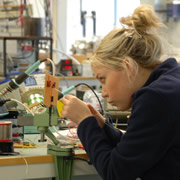 Field trip to European Observatory
(Available to students in B.Sc. in Physics with Astronomy)
This field trip takes place in second semester of third year to Loiano Observatory in Italy and involves a practical introduction to the operation of the observatory, its equipment base, data acquisition, archival and analysis, and an opportunity for the students working in small groups to observe and interact with professional astronomers.
"The third year field trip to Loiano Observatory in Italy, provided me with excellent first-hand experience of what it was like to work in observational astronomy. We were able to make our own observations of galaxies using the telescope and we were guided through the process of the initial sourcing of information and research of the galaxies." – Amanda Ryan
Hospital Placement
(Available to students in B.Sc. in Physics with Biomedical Sciences)
The hospital placements will take place on site in the Medical Physics and Bioengineering (MPBE) Department at St James's Hospital or other hospitals.
Edited 161220