School of Physical Sciences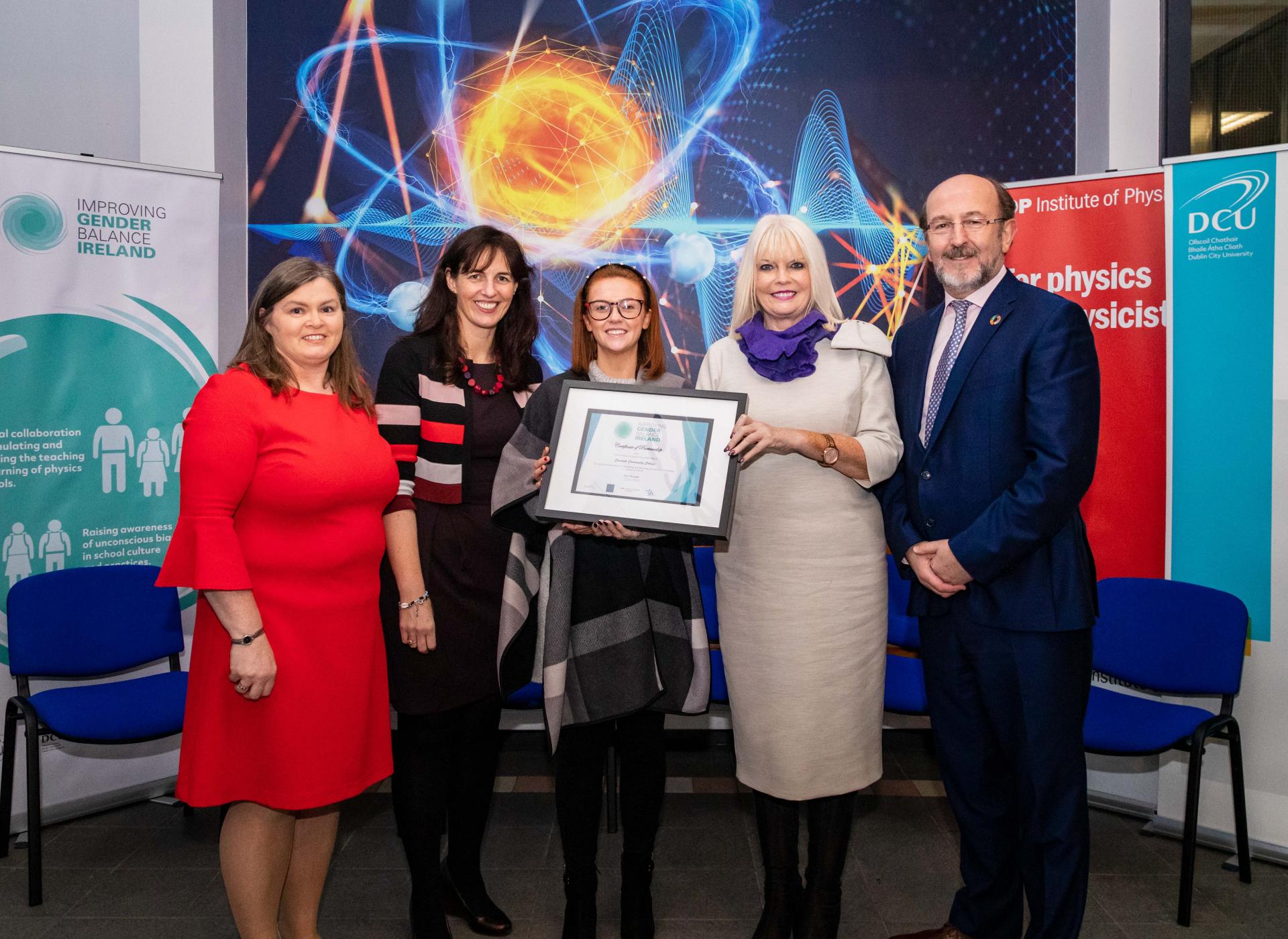 Challenging the message of "gender inequality"; Minister urges young females to reach "to the stars".
The message of "gender inequality" is "alive and well", Minister Mary Mitchell O'Connor told last night's launch of the Improving Gender Balance Ireland Programme awards, attended by teachers from 28 participating schools from the Dublin and Leinster region.

The DCU led initiative aims to improve students' experience of STEM (Science, Technology, Engineering and Maths) subjects and increase female participation in these subjects.

The programme is led by researchers, Associate Professor Eilish McLoughlin, Ms. Deirdre O'Neill and Ms. Georgina Fagan, from CASTeL (Centre for Advancement of STEM Teaching and Learning) and the School of Physical Sciences at DCU in a strategic partnership with the Institute of Physics in Ireland and Science Foundation Ireland.

Speaking at the event held in DCU's School of Physical Sciences, Minister Mitchell O'Connor spoke strongly on the matter of "gender inequality". "

"And you know, again, when I got this job as Minister of State for higher education, I can see it in our universities at the top level and, the low 20s.

"In 1960, there was 14,000 students in higher education.

"Two thousand of that 14,000 were women.

"Today, there are approximately 225,000 students enrolled and over 51pc are women, so we've actually surpassed that mid ranking.

"But they are not getting to the top echelons.

There's never been a female university president. And I think the first university was set up here in Ireland, approximately just a little bit more than 400 years ago.

"So they're the statistics, I'm not making them up.

"And I think we need to get that message out to our girls and to our female students that they can reach to the various stars and that they can look to other people, especially women within the higher education institutes, within the teaching profession getting to the very top. "

"And I am delighted to see that women now are getting through in the primary and secondary level.

"But it's not happening yet in higher education."

Ms Mitchell O'Connor also spoke of an initiative she brought in – the Senior Academic Leadership Initiative which consists of 45 'women only' jobs.

"I am encouraging every female academic to please apply for these posts

"We'll be announcing very soon where these posts are going, to what colleges.

We're looking particularly at areas where there is a dearth of women, especially in STEM".