School of Physical Sciences
Undergraduate Programmes | School of Physical Sciences
Undergraduate Programmes
Physics General Entry (DC175)
If you are interested in how the world works and how science seeks to answer the big questions, if you have a logical mind and competency in mathematics then Physics General Entry may be the route for you.
From 2020, access to our one of our Physics B.Sc. Programmes is through Physics General Entry (DC175).
Physics is the most fundamental science. It explains the mysteries of the universe and has fueled many of the scientific and technological developments that we take for granted. Physicists also pioneered modern technologies as diverse as the Internet, nuclear power and MRI scanners. Today physicists continue to generate new knowledge about our world and lead innovation in yet-to-be exploited realms such as quantum information and communications technology, nano-systems design, ultrafast molecular switching and terahertz medical imaging.
Upon successful completion of Year 1, Physics General Entry (DC175), you will progress into Year 2, of one of the following degree courses, and complete the remaining 3 years of your studies:

BSc in Applied Physics

Applied Physics emphasises the real-world applications of the subject as well as providing a foundation in the basics of physics.

BSc in Physics with Astronomy

This course is designed to appeal to everyone with an interest in physics, astronomy, astrophysics, space science and technology.

BSc in Physics with Biomedical Sciences

If you intend to pursue a career in physics and technology related to medical research, clinical services or biomedical industries then this course is designed for you.
Physics with Data Analytics (subject to accreditation)
This is a groundbreaking new degree programme, you will combine the skills and knowledge of a Physics degree with the advanced data analytics tools you need to solve real-world problems in new and exciting ways.
For more information see the details here Physics with Data Analytics.
Further details on our undergraduate degrees including comments from graduates and staff.
Click here to read about other undergraduate courses in the Faculty of Science and Health at Dublin City University.
We also teach Physics modules to students of the following courses:
B.Sc. Science Education DC203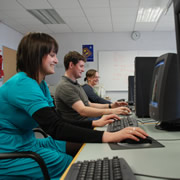 Understanding Science Education Science and technology are a vital part of our day to day existence, so having an understanding of science, even at a basic level, is important and valuable for everyone. A good understanding of science at secondary school allows us to really understand the science and science issues that are important to our society. As a science teacher this will be your opportunity to shape young minds and prepare them for a bright future. If the recent successes of the Irish economy are to be sustained, it is essential to provide our school leavers with the option of taking science and engineering courses in third level education. A science teacher's role is to develop our understanding of the world in which we live and educate future generations of scientists, engineers and technicians. Science Education will give you a teaching qualification with specialisation in chemistry and physics, and strong elements of information and communication technology (ICT) and mathematics. Teachers with this degree are highly skilled and motivated and are much sought after in the second level education system.
"My time at DCU was an enjoyable and invaluable experience that allowed me to pursue a very fulfilling career in science education."
- Claire Kelly, Physics Teacher, St Mary's Diocesan School, Drogheda.
B.Sc. Environmental Science & Technology DC166
Understanding Environmental Science and Health In recent years we have all become increasingly aware of environmental issues and their effects on our health. Problems such as diminishing fossil fuel reserves, radioactive and general waste management, and climate change have captured the imagination of the public and politicians alike. On this course, you will be encouraged to explore the traditional science disciplines of chemistry, physics and biology in combination with the discipline of health. In this way you will gain an understanding of the cause of the problems we face, and gain the skills necessary to reduce their impact on the public's health, as well as improving the state of the environment.
"DCU Environmental Science and Health combines all the major sciences giving a well rounded, problem and solution based approach to current environmental issues." - Rachel Kelly, Project Co-ordinator, Alcontrol.
Edited 150121