PPI Ignite Network at DCU
about
About PPI
Public and patient involvement in research is called PPI for short. This is where research is carried out 'with' or 'by' members of the public rather than 'to', 'about' or 'for' them.
This could be where patients or members of the public are partners in the following steps:
Deciding what research is funded
Deciding what questions research answers
Being a member of a research team
Deciding what methods are used
Developing documents, leaflets or articles
Interviewing research participants
Developing research findings
Telling people about research results
PPI Ignite Awards
Dublin City University is one of five awardees of the PPI Ignite Awards, a joint funding scheme between the Health Research Board and Irish Research Council. This funding scheme was designed to help institutions to create the right environment, training, support and processes to help researchers engage members of the public and patients in their research from the start.
Further detail on the PPI Ignite Awards can be found here:
hrb.ie/funding/funding-schemes/public-and-patient-involvement-in-research/
To speak to individual institutions about their projects please contact the relevant programme manager:
DCU PPI Ignite
DCU PPI Ignite aims to support and promote capacity building for high quality PPI in health and social care research across DCU's institutional practices, processes and structures. This will be achieved over three years, 2018-2021, through five cycles illustrated below.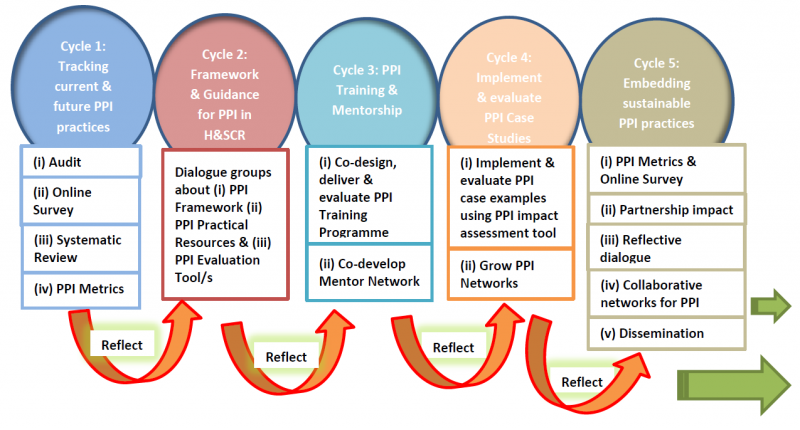 DCU PPI Ignite Project Management Team
Principal Investigator - Veronica Lambert
Programme Manager - Lucy Whiston
Expert by Experience - Martha Griffin
DCU Research and Innovation Support Office - Helen Burke
DCU School of Nursing, Psychotherapy and Community Health - Anne Matthews / Liam MacGabhann
DCU School of Psychology - Pamela Gallagher
DCU PPI Ignite Community of Practice
Epilepsy Ireland - Peter Murphy
Spina Bifida Hydrocephalus Ireland - Tom Scott
Medical Research Charities Group - Avril Kennan
Irish Advocacy Network - Jim Walsh
Int. Network towards Alternatives & Recovery - Sabine Dick / Michaela Amering
International Advisor - Carole Mockford
DCU School of Biotechnology - Anne Parle McDermott
DCU School of Health & Human Performance - Sarah Jane Belton
DCU School of Communications & Campus Engage - Padraig Murphy
DCU in the Community/Civic Engagement - Ronaldo Munck / Joanne Ozarowska
Faculty of Science and Health - Christine Loshcher / Kate Irving / Anthony Staines