PPI Ignite Network at DCU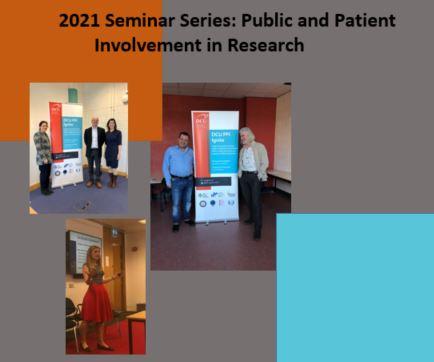 2021 Patient and Public Involvement (PPI) in Research Seminar Series
2021 Patient and Public Involvement (PPI) in Research Seminar Series
Details for the PPI Ignite Network at DCU 2021 Public and Patient Involvement (PPI) in research seminar series are now available. This seminar series will provide examples of PPI in action in different settings and with difference methodologies within DCU and DCU partner organisations. Seminars will take place online with time for questions and discussion and an opportunity to link with the PPI Ignite Network at DCU team.
This will commence with an example of PPI in the design and management of a clinical trial that is looking at the role of exercise for people with cancer of the food pipe/stomach (also known as oesophageal/gastric cancer). This will be presented by Dr Lisa Loughney (ExWell Medical, DCU) with reflections on the clinician PPI experience from Dr Roisin Tully (RCSI) and the patient and public PPI experience with three members of the trial patient research advisory group.
In Seminar 2 Dr. Sarah Jane Belton and Dr. Hannah Goss from the DCU School of Health and Human Performance will talk about applying PPI principles in the co-design of an adolescent health literacy intervention with contributions from young people on their experience.
The final seminar will provide a series of examples of PPI work from partner organisations of the PPI Ignite Network at DCU. This will include work from partners including: Health Research Charities Ireland, All Ireland Institute of Hospice and Palliative Care and NetwellCASALA Living Lab at Dundalk Institute of Technology.
Further detail and registration can be found here:
-        Seminar 1: PPI in clinical research involving people with cancer of the food pipe/stomach, 1st April 2021, https://dcuppiinresearch1.eventbrite.com
-        Seminar 2: Applying PPI principles in the co-design of an adolescent health literacy intervention, 6th May 2021,  https://dcuppiinresearch2.eventbrite.com
-        Seminar 3: PPI Ignite Network at DCU Partner Organisation PPI Examples, 17th June 2021, https://dcuppiinresearch3.eventbrite.com
The PPI Ignite Network at DCU is funded by the Health Research Board and the Irish Research Council. For more information please contact ppi@dcu.ie,