PPI Ignite Network at DCU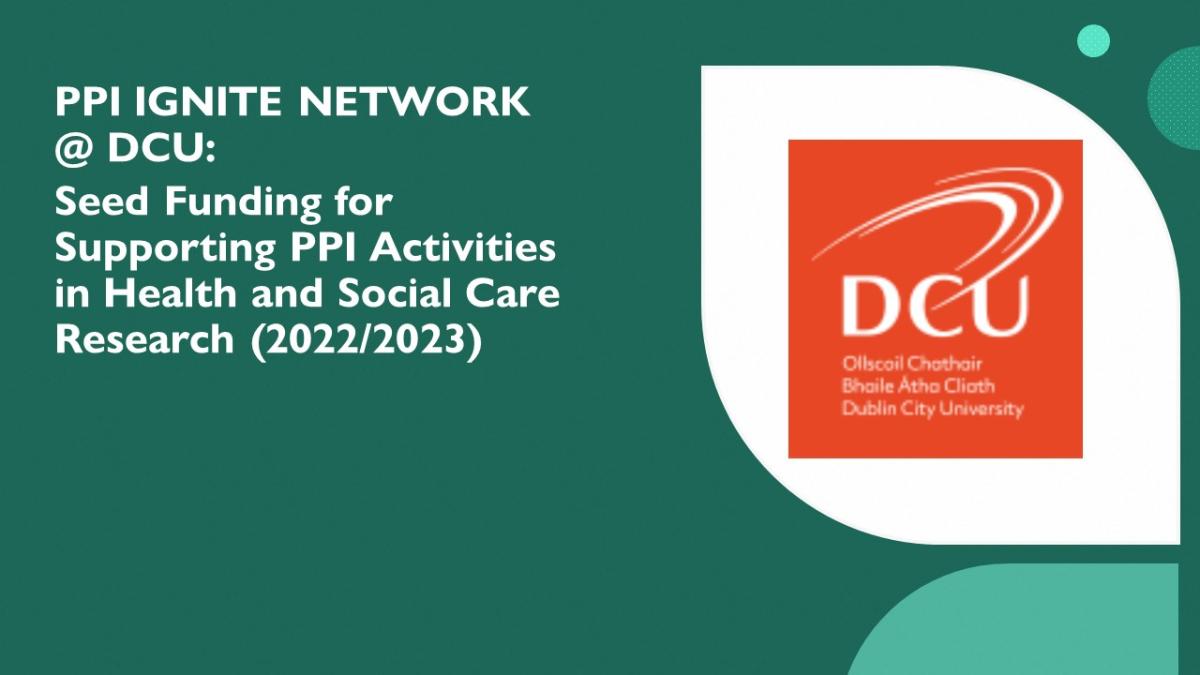 PPI Ignite at DCU Seed Funding
Congratulations to all the awardees of the first PPI Ignite at DCU funding call to develop and advance meaningful Public and Patient Involvement (PPI) activities in Health and Social Care Research. This funding will allow awardees to conduct research 'with' or 'by' members of the public at various stages in the research lifecycle. Congratulations to all the awardees and we look forward to hearing more about these exciting PPI projects in the future. More information on the awardees projects can be found below.
DR LORRAINE BORAN - PROJECT "CIAN'S KENNELS CANINE ASSISTED INTERVENTIONS: RISKS, BENEFITS, AND EVIDENCING HEALTH IMPACTS - A PPI-LED INITIATIVE"
One liner: Cian's Kennels will explore a vision for an animal-assisted intervention (AAI), from the perspectives of the child/young person/caregiver and family, so that potential research ideas about how to measure the impact of an AAI intervention can be identified.
Outline of the project: Animal Assisted Intervention (AAI) as an intervention or therapy is really about supporting enjoyable play and activities between the patient and pet with the aim of improving important patient outcomes related to their physical functioning, their overall wellbeing, including their emotional state (anxiety, depression, emotion control), social supports and quality of life. A key aspect of designing and delivering an intervention is meaningful PPI 'roundtable talk' so that a vision for an AAI intervention can be explored with families with children and young people experiencing cancer. The series of roundtable talks have been designed to enable early involvement so that we (1) can build new research relationships with the Ronald McDonald team, (2) understand each other's roles/stakes in this new initiative and (3) clarify expectations about the initiative. The ultimate aim is to understand the feasibility of Cian's kennels so that they can successfully transition to the new Children's' Hospital and continue to impact many more children's lives.
DR EMMA NICHOLSON - PROJECT "ESTABLISHING A DCU RESEARCH ADVISORY GROUP FOR CHILDREN, YOUNG PEOPLE, AND THEIR FAMILIES: A RESEARCH PRIORITY SETTING EXERCISE"
One liner: The activity aims to generate a set of research priorities in the area of health and social care for children, young people and their families.
Outline of the project: Building relationships is a vital but often overlooked part of PPI work and as a result is rarely embedded in the wider infrastructure of an organisation. The activity will adopt a concept mapping approach which allows for ideas and concepts generated by a diverse group of stakeholders to be mapped and refined. The activity will not only generate valuable research priorities but will be a mechanism for connecting researchers within DCU with potential PPI collaborators in order to create a culture of engagement in DCU which puts people whom research is about at the centre of the process.
DR SHAUNA MALONE (with Dr Lorraine Boran, Dr Lisa Loughney and PPI Collaborator Lorraine Byrnes) - PROJECT "THE PANO PODCAST: PERIOPERATIVE EXERCISE AND NUTRITION OPTIMISATION PODCAST BY REPRESENTATIVE PPI"
One liner: This project aims to provide media training skills for our PPI collaborators so we can support real engagement and co-produce a podcast series aimed at educating, informing and influencing the narrative on pre-habilitation.
Outline of the project: The PANO Trial is funded by the Irish Research Council Coalesce award (ClinicalTrials.gov Identifier: NCT05305820) and we aim to see if we can prepare people who require a major type of surgery (known as HIPEC or heated chemotherapy) with an exercise and diet/nutrition programme before (pre-habilitation) and after (rehabilitation) surgery. The PANO Trial has patients and members of the public who have supported the development of the PANO Trial and its protocols. With media training, we aim to share a series of podcasts on the patient experience co-developed by our PPI collaborators, for a wider audience.
DR LISA FITZGERALD – PROJECT "THE LIVED EXPERIENCE OF DECISION-MAKING AMONG CANCER SURVIVORS: AN EXPLORATORY CO-PRODUCTION PILOT STUDY"
One liner: This PPI activity aims to uncover the lived experiences and preferences of people with cancer and their informal caregivers when making daily decisions in order to generate new approaches to better support everyday legally relevant decision-making.
Outline of the project: A key objective of the proposed study is to establish a working group of experts in law, cancer, clinical neuropsychology, cognitive psychology and experts by experience as PPI collaborators. The project will specifically focus on Identifying if decision-making capacity is an under-reported or under-identified issue in cancer cohorts with a focus on the systems required to better support patient and family decision-making. It is also hoped that these insights could facilitate the development of clinician training programmes for implementing the new Decision-Making (Capacity) Act 2015. In addition, the identification of sensitive ways to discuss decision-making capacity assessment and support with survivors as identified by PPI collaborators with lived experience will be an important focus of the project.