President's Annual Awards 2019
DCU's Annual President's Awards recognise excellence and achievement in Teaching, Innovation, Research and Engagement. Click here for President's Awards Archive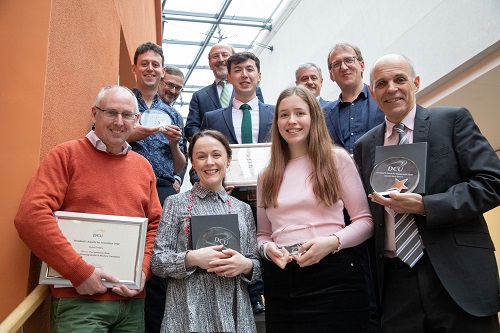 President's Awards for Innovation
The Academic and Research Category Award was won by Dr Finbarr O'Sullivan from the National Institute of Cellular Biotechnology (NICB). Dr O'Sullivan's research has focussed on addressing sight loss, and in particular on the development of cultured cornea-limbal stem eye cells to regenerate the cornea surface for the treatment of patients.
In the Student Category, PhD student, Eva Vanmassenhove took the award for her work on tackling the issue of gender bias in machine translation.
Undergraduate Computer Applications student, Kevin Cogan, was also an award-winner for his Dyslex-E programme. This application creates a dyslexic-friendly online environment to reduce the number of reading errors on screen, and increase user reading speed and accessibility.
President's Awards for Engagement
Dr Elizabeth Mathews, from the School of Inclusive & Special Education, was winner of the Staff Category. Dr Mathews has been working with the deaf community since 2003. During her time at DCU, Dr Mathews has made a leading contribution to the opening of BEd Irish Sign Language (first of its kind in Ireland), and the development of an ISL STEM glossary, as part of an SFI-funded project.
A Special Merit Award went to Prof Barry McMullin, from the School of Electronic Engineering, for his public policy engagement and leadership in the area of climate change and sustainability.
The Student Category Award went to Austin Campbell (MSc PR and Strategic Communications) for My Streets - a social enterprise that engages homeless trainees on a three month programme based around storytelling and confidence, creative writing and tour guiding skills delivered by professional trainers.
A Special Merit Award went to Jennifer Harrington (School of Mechanical and Manufacturing Engineering) for her role in promoting the greater female participation in engineering through activities such as establishing the DCU Women in Engineering Community and organising the Women in Engineering Open Day at DCU.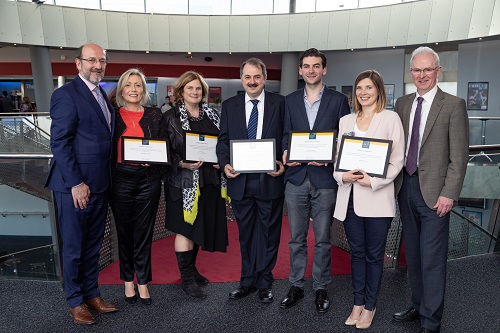 President's Awards for Research and Research Impact
The recipients of the 2019 President's Awards for Research were as follows:
Dr. James J. Walsh (School of Chemical Sciences). For his research into a new method of turning atmospheric CO2 into liquid fuels, Dr Walsh was presented with the DCU President's Research Award for Early Career Research Staff
Dr. Jane Suiter (School of Communications). For her research on data-journalism including issues such as the rise of 'Fake News', Dr Suiter was the recipient of this year's President's Research Award in the area of Humanities and Social Sciences, Business, Education and related areas.
Prof. Gabriel Muntean (School of Electronic Engineering). For work that includes research to improve communications in Internet of Things networks, Prof. Muntean was the recipient of this year's President's Research Award in Natural Sciences, Health, Engineering and related areas.
The inaugural President's Awards for Research Impact were also presented at the ceremony. For the purpose of the awards, "research impact is understood as an effect on, change or benefit to the economy, society, culture, public policy or services, health, the environment, or quality of life, beyond academia".
The recipients were:
Professor Kate Irving (School of Nursing and Human Sciences). For the extensive range of work she has done and continues to do on the dementia service and policy landscape in Ireland.
Professor Regina Connolly (DCU Business School). For the impact of a report that she prepared for the Department of Agriculture aimed at Improving ICT uptake and reducing the Digital Divide in Agricultural and Rural Communities.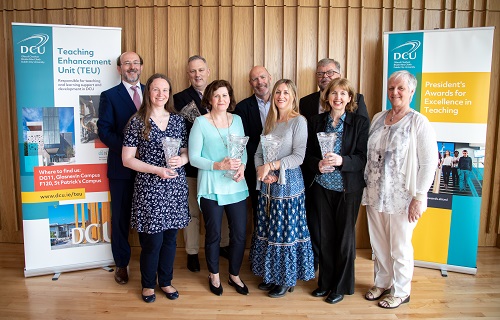 President's Awards for Excellence in Teaching
Teaching Excellence Award: Anne Kirwan, School of Nursing and Human Sciences
Teaching Support Award: Shirley O'Brien, Open Education Unit/DCU Connected
Team Award: DCU Careers Service, Student Support and Development
Distinctive Approaches to Teaching Award: Dr Eabhnat Ní Fhloinn, School of Mathematical Sciences
Distinctive Approaches to Assessment & Feedback Award: Dr David Robbins, School of Communications
Distinctive Approaches to Innovation in Teaching Award: Paula Murphy, School of Arts, Education & Movement
New Lecturer/Tutor Award: Padraig McKeon, School of Communications