Faculty of Science & Health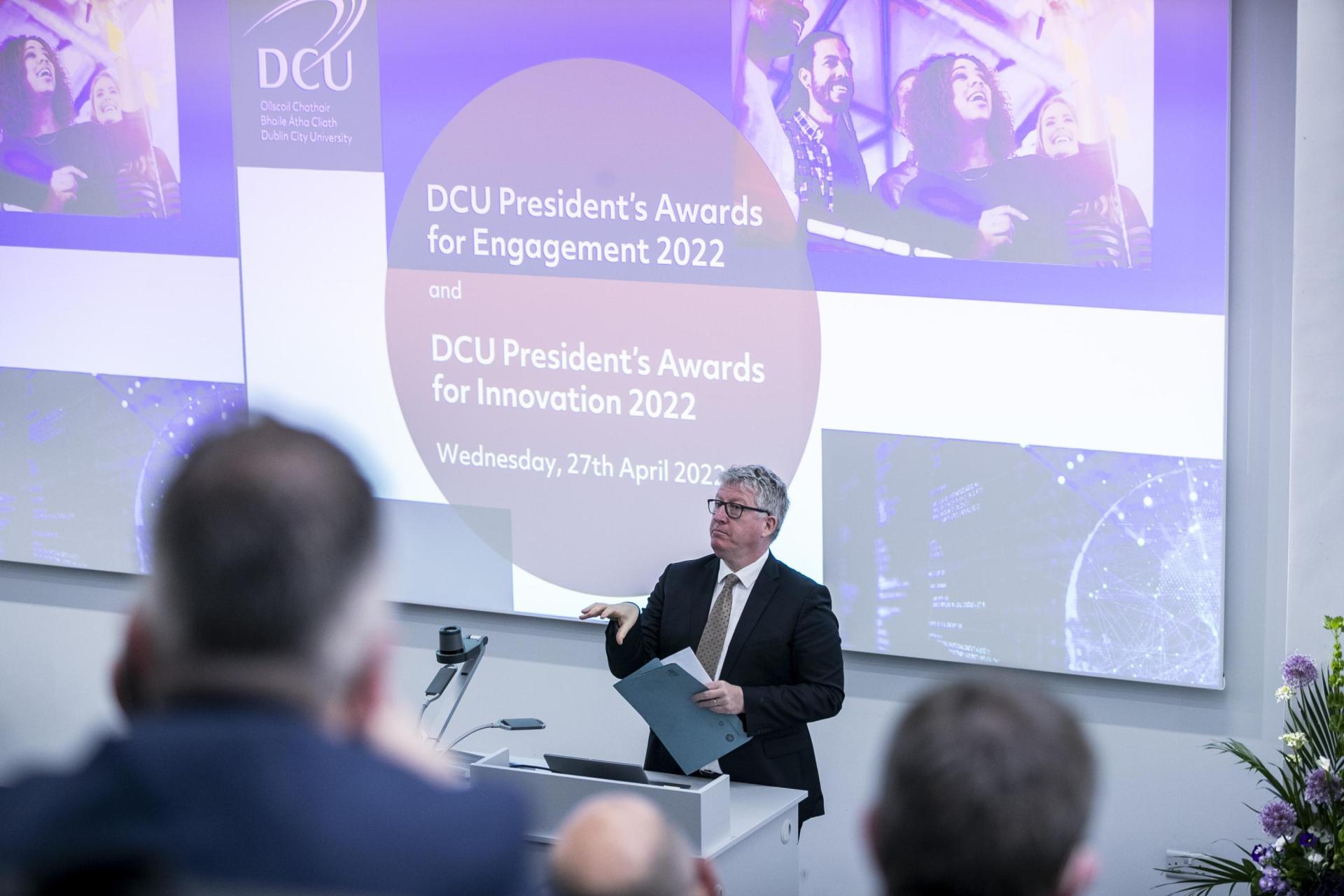 Recipients announced for DCU President's Awards for Engagement and Innovation
The world's first single camera solution to measure gait, a collaboration which saw the rollout of Covid-19 assessment centres, and a programme which provides student teachers with the opportunity of a paid internship in STEM focussed roles within global corporate firms are just some of the projects recognised in this year's DCU President's Awards for Engagement and Innovation. 
The President's Award for Engagement is designed to celebrate the engagement of staff and students in the life of the wider community and the President's Awards for Innovation recognise innovative and impactful achievements by DCU students, staff and researchers. The recipients were presented with their awards earlier today by Professor Daire Keogh, President of DCU, at a ceremony held on DCU's Glasnevin Campus. 
Speaking at the event, Professor Keogh praised the winners' achievements and commended all those nominated and shortlisted in the process. 
"Innovation and Engagement are two core elements of DCU's distinctive DNA, and these awards are a great celebration of all that has been achieved in these areas over the past twelve months. The shortlist and award winners demonstrate the inventiveness and positive impact  of DCU staff and students, in spite of the many challenges posed by COVID." 
Innovation Award Recipients are as follows:
Undergraduate Student Category

: BA in Global Business student, Armand de Virel, was awarded for his AI tech business called Social Clean which helps companies and their employees manage their reputation online. 

Administration & Support Category:

DCU Research Lifecycle Project developed an innovative resource to help researchers across DCU, and those who support them, navigate the DCU Research Lifecycle, both clarifying processes and providing information on where to access supports at each stage of the process. Led by Dr Helen Burke, the team consisted of all members of the research unit including Deirdre Donnelly, Dr Jane Carrigan, Isabel Hidalgo, Dr Eamonn McConnon, Dr Sumona Mukherjee and Micheál Murphy.

Academic & Research Category:

Dr. Aidan Boran, a researcher in the Insight SFI Research Centre for Data Analytics at DCU, was awarded for his work in developing the world's first single camera solution to measure gait. GaitKeeper works as an app that automatically records a video of the patient walking in a normal setting, and uses AI and augmented reality for instant gait assessment.
Engagement award recipients are as follows:
Staff Category:

The

Estates Office Operations Team were awarded for their collaboration on the delivery of Covid assessments clinics and mass vaccination centre at DCU during the Covid-19 pandemic.

Student Category:

Taylor Allen-Coyle,

PhD researcher with SSPC at the National Centre for Cellular Biology (NICB) at DCU,

was awarded for her pancreatic cancer research and for her work with those in Direct Provision 

Special Merit Award Staff Category: 

Dr Eilish McLoughlin and Prof Deirdre Butler were recognised for developing the

STEM Teacher Internship Programme

. The programme provides pre-service teachers with the opportunity of a paid internship experience in STEM focused roles and careers in global corporate firms.  

Special Merit Award Student Category:

Julie Daniel from

SALIS

was awarded for her work on the MELLIE Project, which is an

innovative extra-curricular pilot project designed to facilitate language and cultural exchange between DCU students and staff, and asylum seekers from Mosney Direct Provision Centre, Co. Meath.