Faculty of Science & Health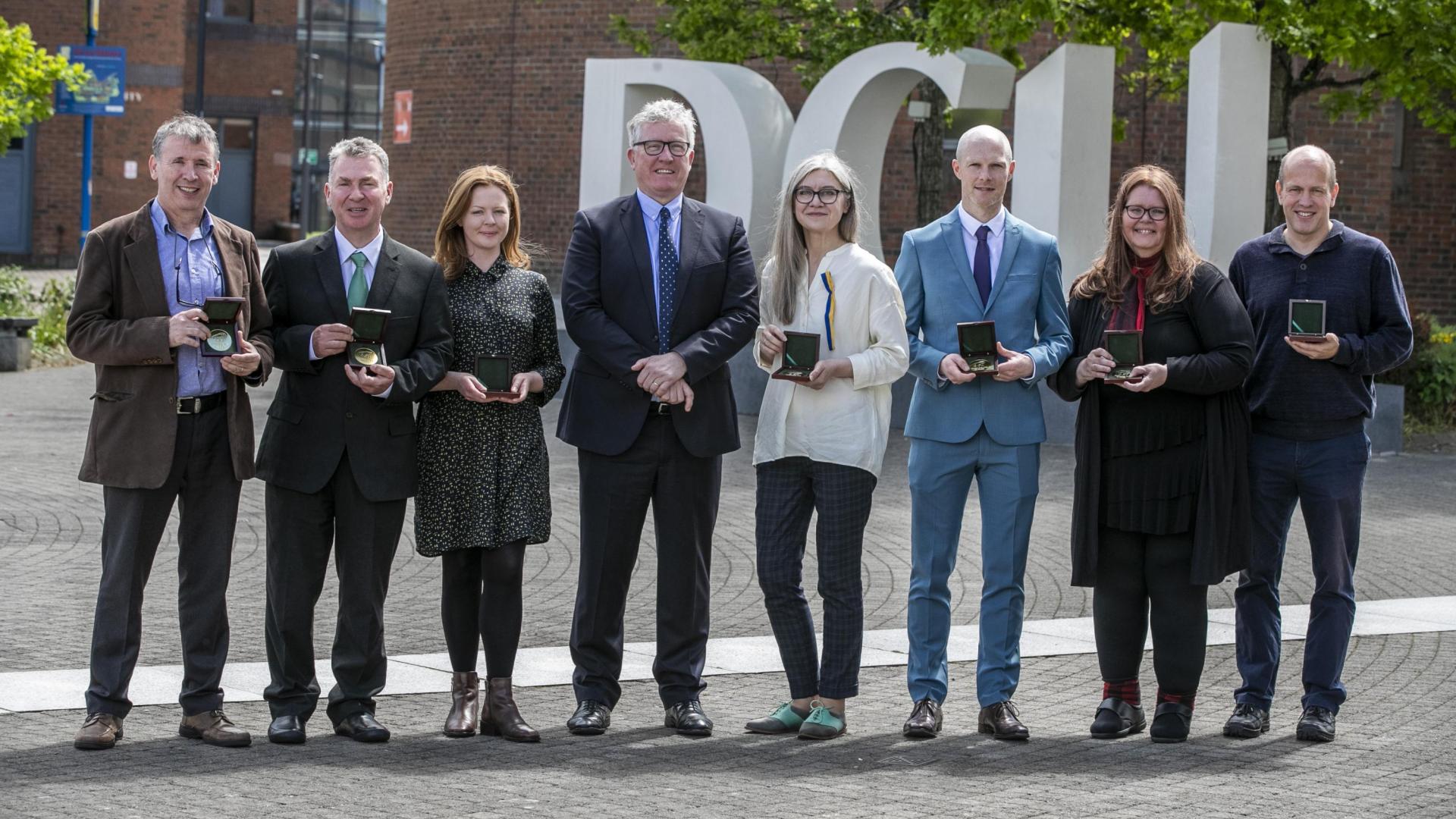 Recipients announced for DCU President's Awards for Research and Research Impact 2022
The Awards for Research are presented for outstanding achievement and research excellence over an extended period, while the Awards for Impact are presented in recognition of research work, often a single project, that has had a significant impact on society.
This year's recipients of the

President's awards for Research
Prof Donnacha Ó Beacháin, School of Law and Government, in recognition of his outstanding research achievements in the field of Humanities and Social Sciences, Business, Education. His research on the former Soviet region has been informed by living and teaching there during his early career.  His particular specialism is the unrecognised states of the region, informed by frequent and repeated fieldwork, and is internationally recognised as amongst the most grounded research on these cases.  Prof Ó Beacháin's international reputation and his commitment to impact beyond the academy is evidenced in his almost daily appearances on TV, radio and print media since the invasion of Ukraine.
Dr Tetyana Lokot, DCU School of Communications, was awarded the Early Career Researcher Award for her ground-breaking interdisciplinary research on digital media, politics and society in Ukraine and Russia. Her research broadens conventional expertise on the region, and is especially salient in providing context for understanding the information and communication battles in Russia's ongoing war against Ukraine. 
Prof Kieran Moran, School of Health & Human Performance, was recognised for his outstanding research achievements in the field of Natural Sciences, Health, Engineering. Kieran's exceptional and sustained record of high impact research has gained prominent recognition and acclaim for the outstanding contributions he has made to the fields of biomechanics and musculoskeletal injuries, technology-based rehabilitation, and machine learning and AI data analysis techniques.
This year's recipients of the President's Awards for Impact
Dr Gearóid Ó Cleircín, Fiontar & Scoil na Gaeilge, was recognised for his work on the Téarma (Irish terminology), the LEX (EU terminology) and the Terminologue (terminology management) projects, which has put DCU to the forefront of terminology science in Ireland, the EU and beyond. Dr Ó Cleircín's work has helped establish Terminologue as a platform used and recommended by many terminology practitioners and educators, both inside and outside of academia.
Dr Paul van Kampen, School of Physical Sciences, was recognised for leading a reform of the Junior Cycle Science curriculum, based on his extensive internationally recognised research in physics and science education. The curriculum, which is now in place nationwide, supports a shift towards an inquiry-based approach, with students framing their own explanations, along with introducing cross-cutting elements connecting the traditional subjects, and a reduced emphasis on rote learning, with pupils learning to be scientists as well as learning. 
Dr Tanya Cassidy, School of Nursing, Psychotherapy and Community Health, was recognised for her work which has had global impacts on the wellbeing of pre-term babies. Tanya's research has supported the development of human breast milk banks not only here in Ireland but in Canada, Poland, Malaysia, Vietnam, and Australia. In addition to well documented lifelong impacts of breastfeeding.
Dr Sinéad McNally, School of Language Literacy and Early Childhood Education, who is internationally recognised for her leadership of a programme of research on young children's development and wellbeing which has had recognised and sustained impact in both policy and practice in Early Childhood Education. Her research is highly collaborative, international and interdisciplinary and includes close mentorship and strategic development of a large team of early career researchers in early childhood education.
Speaking at a special event to celebrate the awardees, DCU President Professor Daire Keogh, said
"This year's awards reflect the strength and diversity of DCU research. Spanning areas such as educational reform, healthcare innovation and geopolitics, the award recipients' research is engaged, innovative, impactful, and often interdisciplinary. Their work delivers DCU's strategic aim to advance the university's research reputation and impact at a national and global level."