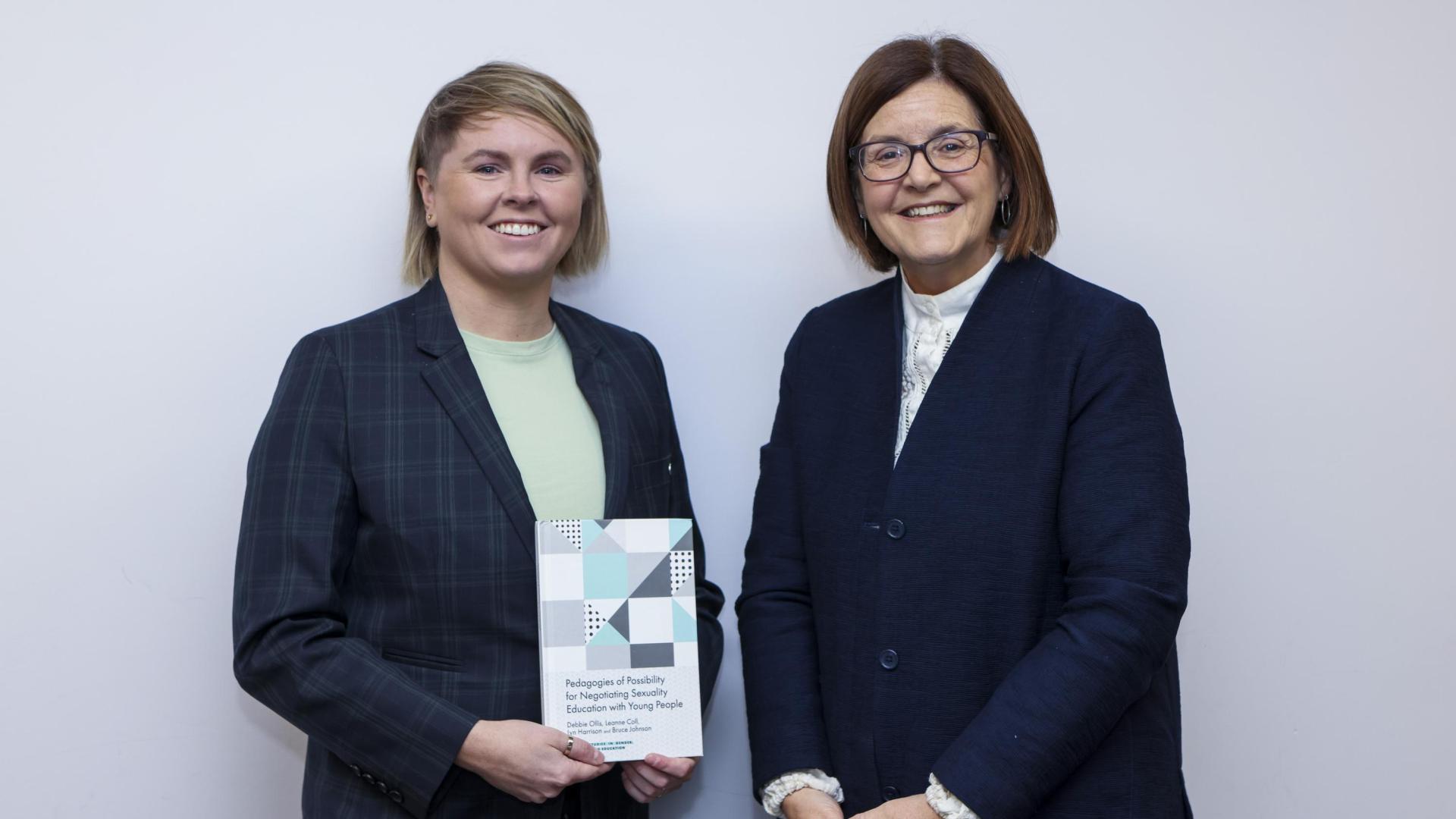 New book on sexuality education for young people launched at the Institute of Education
The book draws on research undertaken as part of an Australian Research Council (ARC) which worked with more than 2500 secondary school students in Melbourne and Adelaide in order to transform sexuality education.
The book demonstrates how young people provide a compelling case for rethinking sexuality education on the basis that values and makes central their lived experiences. The book provides a useful tool for adult allies to work through the common misconceptions of what it means to work with young people as key stakeholders in Relationships and Sexuality Education (RSE).
About the book
The project began by initially surveying over 2400 students on their views and experiences of sexuality education.
The book focuses on one of the case studies from the second phase of the project, in which over one hundred students (aged 15-17) were engaged as co-researchers in understanding, critiquing and transforming sexuality education in one urban secondary school in Melbourne. Young people involved in this project were partners in the knowledge-production process, engaged in unpacking their previous experiences of sexuality education, engaged in the creation of new classroom learning experiences focus on what they would like to learn more about (e.g. love, gender and sexuality diversity, violence, safety and support and sexual pleasure) and through the co-design of resources for teaching and learning in sexuality education.
Foregrounded in the text are the contradictions between what young people want to learn more about and the contemporary approaches to teaching-learning that are necessary to provide safe and empowering experiences of sexuality education for all students. Also outlined is the important role of adult allies (adults who work for and with young people) in supporting young people and school contexts to navigate these contradictions. 
Speaking at the launch in DCU St. Patrick's, lead author Dr Leanne Coll said
"An interest in what sexuality education should, could or ought to be about has long since captured the imagination of the public, parents, young people, researchers, policy makers and practitioners. Relationships and Sexuality Education policy and practice, connected with and aimed at addressing the realities of young peoples' sexual and relationship cultures, often misses the mark because of a lack of authenticity, normalisation of gender-based and sexual violence in peer cultures, and active resistance to change by policy makers and practitioners.

Our book emphasises that a role of high quality school-based sexuality education is about creating safe and empowering spaces to explore and respond to what young people are already learning, questioning, thinking and feeling. In doing so, I feel it makes significant contributions to understandings surrounding what constitutes meaningful RSE for young people."
Executive Dean of the Institute of Education, Prof Anne Looney, said:
"This publication provides important new insights about ways in which sexuality education can be made more meaningful and effective. Through its examination of a groundbreaking case study, the book shows that engaging with young people as co-creators of their learning in programmes like this can have a powerful impact on students and teachers alike. In an Irish context, as the system reconsiders how RSE is designed and supported in schools, this is an important and timely insight."
About the authors
Dr Leanne Coll, Dublin City University
Leanne is the Director of School Placement for PME, Science Education and Physical Education students at DCU's Institute of Education. Leanne has over ten years' experience working across the continuum of teacher education in the areas of wellbeing, social justice, health and sexuality education
Associate Professor Debbie Ollis, Deakin University, Melbourne
Debbie Ollis is an Honorary Associate Professor in Education at Deakin University where she teaches and researches in the fields of gender, respectful relationships and sexuality education. Debbie has worked in the health and sexuality education field for over thirty years as a secondary school teacher, policy officer, curriculum consultant, curriculum writer, teacher educator and researcher. 
Associate Professor Lyn Harrison, Deakin University, Melbourne
Lyn is an Honorary Associate Professor in the School of Education at Deakin University, Australia. Her research interests lie in exploring concerns surrounding young people, gender, health, well-being, sexuality education and the construction of risk.  
Professor Bruce Johnson, University of South Australia, Adelaide
Bruce is an Emeritus Professor at the University of South Australia, Australia. His research interests include human resilience, curriculum theory and development, school reform, classroom management, and sexuality education.