Research Newsletter - Issue 68: Spotlight
Physics in Action
Have you ever spoken to a fish?

I know of few people who have had a conversation with a fish, but if I was to chat with a fish I would ask them one simple question: "Do you know you are wet?" I anticipate their answer would be a "No".
This unusual introduction sets the tone of what our work is about! Like a fish is unaware they are wet, so too, humans are typically unaware of their nonverbal communication and its importance for learning. Anyone who has ever watched children at play will note they love to dramatise, move, touch, taste, smell, listen for unusual sounds, and engage emotionally with their world.
Enter our project! It is very much about the natural way in which children learn. Dr Cliona Murphy and I, Dr John White, are investigating the value of using embodied cognition to understand Physics' concepts at middle and upper primary school levels in Ireland.
What is embodied cognition? The main idea behind embodied cognition has to do with how your body helps you learn.
Once upon a time, there was the strong argument that the brain was the main centre for learning, like a computer which governed our knowledge and how we collect knowledge. In the past two decades, advances in neuroscience and other fields reveal that humans collect and learn vast amounts of information from the way they move, taste, touch, observe, hear and feel (emotionally).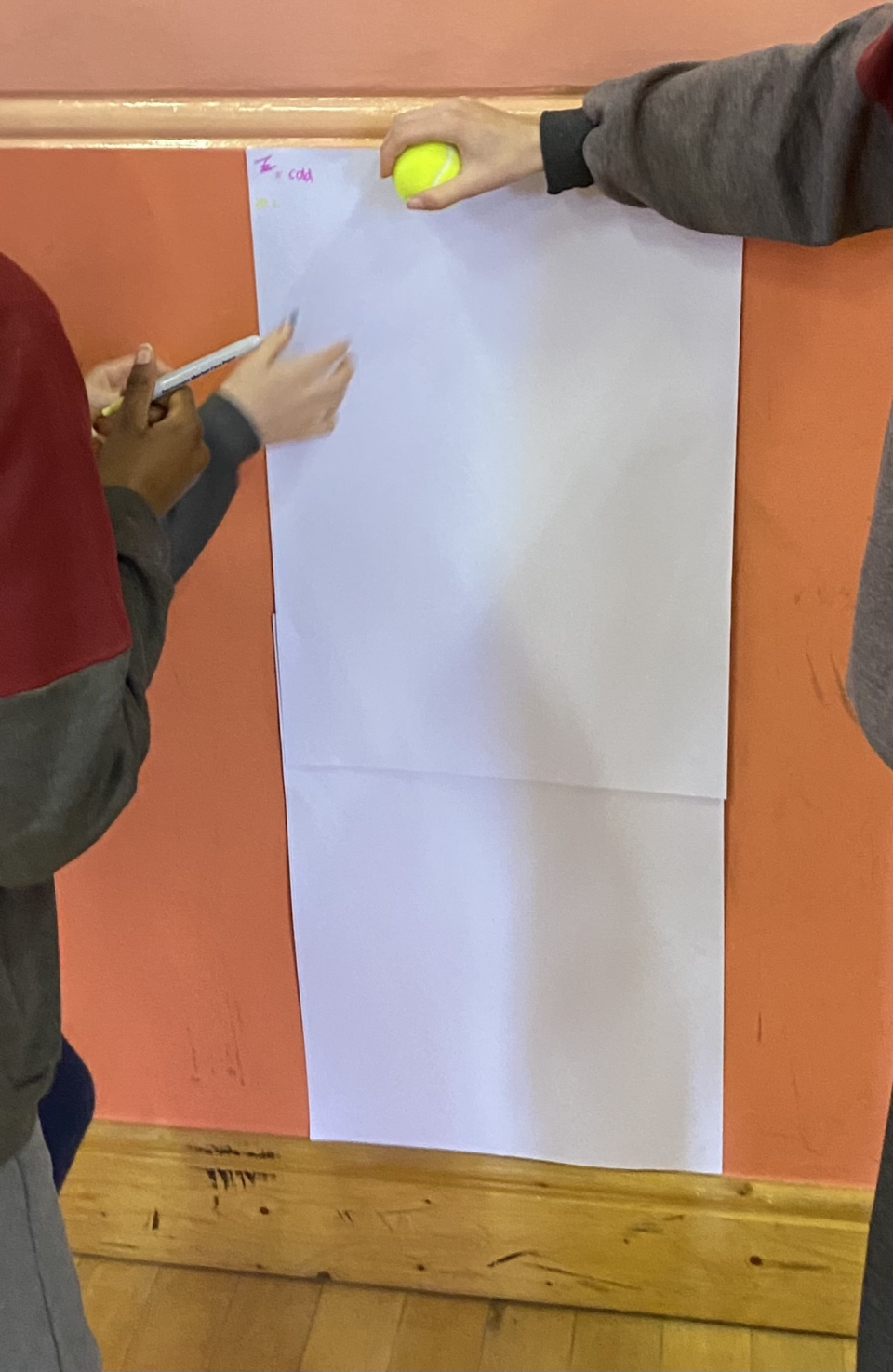 We have designed our project with a focus on making pupils active in these areas. Depending on the lesson, they are busy moving, tasting, touching, smelling, listening, observing, and engaging emotionally in Physics activities.
For  example, when pupils were learning about forces and air resistance  they engaged in 2 lessons. One lesson involved making spinners, the other involved designing and testing a 'candy bomber' ( a parachute that could drop a chocolate egg safely to the ground without breaking it!). As part of these lessons, the students went outside their classroom and observed their paper spinners falling and then used their bodies to act / move like a spinner.
Pupils used their sense of touch to feel  the different materials for the parachutes, they dropped different materials and closely observed them as they fell.  They were then asked to think about how they would feel (emotionally)  if they were falling like a piece of paper, a feather, or a piece of fabric. They consciously  touched materials to investigate their texture (e.g. hard / soft, dense, smooth etc). They listened to the sounds the materials made as they used them and of course when the parachute hit the ground (When the parachutes hit the ground did they make a sound? What sound did they make?). Of course there was lots of excitement when it came to examining one material - the chocolate for the parachute bomber. Pupils readily tested this material - they smelled it, tasted it and touched it. In so doing, they were asked to consider the texture / properties of the chocolate, was it soft, crunchy, liquid, solid?  Needless to say, testing chocolate provoked much interest and enthusiasm from both pupils and teachers alike. These various embodied cognition activities of touching, moving, tasting, smelling, focused listening, focused observation, and considering emotions in their bodies provided rich, engaging and stimulating learning experiences, as we discovered in our data analysis.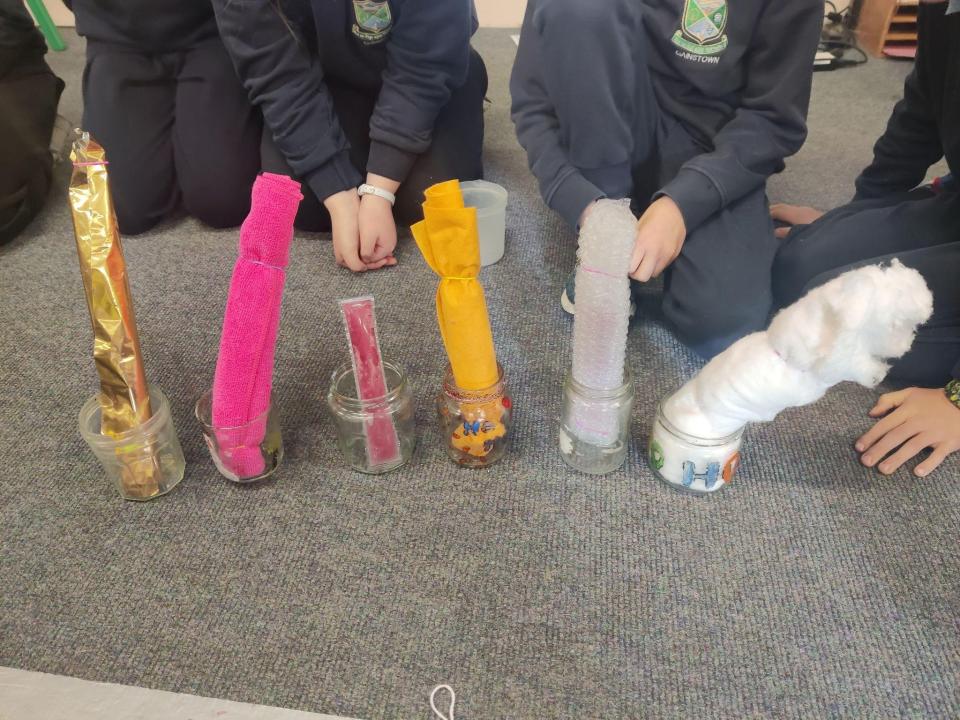 Feedback from focus groups and semi-structured interviews we've undertaken with pupils and teachers indicates that enthusiasm for the use of embodied cognition within Physics stretches far beyond eating chocolate! The data glitters with positive findings related to pupil and teacher enjoyment, pupils perceiving themselves as scientists, increased pupil and teacher confidence in using your body and senses to learn and most encouraging of all, pupils are critically engaging with Physics, coming up with deep and often surprising scientific questions!
Some quotes in the words of our key stakeholders tell this story better:
Pupil: "Like you're spinning around and it makes you feel like .. how does it feel to be a spinner at the same time it's actually kinda fun"
Pupil: ""I thought using your body was better cause if you just explain, like wrote down and explain its harder to understand but when you use your body it helps you understand it in an easier way"
Wider Scope of the Project and Human Learning in the field of Nonverbal Communication
This project is set within a wider 'campaign' which Dr John White (DCU), Professor David Givens (Gonzaga University), Dr Murphy (DCU) and some colleagues nationally and internationally are spearheading. We are building a community of educators focused on highlighting the importance of nonverbal communication in human learning. To assist this work, Professor Givens and Dr John White just completed 'The Routledge Dictionary of Nonverbal Communication' (Routledge, 2021).
If you are interested in further information about our work, please contact john.white@dcu.ie. You can also visit our website or check out our twitter account.
Final Note:
The DCU team (Dr Cliona Murphy, Kevin Quinn, Daire McCutcheon and Dr John White) would like to sincerely thank the pupils, teachers, principals and parents of Scoil Mhuire (Navan), St Colmcille's NS, (Gainstown, Mullingar), St Francis NS (Francis Street, Dublin) and Balbriggan Educate Together NS (Balbriggan) for all their work and support on this project.
We would also like to thank Science Foundation Ireland (SFI) for supporting and funding this project.