Spectroscopy
Applied Photophysics Chirascan Plus
Circular Dichroism Spectroscopy
The CD spectrometer provides researchers with structural information about biomolecules and synthetic biomimetic polymers. It is capable of simultaneous data acquisition of parameters such as: Circular Dichroism, Fluorescence, true UV-VIS Absorbance, Temperature and Single/Multi-Wavelength Thermal Melt Analysis, across a wide wavelength range (170-1,150nm). Using the same high-performance UV-VIS-IR avalanche photo-diode detector, it is also possible to configure the instrument for the acquisition of both Linear Dichroism measurements (down to 180nm) and Optical Rotatory Dispersion measurements. The sample compartment contains a single cell Peltier-controlled cell holder which is capable of performing temperature-controlled (ramping) measurements with the ability to acquire Circular Dichroism vs temperature curves at more than one wavelength in a single continuous-temperature-ramping experiment (with the sample temperature recorded for each discrete measurement).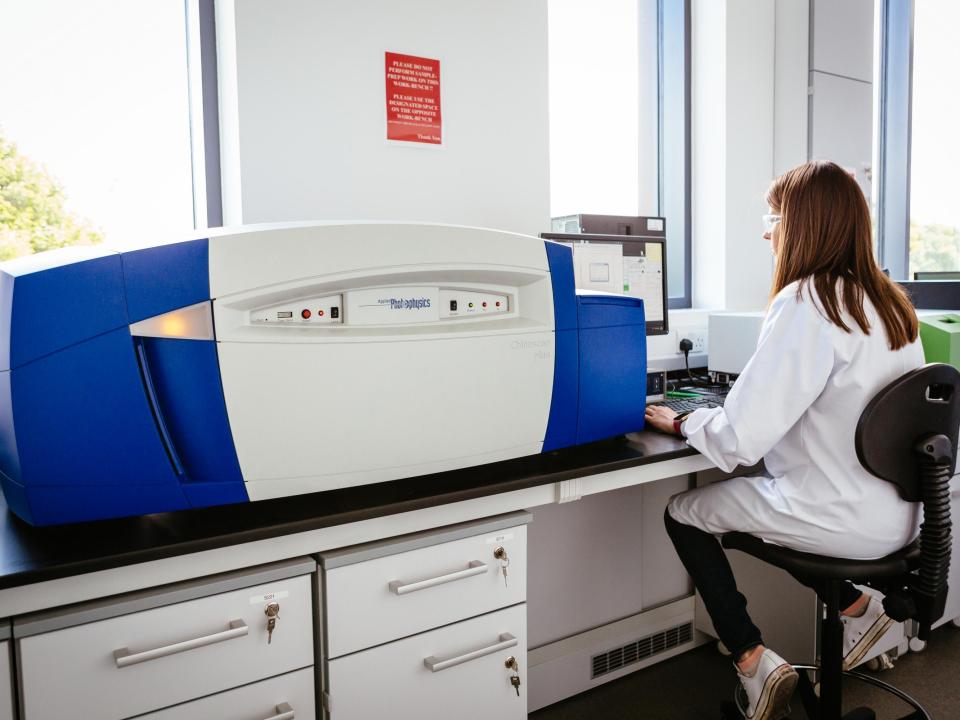 Wavelength accuracy of ±0.2nm between 170-400nm & ±0.5nm above 400nm

Wavelength precision of ±0.05nm between 170-400nm & ±0.1nm above 400nm

Resolution of ±0.1nm

Stray light levels below 5ppm @ 200nm and below 8ppm @ 180nm

Baseline stability of ±0.02mdeg/hr (@ 290nm)

RMS noise levels between 0.02mdeg - 0.05mdeg (depending on wavelength)
Perkin Elmer LS55 Fluorescence Spectrometer
Fluorescence Spectroscopy
The Perkin Elmer LS 55 luminescence spectrometer is a very versatile instrument that allows measurement of fluorescence, phosphorescence, and chemiluminescence or bioluminescence of a sample. 
The Model LS 55 Series uses a pulsed Xenon lamp as a source of excitation. The sample is excited from 200 to 800 nm and the emission spectra recorded from 200 to 900 nm. Excitation and emission monochromators can be independently or synchronously scanned, while the Prescan mode is ideal for method development and locating of peak excitation and emission maxima.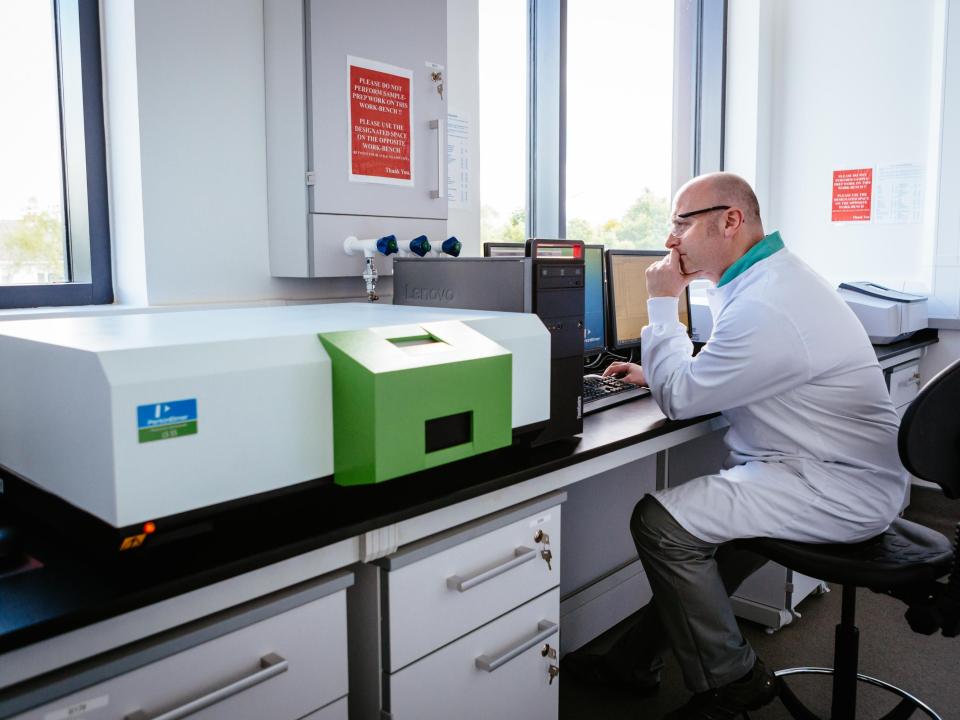 Measurement Modes for the LS 55
Fluorescence, phosphorescence, chemiluminescence, and bioluminescence measurement modes

Excitation, emission, constant wavelength synchronous, and constant energy synchronous spectral scanning

3D excitation/emission scans, 3D synchronous and kinetic scans

Single and multiple wavelength kinetics

Simultaneous kinetics for multiple samples

Simple quantification by curve fitting with a number of fit algorithms
Shimadzu UV 2600 & 1800
UV-VIS Scanning Spectrophotometers
Shimadzu UV 2600 & 1800 Spectrometers are used to facilitate the qualitative and quantitative analysis of compounds which absorb light in the UV-VIS region. They are single monochromator, variable slit, double-beam instruments, with the 2600 having a standard scanning range of 185-900nm but with the availableShimadzu ISR 2600 Plus Integrating Sphere it can extend the operating range into the near-IR region with an upper limit of 1,400nm. The 1800 instrument has a standard scanning range of 190-1,100nm. 
All instrument control & data acquisition is performed through the latest version of the Shimadzu UVProbe software, which includes built-in Validation Software as standard to support GLP/GMP requirements. Highly customisable acquisition Modules - Spectrum, Photometricand Kinetics - also facilitate a wide range of applications.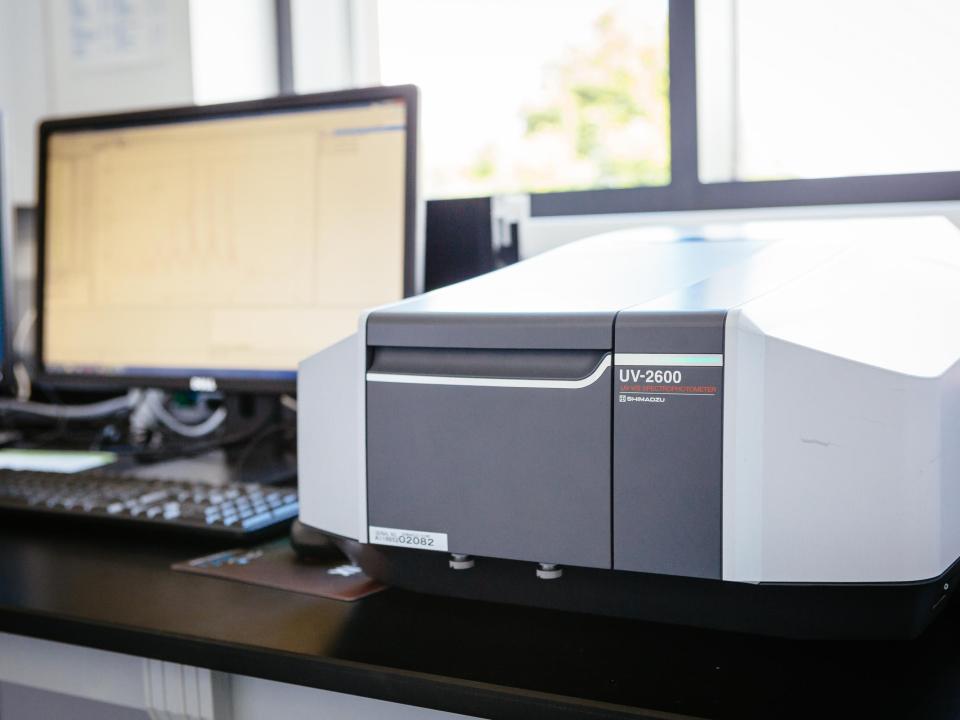 Wavelength accuracy of ±0.3nm throughout the entire range

Wavelength repeatability of ±0.05nm (2600) and ±0.1nm (1800)

Resolution of ±0.1nm (2600) and  ±1nm (1800)

Photometric range between -5 to +5 Abs (2600) and -4 to +4 Abs (1800)

Photometric accuracy as low as ±0.002 Abs

Photometric repeatability as low as ±0.001 Abs
Perkin Elmer Spectrum Two FTIR
FTIR Spectroscopy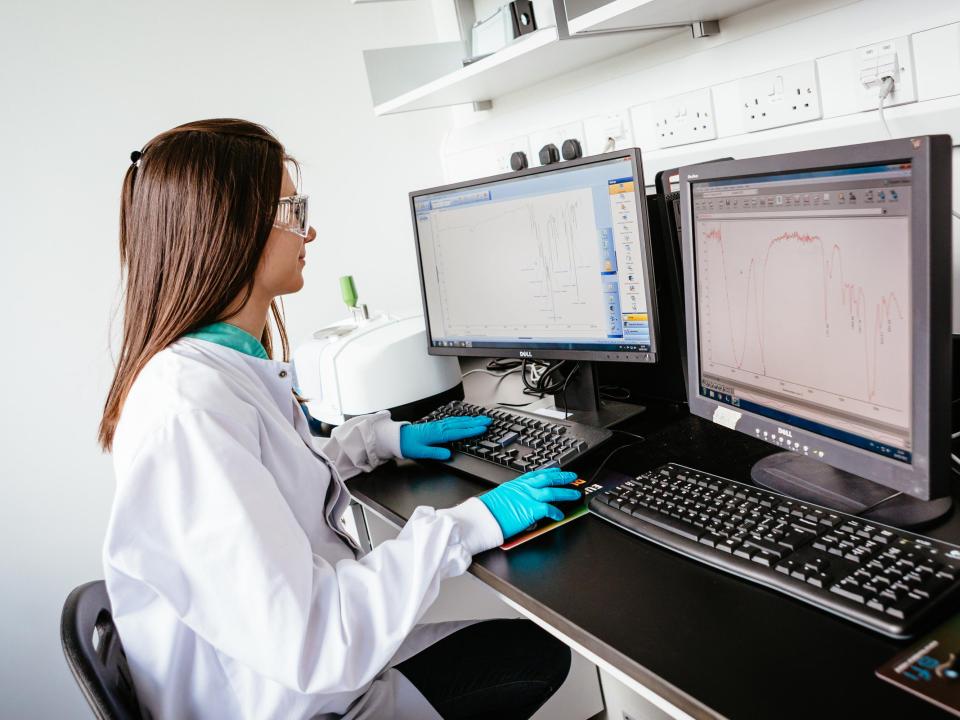 The Spectrum Two is suitable for a wide range of applications and includes a high performance detector, a standard sample compartment with sample slide mount and the comprehensive Spectrum 10™, and Spectrum 10™ Upgrade software interfaces. The system has a source range of 350 - 8,300 cm-1 and a diamond universal ATR accessory.
Thermo Scientific Nicolet 6700 FTIR
FTIR Spectroscopy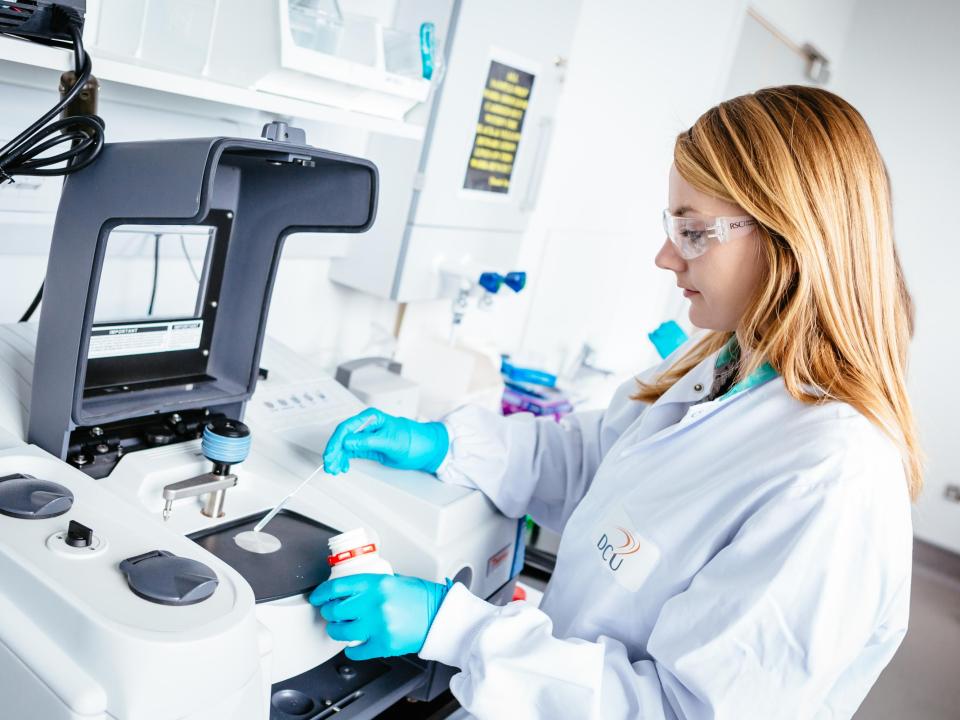 Source range: 20 – 9,600 cm-1;

Beamsplitter range: 350 – 7,800 cm-1;

Detector range: 350 – 12,500 cm-1.

Includes an ATR accessory.