Student Recruitment Office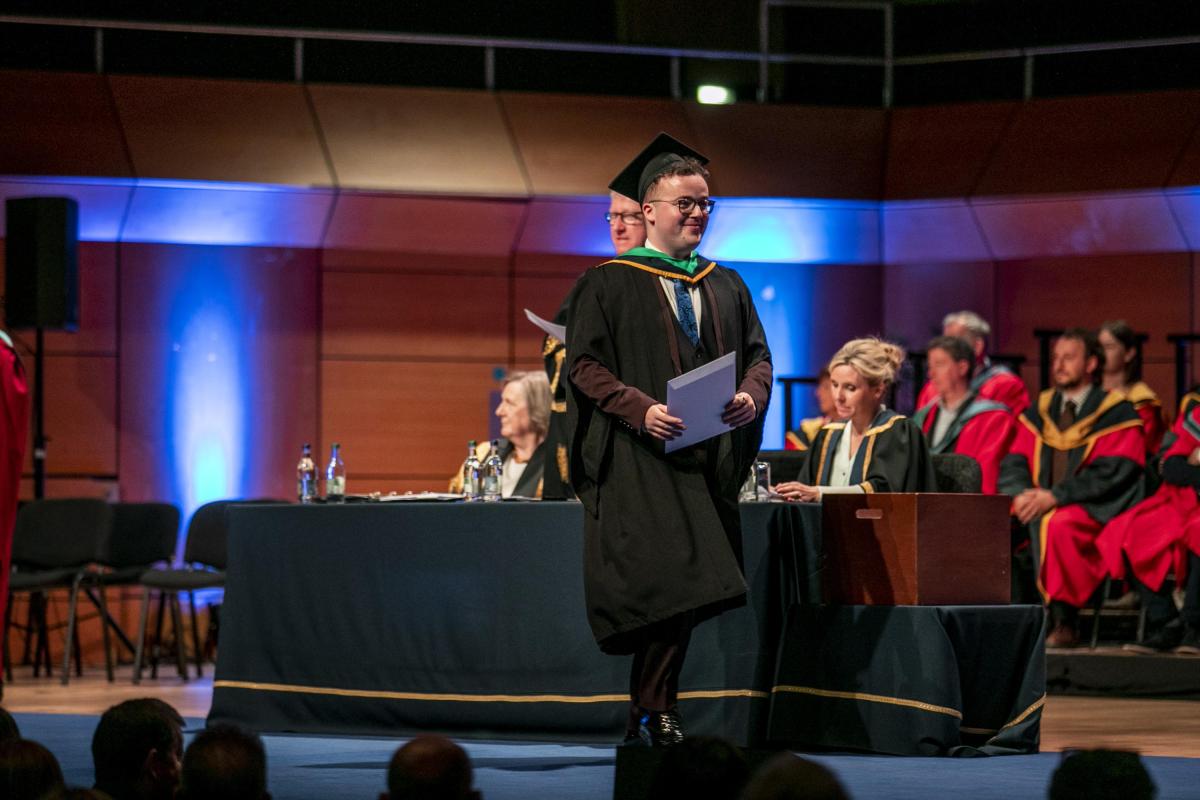 DCU Graduate Profiles
Congratulations to all our new graduates!
We hope you enjoyed your graduation as much as we did! It was wonderful seeing you all finally meet up with your former classmates and celebrate your achievements together.
We wish you the best in your future careers and hope to see you stop by soon.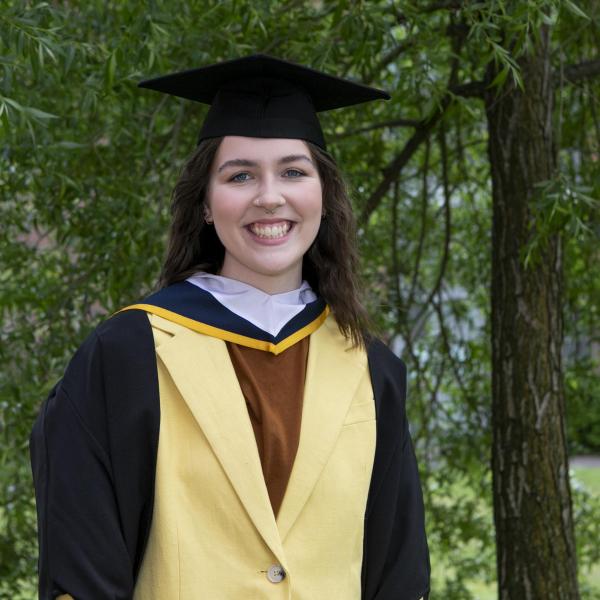 "DCU's journalism course always stood out as the best journalism course in the country and 'INTRA' is what sold it, because it gets a foot in the door in such a competitive area."
The words of journalist and DCU graduate Sonja Tutty who came to study as an international student in 2017.
Her brother Daniel was already studying on the BSc in Multimedia and she said, "he adored the course there. That drew me into DCU as a university."
When she was researching options for journalism, she said DCU's degree, "seemed to be the one with most interesting modules and the lecturers seemed to be the most interesting with the research they had conducted."
Sonja, who graduated with a BA (Hons) in Journalism, said that the INTRA work placement also encouraged her to choose DCU.
From the words 'INtegrated TRAining', INTRA is DCU's internship programme.  It is an accredited and highly valued part of student learning and is a compulsory part of many degree programmes.  
It provides real world experience, helps students to develop transferable skills and, ultimately, enhance their employability.
She said that, "for a lot of people on my course, not just me, INTRA was what made them chose DCU's course. The connections with national media really sold it, there were so many people who had done the course in DCU and were now very successful journalists."
INTRA is a required element of both the BA and Master's in Journalism in DCU and both have very successful Alumni.
Sonja had her INTRA with Newstalk in Dublin although the pandemic meant she had to work online and from home.
She said, "it was a great experience. I was a researcher for their weekday shows and I jumped between Pat Kenny, Moncrief, Lunchtime Live… I did all the shows, it was a fantastic experience."
She interned from June to September 2020 and was asked then to stay on by Newstalk.
Sonja admits that while her DCU course, "had really good radio and TV modules, I was always personally really drawn to writing."
She said working on radio and television programmes on the course was great experience and fun, but "I definitely preferred written and print journalism."
The Times (Ireland) and Sunday Times have a graduate programme and through DCU lecturer Paul McNamara, Sonja was put in touch with the papers' digital news editor and subsequently offered a position.
At the end of the one year graduate scheme, she was asked to stay on.
You can read Sonja's work in print and online and she said she believes that going to DCU "developed my journalism skills," and her news writing skills.
She said there are, "fantastic lecturers for news writing and feature writing but beyond that I think DCU outside of the course provides great opportunities for student journalists."
While on campus she contributed to The College View, Her Campus DCU and STAND as well as being involved with DCUfm and DCUtv.
For anyone considering studying journalism at DCU she said it is a course worth taking even if you are uncertain which direction you want to take in the world of media whether PR, Communications or working in social media.
She said it is also a stepping stone from which to do a Master's because, "you learn so many valuable skills that leak into other areas of media and creativity and arts."
While the journalism course obviously prepares you to be a journalist, she has friends from her course who have moved into other areas "and are extremely successful and I think that is a credit to the course itself."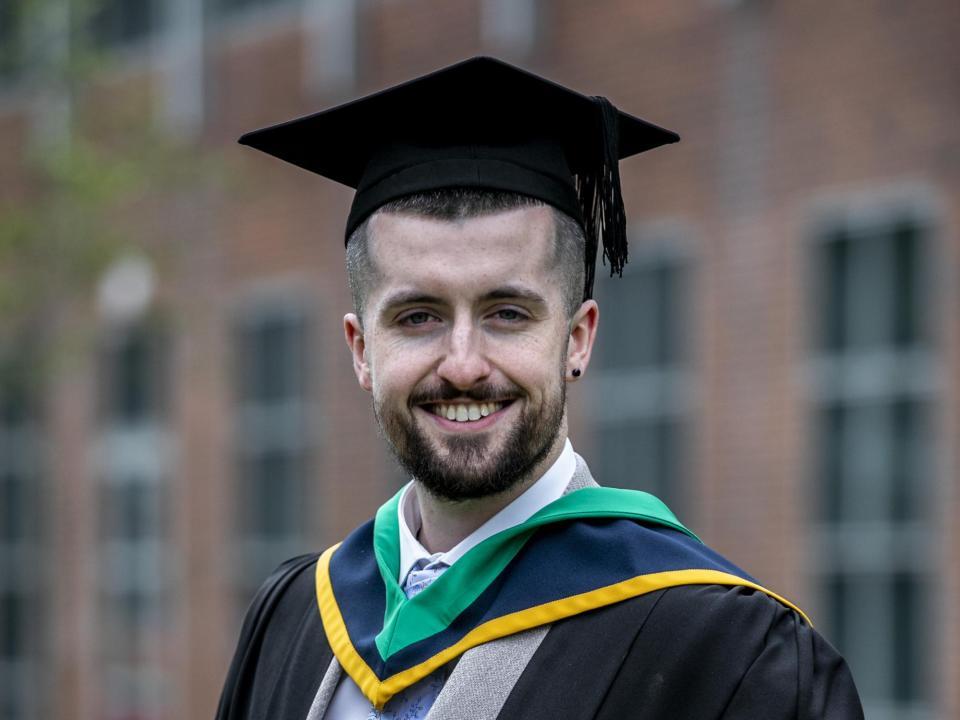 Bobby Cudden was determined to get to DCU so when his Leaving Certificate results were not what he had wanted, he did a PLC to ensure he could get to study science at his university of choice.
 
He was also a successful basketball player having represented Ireland at under 17 level and the location of the DCU campus in Glasnevin was close to his team Tolka Rovers.
 
Bobby, from County Louth, said, "I was one of the very lucky ones because I knew I wanted to do science from the time I was about 13 or 14 years old."
He did chemistry and biology in secondary school and says maths is a "huge part of chemistry. I ended up failing maths and nearly failing in chemistry."
 
He decided to do a Post Leaving Certificate course and chose Pre-University Science at Coláiste Dhúlaigh College of Further Education. It is an Access course and was developed with DCU to meet the needs of students who wish to study science to degree level in university.
"My main goal was to go to DCU and that is why I went ahead and did the PLC.  There was also a stigma around PLCs but we researched it and realised it was the best option. I knew for a fact I wanted to go to DCU and I was looking at a route ahead of me that would get me there even if it took me an extra year."
Bobby had visited DCU on a school tour in 5th year and said "I loved the campus. I thought it was so cool, I really wanted to go there. Anytime I thought of college, it was the first one to come to mind." 
Basketball was also an important factor in selecting it. He said, "DCU was known for its sports as well as the academic side of things. That was a huge draw for me, having a nice balance between sports and academics."
Having completed the four year degree course, he said the first year provided a grounding and knowledge about "all the sciences and maths."
"You could go into first year thinking you want to do genetics and cell biology and by the time it comes to 2nd year you could want to do astrophysics."
By Christmas in first year he had his mind set on chemistry and opted for Chemical and Pharmaceutical Science.
In the summer break between 3rd and 4th year he did his INTRA at  Servier Industries in Co Wicklow.  
From the words 'INtegrated TRAining', INTRA is DCU's internship programme.  It is an accredited and highly valued part of student learning and is a compulsory part of many degree programmes. 
It provides real world experience, helps students to develop transferable skills and, ultimately, enhance their employability.
Bobby spent 6 months working as a quality control analyst and said "it gave me an idea of what I wanted to do."
He said INTRA "is another thing you have to commend DCU for. It seems to be a big selling point for DCU that it provides the internship."
He believes that to have a CV with a 6 month internship on it will make graduates more attractive to employers.
For his final year project titled  'A New Generation of Water-Soluble near Infra-Red Absorbing Fluorinated Phthalocyanines for Application in Photodynamic Therapy and Theranostics,' he said, "we researched the use of injectable substances called photosensitisers and their interaction with particular wavelengths of light (in the form of lasers) to produce a therapeutic anti-cancer or antimicrobial effect in the body using molecular oxygen, a form of oxygen that is highly toxic to harmful cells."
Reflecting on his time at DCU he said "the professors, the teachers, the lecturers and all the people I worked with have been incredible and genuinely so helpful all the time. I feel the staff are second to none."
He also said the standard of the teaching is another advantage.  "You learn more and you learn more in depth at DCU. It really prepares you for what you are getting into in the industry."
As Leaving Certificate students, and other applicants for third level, consider going to DCU, Bobby's advice is to "genuinely just look for what you will get out of college and what will make you want to go, what will keep you there and make your time enjoyable. See if the college you are looking at has it and the chances are whatever you look for, DCU is going to have it."
Reflecting on his route to DCU, Bobby said that he says to his basketball teams and the Leaving Cert students that he coaches, "don't turn your nose up at PLCs. The PLC is a great option and don't be afraid of it."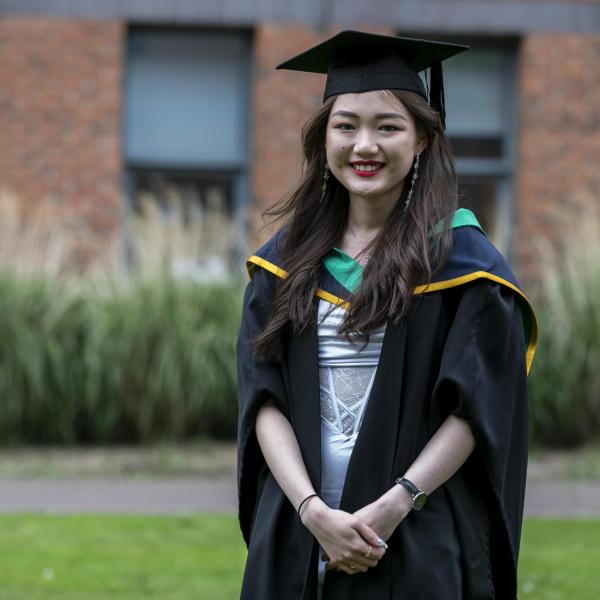 Having an internship built into her degree was part of what attracted Michelle (Jia Ern) Aw to DCU; she has since graduated with a BSc in Actuarial Mathematics.
Her love of maths came in secondary school where it influenced her choice of course for third level.
Michelle, who is from Malaysia, said, "I wanted to study abroad and to do Actuarial Mathematics."
The process for studying in Ireland was more convenient than other English speaking countries and she chose DCU.
One of the reasons DCU appealed to Michelle was because of the INTRA placement that takes place during the third year of the four year course.
From the words 'INtegrated TRAining', INTRA is DCU's internship programme. It is an accredited and highly valued part of student learning and is a compulsory part of many degree programmes.  
It provides real world experience, helps students to develop transferable skills and, ultimately, enhance their employability.
Michelle said, "We got to go into the real world and got to know people in our sectors, that was really important for our INTRA."
"We were still doing things relevant to the course but not actually studying and sitting exams. I think it was really helpful."
In first and second year she said the course covered a lot of mathematical concepts and built maths knowledge and with INTRA they were able to apply that knowledge.
"It helped us to understand the concepts being used in the real world." 
She said the work completed in the first two years of the degree helped students to better understand "the maths that is used behind everyday calculations, everyday usage within the company."
Michelle did her INTRA in AIG Ireland. She said that after her internship her contract was extended and so was able to work on a part-time basis during her final year and as a result, "I came out of college with 18 months of experience."
Michelle was involved in a number of societies and organisations during her time in DCU. One was the Financial and Actuarial Mathematics Society (FAMS) which she was secretary of for two years.
One of the talks arranged for FAMS members was from the founding members of Reitigh Software Ltd, who are all DCU Alumni.
Through that she heard the company was starting a graduate programme and hiring graduates. 
"I applied and got the job," said Michelle who is a junior consultant with the company adding, "I don't think I would have known about the company but for my involvement in the society."
Before the pandemic she was also involved with the Malaysian Student Association of Ireland where she was in charge of corporate communications for two years.
Two years after she left DCU she is still in touch with her former classmates. "We are graduates of the same course and in the same field and are still a group of friends. We are basically friends for life and that is really great as well."
In Transition Year Niamh Connaughton realised she wanted to study psychology at third level and to study it in DCU. 
It was in DCU she discovered her interest in organisational psychology and now, working with PWC, she uses another skill learnt during her time here - how to communicate with people.
Niamh, who graduated with a First Class Honours BSc in Psychology, said, "one of the main things I do now involves communication and speaking in front of groups of people at work. In DCU we learnt how to effectively communicate complicated concepts so that everyone can understand them."
In choosing DCU she also took account of the focus on data in the four year Psychology degree course, as well the proximity to her home in Drogheda.
"I liked that it was people and data merged into one. There was quite a focus on research methods and data driven research and they were important factors in choosing the DCU psychology course."
She said that if she had not "learnt the basics of how to analyse data and how to make data driven decisions, I wouldn't be able to perform to the standard that I am at in my current job."
Finding the area of psychology she was particularly interested in, came early on. "I had loved business at school and we did an organisational psychology module in first year in DCU and I took to it naturally. I was just fascinated by it."
Niamh was also attracted to DCU by the INTRA placement in third year saying, "I wanted (to see) the practical application of 'what can I do with this' after my degree."
From the words 'INtegrated TRAining', INTRA is DCU's internship programme.  It is an accredited and highly valued part of student learning and is a compulsory part of many degree programmes.  
It provides real world experience, helps students to develop transferable skills and, ultimately, enhance their employability.
She did two INTRA placements, her first was in DCU's Centre of Excellence for Diversity and Inclusion where she focused on researching best practices in EDI and supporting the organisation of their EDI events such as their Mary McAleese Women in Leadership Lecture Series.
Among the skills she honed in that internship were report writing and problem solving.
She said, "having to think on-the-spot and to make things happen, they are things you cannot learn in a classroom. You have to be working with people and working with different types of people and in different organisations to realise how important problem solving and on the spot thinking is." 
This was followed by the opportunity to intern at PWC where she later secured a graduate contract. 
In that INTRA Niamh said, "I worked on a number of different projects, some internal to PWC and some were for clients. My work was around people and organisational consulting, which resembles HR consulting. For example I would research the task given to me and look at the skills needed for it and what training would be required."
After completing her degree, Niamh returned to the same team in PWC she had worked with for her INTRA.  
"I work on internal transformation from a digital perspective within the firm. I specifically work on the Change and Communications Team which is about making sure we are communicating properly to everyone within the firm."
As an example she said that if a new digital tool is being introduced, she will ensure the new skills training needed to use the tool is available and accessible and, "that you communicate all of the benefits and how staff can use it in their everyday work. That is the angle I work at: I look at it from a people perspective, what you need to be telling and supporting your people with to make sure they get the benefits of it."
With input from DCU and sponsored by PWC, she has since completed her Master's and now has an MSc of Work and Organisational Psychology from UL. 
Reflecting on her time in DCU she said, "our lecturers were very good at helping us network with them and to build relationships. I still network with people from DCU within my current workplace. Learning how to do that relationship development is something DCU taught me as well."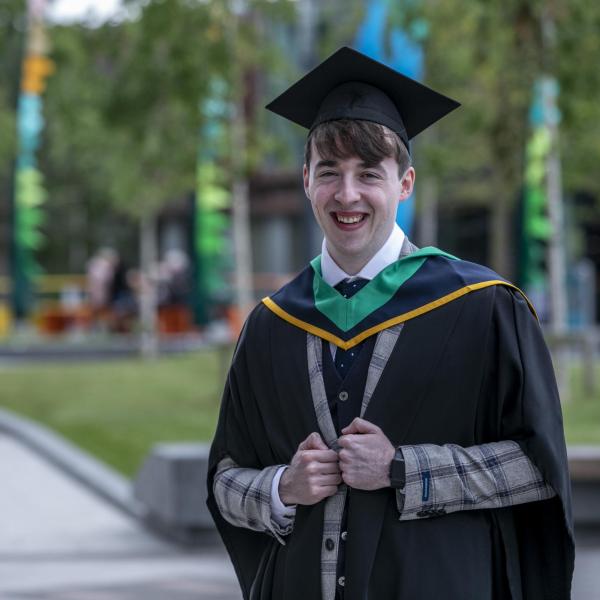 Narcolepsy meant that Paul Cannon was unable to attend secondary school but it also contributed to him developing a love of physics and medicine.
"At the time, I got into the 'Big Bang Theory' comedy programme that featured physicists. I also got into television programmes about physics and medicine and that inspired me to look at studying in those areas."
Specifically he said, "I wanted to do medical physics as I thought I could help people with that course behind me but it turns out that job does not suit somebody with narcolepsy."
By 6th year Paul was on medication that suited him and he looked again at his wish to continue education while also needing a college that could support living with narcolepsy.
His mother contacted the DCU Disability Office and found out the support available included "providing me with a room on campus for when I needed to rest as I can't walk for long periods of times. They got me a recording pen as well as extra time for tests and extended deadlines."
In addition to the practical supports he said, "the lecturers were just as accommodating. I would say one of the best things about Physics at DCU is the support of the lecturers."
"For college I had looked out for any course that would allow me to do physics and biomedical science but it was the supports available at DCU that made me look closer at it. I figured out quickly that this course sounded like it was the one for me and really it was the perfect package."
"I was very nervous and on my first day I went to my lecturer John Paul Mosnier, now the head of School of Physics, and introduced myself. He immediately said not to worry about anything and if I needed deadlines extended to email him. It put me at ease right from day one."
Paul realised his condition was not suited to a career as a medical physicist but at DCU he had discovered an area that he was equally interested in.
"In second year I did a very niche module called 'Biomechanics of Human Movement' and I loved it. It is the physics of why people walk." This module provided him with another option for his INTRA placement.
From the words 'INtegrated TRAining', INTRA is DCU's internship programme.  It is an accredited and highly valued part of student learning and is a compulsory part of many degree programmes. 
It provides real world experience, helps students to develop transferable skills and, ultimately, enhance their employability.
Paul said, "DCU has great connections with St James's Hospital and I was offered an INTRA placement working in the Gait Analysis Lab at St James's Hospital. I worked with programming the software to analyse gait and I was also allowed opportunities to shadow medical physicists. The gait analysis alone was a fantastic INTRA experience. "
He subsequently sought more work in the area of research and worked with The Fraunhofer Project Centre for embedded bioanalytical systems. It is a three-way partnership between Science Foundation Ireland (SFI), the Fraunhofer Institute for Production Technology (Aachen, Germany), and Dublin City University. 
Paul was top of his class in the four years of his undergrad and in 4th year he also won a medal for the highest grade overall in the final year research project across the DCU physics courses. 
The final year research was 'Single-step functionalization of DNA to silicon nanoparticles by pulsed laser ablation in liquids' and his PhD, that he is currently undertaking at DCU, is in a related area. 
It is on 'Nanoforest on a Chip - Oxide Nanostructures for DNA Analysis,' and Paul explained  "essentially I am trying to use nanotechnology to make a portable DNA diagnostic device. So it's a nice combination of physics and biomedical science."
Paul says going to DCU has had a very positive impact on his life. "It has done so much for me. When I was in secondary school and being unable to attend for so much of it, I felt out of touch with my friends and was unable to socialise. I felt isolated. Then the DCU disability office said we will give you these things to support you and  made me feel like 'I can do it.'"
"The small classes in physics meant I met my friends that are now my friends for life and I also met my partner in DCU physics."
"What was so valuable to me was the INTRA placement. Through it I found out that while I can't work in medical physics, I can do other research work. I couldn't talk so highly enough about INTRA."
He says that for anyone unsure what their final destination is in the world of physics or biomedical sciences, that the course he chose was a good one.
"If you want to go into any career involving physics or biomedical sciences, this degree gives you the tools to do that. Other graduates are working in data science or the pharma industry and some people go on to study medicine. There is so much choice career wise so if you are indecisive I think it is the perfect course.