DCU Access Entry Route
How Are DCU Access Entry Route Applications Assessed?
Applications for DCU Access are assessed on a number of financial, cultural and social conditions known as Indicators.
You must meet Indicator 1, plus at least two other Indicators, one of which must be from 4 or 5 or 6 to be eligible for DCU Access.
1: Low income: The total income of your parent(s)/guardian(s)/spouse for the year ending 31st December 2018 must be within the specified income limits.
2: Social Welfare Payment: In the year ending 31st December 2018, your parent(s)/guardian(s)/spouse have received a means-tested payment from the Department of Social and Family Affairs for at least 26 weeks.
3: You or your parent(s)/guardian(s) have a medical card/GP visit card valid on the 31st December 2019.
4: Socio-Economic Grouping (SEG): You belong to a group that is under-represented in higher education, based on the occupation and employment status of your parent(s)/guardian(s). The grouping includes non-manual, semi-skilled, unskilled manual and agricultural workers. please see here for more information on SEG grouping.
5: Area Profile: You live in an area where there is concentrated disadvantage; in other words an area where, for example, there is high unemployment and poverty. Please click here to look at your area.
6: DEIS School Attendance: You have completed five or more years in a second level school that takes part in the Delivering Equality of Opportunity in Schools (DEIS) scheme run by the Department of Education and Skills. Click here for a list of current DEIS post-primary schools.
Please note this scheme is now closed for applications for entry in Sepetember 2020
In addition you must:
Be under 23 on the 1st January 2020 and have completed an Irish Leaving Certificate
Meet DCU's minimum entry (matriculation) requirements for your course of choice as per the DCU Prospectus
No points reduction will be given in order to be considered for a subsidised accommodation scholarship i.e. you must achieve the necessary points for your course choice.
Accommodation scholarships are limited; not all eligible applicants receive one.
Please note all accommodation offers are subject to the the university resuming normal business or following DCU reopening for normal campus and academic activities after the Covid-19 closure.
Students who have deferred a place from the previous year are not eligible to apply for Access DCU.
What are the benefits of the DCU Access Entry Route?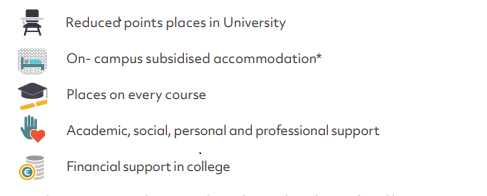 Students who achieve the necessary points for their course will be eligible to compete for an accommodation scholarship. There are a limited number of scholarships offered at either a 50% or 100% subsidy. Please note these are allocated on a needs basis and not every student achieving the points will be offered an accommodation scholarship. The accommodation may be allocated on one of our three campuses or in the Gateway Student Village who kindly sponsor a number of scholarships.
DCU allocate up to 10% of first year places on ALL courses at reduced points entry to students entering through the HEAR/DCU Access routes. Please refer to the Undergraduate Prospectus 2020 for a list of DCU undergraduate degrees and the number of places per course.
*Students must gain their own places (not reduced points) and live outside commuting distance (45kms) to be considered for subsidised accommodation.
Supporting Documents
Please submit a statement from the Department of Social Protection for 2018 or you may download and submit this form here and have it completed in your nearest Department of Social Protection/INTREO office. Please note due to the closure of INTREO offices during the Covid-19 health crisis you can request this statement online here
Submit a P21, if in paid employment or Chapter 4 letter of assesssment if self-employed for 2018- view a sample here. You will get these documents from the Revenue Commissioners or request them online at www.revenue.ie
If you were made redundant and/or received a lump sum in 2018 you need to submit a copy of an RP50 - view a sample here.
Please ensure the applicant's name and CAO number is written on all supporting documents submitted. If you have applied to the HEAR (Higher Education Access Route) scheme we will accept copies of documents supplied to HEAR as part of your application. All supporting documentation should be sent to DCU Access Service, Room CG25, Henry Grattan Building, Dubliin City University, Glasnevin, Dublin 9.