Schools Programmes | Access
Ireland's Largest Access Outreach Programme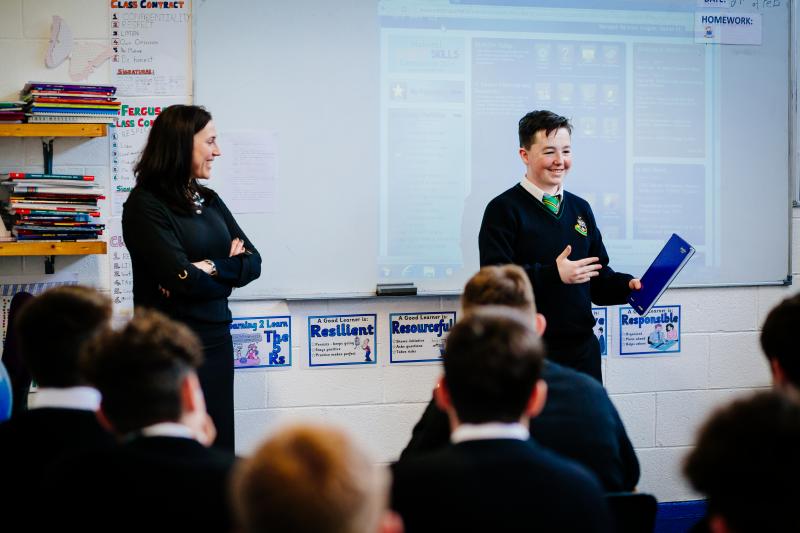 Here at DCU Access we recognise the critical importance of a long term strategic approach which provides supports that address educational disadvantage. We seek to inform and proactively contribute to the creation of national policy on equity of access to higher education through collaborative engagement, informed practice and research.
Our activities are targeted at students attending DEIS (Delivering Equality of Opportunity to Schools) schools in North Dublin which are linked to DCU, students from less advantaged socioeconomic backgrounds who also have a physical, sensory or learning disability, students from low-participation neighbourhoods in North Dublin where 5% or less of the population hold a third level degree or equivalent (*Census 2011), black and minority ethnic students, students from the Traveller community, and students in care or who are young carers. People who fall into one or more of these categories are statistically less likely to go on to higher education. DCU Access outreach initiatives seek to address this disparity by offering support to those facing barriers to higher education.
This website details the programmes we run in linked primary schools and secondary schools and will be particularly helpful for prospective students, teachers and parents/guardians.
If you wish to check if your school is linked to the DCU Access programme please refer to the list below:
Primary Schools
St. Joseph's Primary School, Fairview, Dublin 3
Scoil Chiarain, Collins Avenue East, Donnycarney, Dublin 5
Our Lady of Consolation, Collins Avenue East, Donnycarney, Dublin 5
Scoil Fhursa, Cromcastle Green, Kilmore West, Dublin 5
Scoil Ide, Cromcastle Green, Kilmore West, Dublin 5
St. Brendan's BNS, McAuley Road, Artane, Dublin 5
St. John of God GNS, Kilmore Road, Artane, Dublin 5
Scoil Chaitriona, Measc Avenue, Coolock, Dublin 5
St. Eithne's Senior GNS, Edenmore, Raheny, Dublin 5
St. Malachy's Boys NS, Edenmore, Raheny, Dublin 5
St. Gabriel's NS, Cowper St, Dublin 7
St. Catherine's Senior School, 7 Ratoath Road, Cabra, Dublin 7
Christ the King Boys NS, Annaly Road, Cabra, Dublin 7
Christ the King Girls NS, Annaly Road, Cabra, Dublin 7
St. Finbar's NS, Kilkieran Road, Cabra West, Dublin 7
Gaelscoil Bharra, Ascal an Fhasaigh, Cabra, Dublin 7
St. Peter's National School, St. Peter's Road, Phibsboro, Dublin 7
Gaelscoil Baile Munna, Coultry Road, Ballymun, Dublin 9
Virgin Mary BNS, Shangan Road, Ballymun, Dublin 9
Virgin Mary GNS, Shangan Road, Ballymun, Dublin 9
Our Lady of Victories BNS, Ballymun Road, Ballymun, Dublin 9
Our Lady of Victories GNS, Ballymun Road, Ballymun, Dublin 9
Scoil an tSeachtar Laoch, Ballymun Road, Ballymun, Dublin 11
Holy Spirit BNS, Sillogue Road, Ballymun, Dublin 11
Holy Spirit GNS, Sillogue Road, Ballymun, Dublin 11
St. Joseph's SNS, Balcurris Road, Ballymun, Dublin 11
Mother of Divine Grace NS, Ferndale Ave, Ballygall, Dublin 11
St. Brigid's Senior GNS, Wellmount Ave, Finglas , Dublin 11
St. Canice's GNS, Seamus Ennis Road, Finglas, Dublin 11
Gaelscoil Ui Earcain, Glananaon Road, Finglas, Dublin 11
Finglas Parochial NS, Church Street, Finglas, Dublin 11
St. Canice's Boys NS, Glasanaon Road, Finglas East, Dublin 11
St. Joseph's GNS, Barry Ave, Finglas West, Dublin 11
St. Kevin's NS, Barry Avenue, Finglas West, Dublin 11
SN Naomh Feargal, Finglas West, Dublin 11
St. Malachy's MNS, St. Helena's Road, Finglas South, Dublin 11
SN Naomh Finnin, Glenties Park, Rivermount, Dublin 11
Our Lady Immaculate SNS, Darndale, Dublin 17
St. Francis Senior School, Clonshaugh Drive, Priorswood, Dublin 17
St. Joseph's National School, Macroom Road, Bonnybrook, Dublin 17
Mary Queen of Ireland, Toberburr, St. Margaret's, Co Dublin
Secondary Schools
Mercy College, St. Brendan's Drive, Malahide Road, Dublin 5
St. Mary's Holy Faith Killester, Brookwood Meadow, Killester, Dublin 5
St. David's CBS, Artane, Malahide Road, Artane, Dublin 5
Chanel College, Coolock, Dublin 5
Cabra Community College, Kilkiernan Road, Cabra, Dublin 7
Margaret Aylward Community College, The Thatch Road, Whitehall, Dublin 9
Dublin North East Educate Together, Grange, Dublin 13
St. Aidan's CBS, Collins Avenue, Whitehall, Dublin 9
Rosmini Community School, Gracepark Road, Drumcondra, Dublin 9
Trinity Comprehensive, Ballymun Road, Dublin 9
St. Mary's Holy Faith Glasnevin, Old Finglas Road, Glasnevin, Dublin 11
St. Vincent's CBS, Finglas Road, Glasnevin, Dublin 11
New Cross College, Cappagh Road, Finglas, Dublin 11
Coláiste Eoin, Cappagh Road, Finglas, Dublin 11
St. Kevin's College, Ballygall Road East, Finglas, Dublin 11
St. Michael's Holy Faith, Wellmount Road, Finglas, Dublin 11
Beneavin De La Salle College, Beneavin Road, Finglas, Dublin 11
The Donahies Community School, Streamville Road, Dublin 13
Grange Community College, Grange Road, Donaghmede, Dublin 13
Coláiste Dhúlaigh, Barryscourt Road, Coolock, Dublin 17
St. Finian's Secondary School, Castlefarm, Swords, Co. Dublin
Pobalscoil Neasain, Baldoyle, D 13