For longstanding contributions to DCU Centre for Family Business, Professor Justin Craig was last month honoured with a plaque presented to him by DCU CFB Director, Dr Eric Clinton.
DCU President, Professor Brian MacCraith attended the intimate but warm ceremony which took place at DCU Business School. Also in attendance was Professor Tom Lumpkin, as well as eight PhD Students who were attending a week long social entrepreneurship seminar hosted by Professor Lumpkin.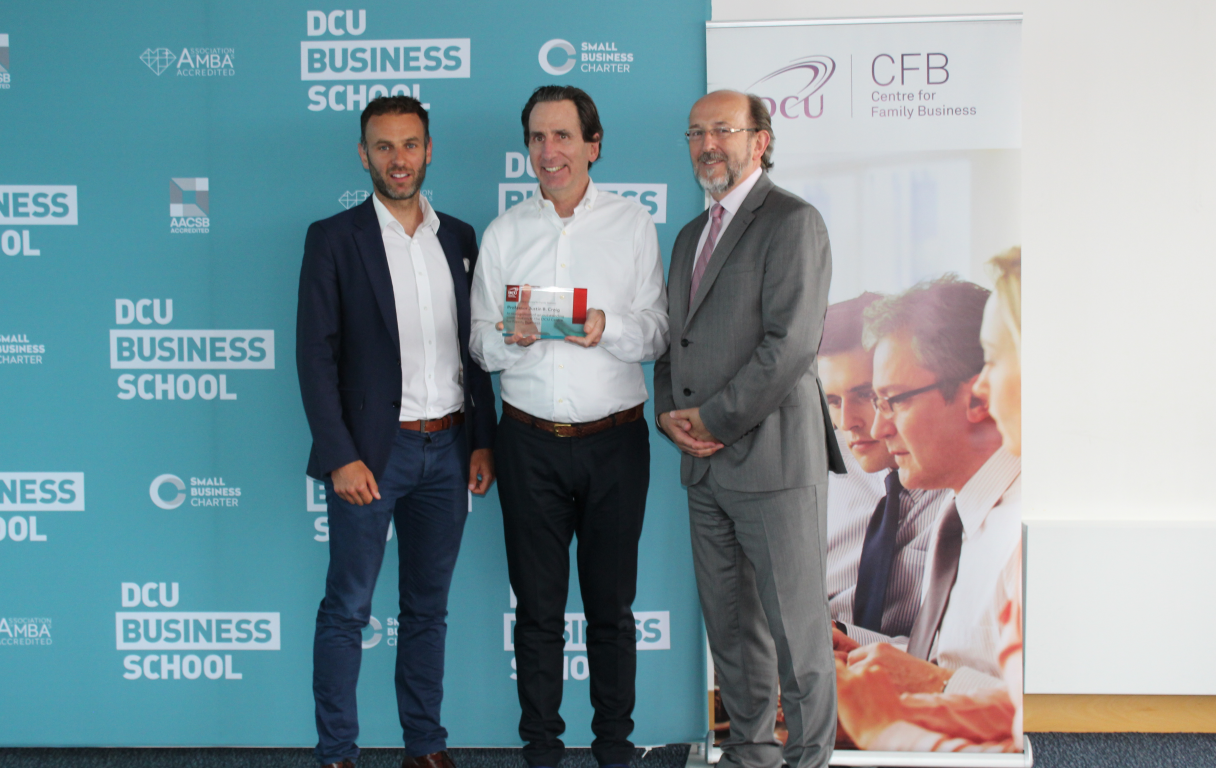 From left to right: Dr Eric Clinton, Professor Justin Craig, and DCU President Professor Brian MacCraith
Justin is Clinical Professor of Family Enterprise & Co-Director of the Centre for Family Enterprises, at Kellogg School of Management, Northwestern University, Illinois. Justin is also an Adjunct Professor at DCU Centre for Family Business and had contributed greatly to the character and growth of the Centre over the past number of years.
Recognising five years of achievements with the CFB
Speaking at the ceremony Dr Eric Clinton reminisced on his days as a PhD student and how, through a shared love of running, he first got to know Justin. This award recognises and celebrates Justin's five years with the Centre for Family Business, since its launch in 2013. Justin was a keynote speaker at the CFB workshop, 'Moving from Mine, to Ours, to Theirs', in September 2014 and at the CFB 'Next Generation Seminar' in October 2015.
During his time with the Centre, Justin and the CFB team conducted a piece of research commissioned by Fingal County Council, entitled 'Lessons in resilience and success: A snapshot of multigenerational family businesses in Fingal'. The report was launched by Fingal County Council in May, 2016.
Justin was also involved in a number of research projects and publications with the CFB, for example an investigative case study into the Longford family business, Glennon Brothers, which was published by Entrepreneurship, Theory and Practice in 2015.
More recently, Justin attended the CFB Dublin Roadshow in 2017, and lent an expert voice to the social entrepreneurship seminar hosted by Professor Lumpkin at DCU Business School last month. During his time here Professor Craig also served as a mentor to researchers in the CFB, including Dr Vanessa Diaz, Dr Catherine Faherty, Philip O'Donnell and Martina Brophy.
The DCU Centre for Family Business would like to extend their warmest thank you to Professor Justin Craig for his contributions over the last number of years – míle buíochas a chara.