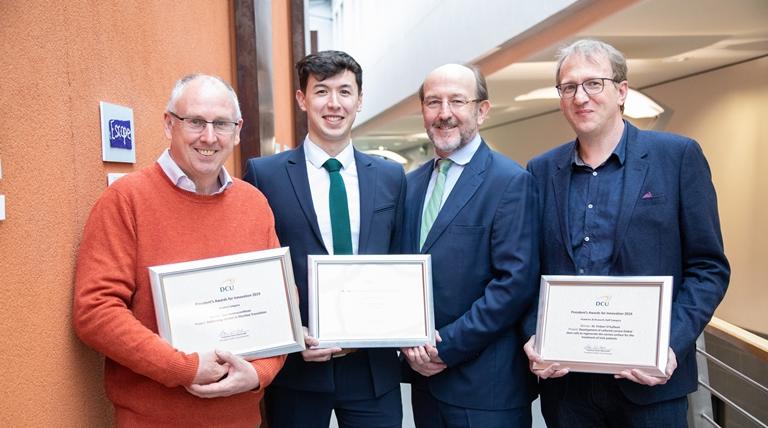 2019 recipients of DCU Innovation Awards announced
Projects tackling gender bias in machine translation, dyslexia and corneal stem-cell regeneration to address blindness announced as winners of DCU Innovation Awards
Projects that include a software development to address gender bias in machine translation, an online programme to help people with Dyslexia, and pioneering cornea stem-cell regeneration research, were announced as the recipients of the President's Awards for Innovation presented this morning Monday, April 8th at DCU.
The awards celebrate the excellence demonstrated by DCU staff and students in tackling significant problems in society and in coming up with innovative solutions that can be put to use.
The 2019 recipients were as follows:
Student Category: Eva Vanmassenhove
Addressing Gender in Machine Translation
DCU PhD student, Eva Vanmassenhove, who carries out her research in the SFI Adapt Research Centre, tackled the issue of gender bias in machine translation.
When translating from one language into another, original author traits may be partially lost, both in human and machine translations. However, in the field of (Neural) Machine Translation (MT), one of the most observable consequences of this missing information is incorrect variants.
Such errors harm the overall fluency and adequacy of the translated sentence. Current state-of-the-art systems have a tendency to perpetuate a male bias which amounts to negative discrimination against half the population. Eva has developed software solutions to address this.
Student Category:
Kevin Cogan; Dyslex-E
Created by undergraduate Computer Applications student, Kevin Cogan, Dyslex-E is a program that creates an online dyslexic-friendly environment to reduce the number of reading errors on screen, and increase user reading speed and accessibility on digital devices.
The platform becomes familiar with the reading issues for an individual reader and adjusts accordingly on an iterative basis.
Academic and Research Category:
Dr Finbarr O'Sullivan, National Institute of Cellular Biotechnology (NICB)
Dr O'Sullivan's research has focussed on the development of cultured cornea-limbal stem cells to regenerate the cornea surface for the treatment of patients.
Clarity and integrity of the cornea, the eye's outermost interface with the world, are essential for human vision, and corneal disease or injuries represent leading causes of blindness worldwide.
This highly innovative research programme, led by Dr. Finbarr O'Sullivan at the NICB, has developed the use of cultured cornea-limbal stem cells to regenerate the cornea surface of such patients.
The work has been translated into successful clinical applications for a number of Irish patients.
Speaking at this year's President's Awards for Innovation, the President of DCU Professor Brian MacCraith said:
"DCU has a well-established reputation for innovation, based on our effective translation of knowledge created through research into outcomes that benefit society and the economy.

Today we celebrate excellence in Innovation as demonstrated by our students and our staff. The impact on people's lives through such innovations is tremendous.

I congratulate our 2019 recipients on their wonderful success."
Pictured (l-r) Prof Andy Way, DCU Adapt on behalf of Eva Vanmassenhove, Kevin Cogan, the President of DCU, Prof Brian MacCraith, Dr Finbarr O'Sullivan, NICB